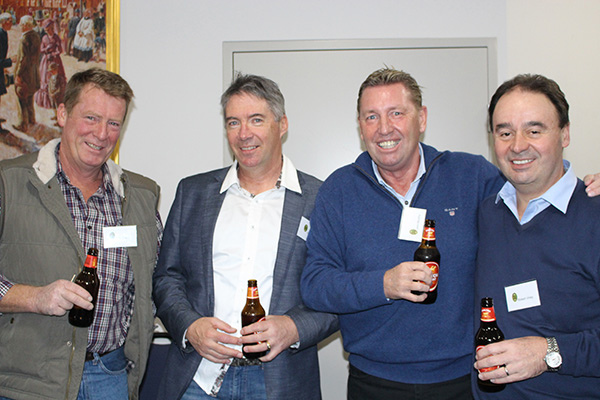 Thirty-five members of the final year class of 1977 recently returned to Parade's Bundoora Campus for what was a boisterous 40-year reunion in the Hickey Foyer (and later the Frank Mount Social Room).
Amongst them was the College Captain of that year, John Dinan, who has also accepted an invitation to join the Old Paradians' Association committee.
One of three Old Paradians to take out Australia's richest footrace the Stawell Gift (in his instance, 1980), John took time to reflect on his years at Parade
"Forty years ago is a long time ago . . . but we all had a great time in '77. The HSC was a very hard year, but we achieved a lot," John said.
"The memories that stay with me relate to the athletics team, the football team and my studies, along with the friends I continued with – and there's quite a few of them."
Recalling the long-gone lake and the since-demolished library as part of the Bundoora backdrop he remembered, John said that when he recently returned to the College's Open Day "I literally didn't recognise the place, which made me realise how small the school was back then".
"Parade means a lot because it's given me and the boys here a lot. It's part of our history, it's the place that did the right thing by us and gave us the right values to go on with," he said.
Sixteen apologies were accepted from former students, including Peter Chisholm, now the Director and Chief Operating Officer of Morgans Financial Limited in Brisbane. In a message to old classmates, Peter wrote: "Getting a note to attend a 40-year reunion kind of stops you in your tracks - wow where did all that time go? I trust the night is a success and not too rowdy - we were, from my memory at the time, a fairly tough and unruly mob in 1977!".
Those who attended the 1977 Reunion were: Peter Beriman, Steven Berizzi, Mark Buttifant, Tony Casey, Brett Chadwick, Ron Coon, Gerard Crockford, John Dinan, Tony Exton, John Fleming, Paul Gleeson, Martin Grogan, Brian Hamill, John Hempenstall, John Love, Dale McGough, Paul Mitchell, John Murphy, Paul Neeson, Eric Norton, Tony O'Neil, John Plowman, Mark Quinlan, Roger Rassool, John Rayner, Ennio Rebellato, Alex Rossimel, Stephen Schmidt, Gerard Schoofs, Fabian Tasca, Ken Thompson, Anthony Treppo, Marcel Vanderslik, Robert Viney and Brendan Wing.
A special mention to Stephen Schmidt, who completed a 1600-kilometre round trip from his home in Kambah, New South Wales to be there on the night.
Perhaps John spoke for them all when he wrote in The Paradian of the 1977: "The students of HSC '77 are a credit to the College. They have given excellent leadership to the rest of the school, and kept the spirit of the school at its highest level. If the College takes this lead, then I am positive that everyone will be happier and more at ease. I hope that the lead is followed".