Pictured being chaired from the field by Will Gilmore and Jake Plunkett is Marcus Nolan, basking in the afterglow of the Old Paradians' 23-point victory over Eltham College and their ninth win from as many starts.
This was a history-making moment in more ways than one for Marcus, who completed game No.100 for the OPs on a day in which all members of the senior 22 sported the football club's newly-adopted alternative strip for the first time.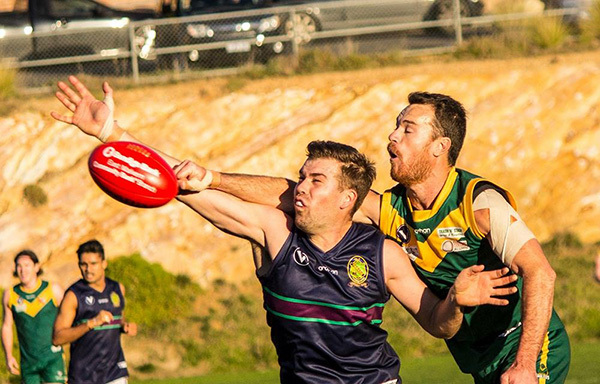 As part of a VAFA directive, the Old Paradians were required to provide an alternative to the familiar emerald green guernsey with purple trim, to prevent clashes with opposition teams like the Turtles who also carry green and who hosted the OPs at Eltham on this occasion.
The club, in its wisdom, opted to go back to the future, replicating the dark navy guernsey with purple and green horizontal band across the chest – in keeping with the design adopted in the foundation season of 1929 when the likes of Bryan Cosgrave and Allan La Fontaine first took to the field for the old boys.
After the match, Marcus, a member of the OPs' 2015 D2 Premiership team in what was his first season of senior footy, commended the club for its "back to the future" call on the alternative strip.
"I love this guernsey. It's sharp and it's bold," Marcus said.
"There's also the heritage aspect, as we're all familiar with the '29 team photograph hanging in the rooms, where all those players of yesteryear are wearing the dark navy woollen guernseys.
"What was also good about wearing the alternative strip was that it gave me a chance to wear a different number – No.10 today as opposed to the usual No.30 – because the larger numbers reflected the larger guernsey sizes."
A long-term injury to captain Chris Kandilakis, along with the World Cup departures of the jetsetting McCann brothers Andrew and Luke, Keenan Posar and Matt Mahony, meant that a number of changes were forced for the Eltham match . . . but crisis creates opportunity as Marcus observed.
"I still feel like a young bloke out there to be honest, but it's good to see a few younger blokes coming through," he said. "A couple of Unders players stepped up for this game as senior debutants and hopefully they can continue to fulfil their roles and slot in nicely."