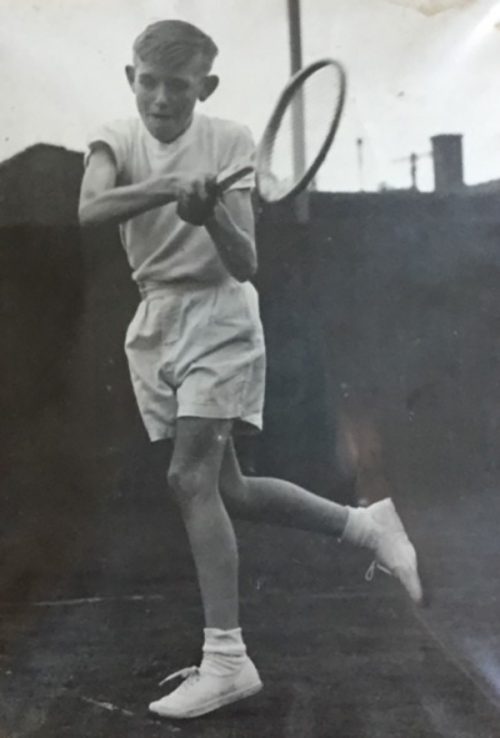 Len Reddoch was yet another gifted pupil of the illustrious Bro. F. P. (Percy) Bowler at St Coleman' s prior to attending CBC Parade where he progressed to Y12 (Matriculation) Class of '56.
Leaving Parade he commenced working for the Victorian public service Health Department and was promoted to eventual Manager responsible for the relocation of patients from the Wllsmere Kew Cottages to other Psychiatric facilities around Melbourne.
In 1963 he married his wonderful Betty and children Anthony and Julie followed soon after. The family eventually moved from East Keilor to Essendon, but even living in the heart of Bomber territory in no way dimmed his lifelong allegiance to the Mighty Blues.
The big passion in Len's life was tennis; not surprising as his family managed a Tennis Complex in Gordon Street, Coburg. His tournament successes were amazing considering his small stature - he won many junior titles against much bigger and sometimes older opponents and was for many years Singles champion at Essendon Tennis club as well as winning Doubles titles paired with his good mate Bob Bradley.
But the long hard rallies took their toll on Len's small frame and in later years he had five (yes, five) hip replacements and a shoulder reconstruction.
Len's other great interest was the track and in 1993 he landed a trifecta on the Melbourne Cup which paid $27,000 - a small fortune in those days! In recent years he reconnected with his former classmates at the Old Paradians' lunches at the RACV and the 'Class of 56' get-togethers at the Celtic Club.
Sadly he was diagnosed with pancreatic cancer late last year and passed away on August 2. His Funeral Mass at St. Therese"s Church Essendon was full to overflowing.
Vale Lennie: I'm sure you will find a Rebound Ace court somewhere beyond the Pearly Gates.
- Anthony Curtis (1956)
- The Sun photo of Len Reddoch wielding a racquet in 1953, courtesy Anthony Reddoch