"Versatile in ability, focused in delivery."
Go to Adam La Rosa's website and you'll find these six words, which in part tell the whole of the Old Paradian who between duties as an Event Manager actively pursues a lifelong passion for film.
At the time of this interview, Adam had only just returned from the New South Wales Central West town of Forbes for what was the world premiere of the new Australian feature The Legend of Ben Hall.
"They set up a huge screen at the Forbes Showground, and more than 1000 people turned up to the ticketed event," Adam said. "More than 60 per cent of them were from Forbes and the surrounding municipalities, with the remainder from Melbourne, Sydney and Brisbane."
As executive producer of The Legend of Ben Hall, Adam has an obvious vested interest in the film, which was shot on location in Forbes and Victoria's Macedon Ranges, as well as the Docklands Studios.
Adam even appears in the flick, in the small yet critical role of Constable Wiles – the man who fires the first shot in anger to literally trigger the chain of events leading to the Australian bushranger's violent demise.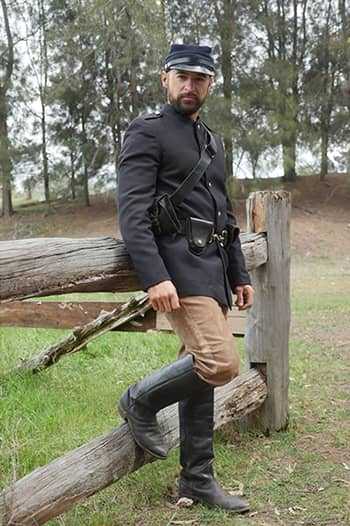 Adam's interest in The Legend of Ben Hall was governed by the fact that the bushranger's life story was largely unknown. As he said: "Almost all Australians know of Ned Kelly but few know about Ben Hall".
The film's director, producer and writer is Matthew Holmes with whom Adam first crossed paths in unusual circumstances outside The Astor cinema prior to another premiere two years ago.
"I was all suited up when I got out of my car at the premiere, and I noticed these two chaps looking a bit dodgy hanging around," Adam said.
"Fearing that they were going to steal my car, I asked them if everything was okay, to which one of them replied 'Yeah, we're running late for the film and we're trying to find a car park" - and that was Matthew.
"Anyway, I saw the film and realised afterwards that Matthew was involved. I saw him in the foyer and said to him 'Your film was phenomenal, I'd really like to work with you one day', which is when he told me about the Ben Hall film he was working on . . . and it just went from there."
Adam's love of acting can be sourced to his primary school days at St Mary's Greensborough. He remembers playing the title role in the school production of Jack and the Beanstalk which carried a totally Italian dialogue.
"We took the show to all the Italian nursing homes in Victoria and I must have been in grade five or six then," Adam recalled.
"I can remember an occasion when I performed the role to my great grandmother, a very special woman. She had just ten per cent vision and could only see you by putting her hands on your face and holding it close to hers. She did that to me as I recited the whole play and she was really over the moon."
A final year College student of 1996, Adam performed in the Parade-CLC co-production of 'Grease'. Here he was able to further indulge his great passion, whilst mindful of committing fully to his studies.
"But acting is a passion for me, and as anyone with a passion for film, fishing or whatever will tell you, you always gravitate to it," Adam said.
2001 was a breakout year for Adam. That year he served as casting assistant in the production of what proved a controversial film in which Willie Thompson, later killed in the Melbourne gangland wars, appeared.
"I know it sounds clichéd, but Willie was a genuinely nice guy and it was a shame that he died.
"The film was called 'The Nightclubber' and it had very dark themes to it, for example the capturing of people's souls . . . it was a very 'indy' film."
Adam has since appeared in television commercials for Coles' 'click and collect' and for the next two years features on the company's online shopping site.
"I've done lots of commercials for McDonalds in Melbourne and Sydney, and I've been involved in other films," he said. "One currently in post-production is called 'Butterfly in a Bell Jar', which is about a girl who is kidnapped and held hostage for ten years . . . and I play the girls' father."
Away from the camera, Adam fulfils a myriad of tasks as national business manager for event company Wow Structures.
"The company tends to be involved moreso with outdoor events," Adam explained.
"Three years ago Wow was a start-up company, but it now has contracts with major clients like Renault and Rolex. Renault's corporate areas at the Australian Grand Prix are managed by us, as is Rolex's at the Sydney to Hobart yacht race.
"Wow is also involved with the Peninsular Short film Festival, and I love these instances where work overlaps with acting."
Though his character comes off second best in the shoot-out with Ben Hall, Adam is grateful for the myriad of opportunities Parade gave him.
"The Parade days were a very special part of my life, and the values the schooled instilled in you stay with you," he said.
"There was a great camaraderie there also. I am still in touch with a lot of people which, after 20 years, exemplifies what I walked away from Parade with – genuine lifelong friendships."
https://streamingmoviesright.com/au/movie/the-legend-of-ben-hall