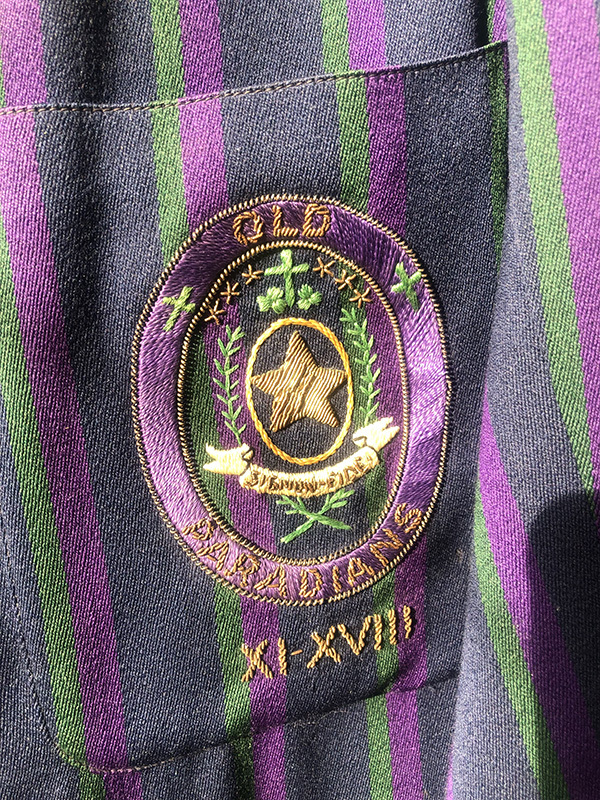 A glorious Old Paradians sports blazer, thought to have been hand woven around the time of the Second World War, has been donated to the Old Paradians' Association.
The purple, green and blue striped blazer, featuring the original Old Paradians crest with motto Signum Fidei (Sign of Faith) and the Roman numerals "XI" and "XVIII" (cricket and football) on the pocket, was once owned by Brian Corrigan, a final year Parade College student of 1932. The item was handed in by Brian's son Peter.
"Brian, my father, was born in 1917, and as far as I know only attended Parade College until Year 8," Peter said.
"On leaving school, he joined CUB for what would be a 43-year association with the company, during which time he became 2IC and controlled all the hotels in Victoria. In his retirement he relocated from Beaumaris to Kew and bought the Orrong Hotel."
As for his father's old blazer, Peter could shed little light.
"I don't know where the blazer came from. It just happened to land at my sister's and none of us are really sure of its background. I'm now in the throes of moving house, but didn't want to throw the blazer away, so thought I'd ring the Association to see if it was interested."
The blazer has since been forwarded to the Parade College Archivist Rodney Prusa for safekeeping. It is one of five blazers of its type now amongst the collection, including the 1944 College prefect's blazer worn by the late Bill Dunne and another once the property of the late Br. Frank Marzorini, a final year student in 1936.
Anyone who may be able shed light on the origins of the blazer are welcome to contact Tony.DeBolfo@parade.vic.edu.au
The College and the Association would also welcome any items of College and/or Association-related memorabilia for future display in the Parade Heritage Centre.