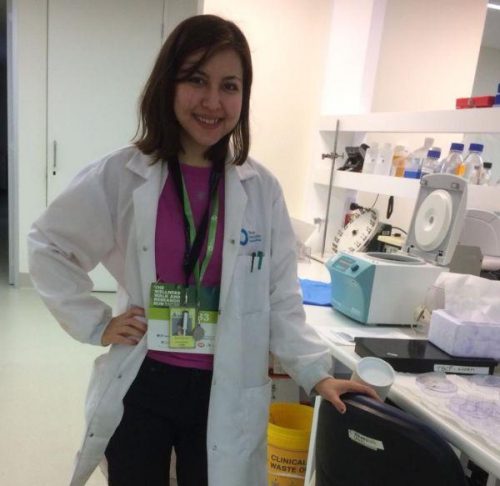 Elnaz Tavancheh, Parade's only female student in the College's 147-year history, paid Old Paradians central a welcome visit this week.
It's been a seismic 2018 for Elnaz, who completed her final year at the College four years ago and later earned a scholarship at La Trobe University. Last week she learned that she had earned a High Distinction in completing her Honours in Biomedical Science at Olivia Newton-John Cancer Research Institute – and next year she hopes to commence her PhD.
For the moment though, Elnaz is seeking work to help pay the bills until early New Year – and she is calling on the Old Paradians network for help.
"Right now I'm looking for work, whatever might be available in the short-term (as) I have to make sure that all of my debts are cleared," Elnaz said.
Elnaz's story is well-known to the College community. Born in Northern Iran, she came to Australia as an Hazara refugee on her 21st birthday in 2013.
Having then found refuge in Melbourne, Elnaz was accepted by Parade, its staff and its students, and two years later completed her VCE.
Despite her sizeable academic achievements, Elnaz's future in this country is uncertain as she remains on a bridging visa. To further complicate matters, the Federal Government cut back her Centrelink benefits on the basis that she had become a full-time student – hence her desperate need to find work.
To that end, she has turned to the Old Paradians - and it is to the Association and to Parade College that she is truly grateful.
If you can help Elnaz Tavancheh with work through the December period and into the early New Year, please call her on 0406 803004 or vial email, elnaz.tavancheh@gmail.com