What started as a simple business catch-up at Parade's Bundoora Campus has ended with a touching family reconnection for stonemason Frank Hallett.
The story began when Frank and Old Paradians' Association President Lewis Derrico recently met at the College to discuss the installation of a bronze plaque at the unmarked grave of Michael Sullivan, a much-respected Parade teacher and member of the Association's inaugural committee of 1914.
During the meeting, Frank mentioned that although he was a former student of St Bernard's Essendon, his father the late Francis William Hallett completed intermediate at the 'Old Bluestone Pile'. Frank also explained that his Dad enlisted for wartime duties in June 1942 and served with the 51st Field Park Company in Papua.
It was then that thoughts turned to the World War Two Honor Board, commissioned by the Association in 2015 and hanging from the wall of the Hickey Foyer.
Would Francis Hallett's moniker appear amongst the 1127 Old Paradians known to have served?
Frank accompanied Lewis to the foyer and scoured the names featured on the board. Sure enough, he found letters 'HALLETT F' in gold leaf and took a photograph or two for posterity.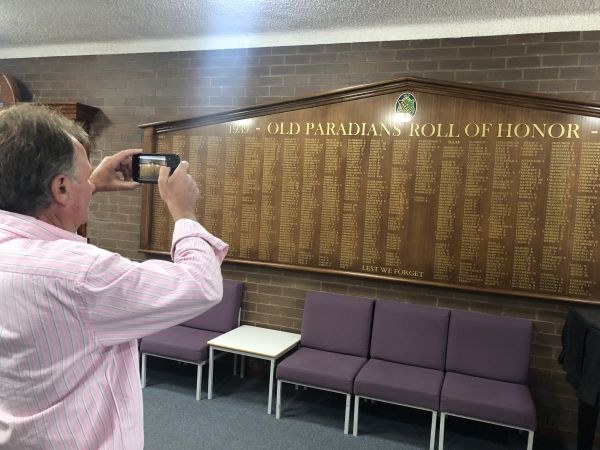 "After enlisting, Dad was based in Katherine with the Engineers. He later served in Borneo, came back unscathed and worked hard because there were so many of us," said Frank, whose family business Halletts of Melbourne spans five generations.
"Having almost forgotten Dad's connection with Parade College East Melbourne it's incredible to see his name on the Honour Board. I just can't believe it.
"I've got six sisters and a brother and they'd be just as excited . . . and Dad would have been too."