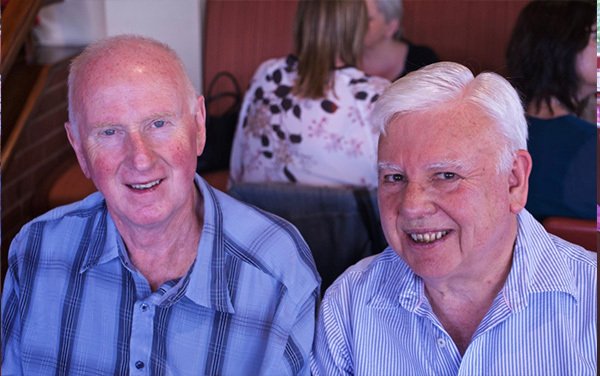 Pictured celebrating Christmas Luncheon at Heidelberg's Old England Hotel recently are old classmates of the 1960s (and former College teachers) – clockwise from left Peter Rigg, Kevin Fitzpatrick, John Joss, Geoff Carter, John Meehan, Rod Smith, Chris Glen, Noel Vincent and Mike O'Meara OAM.
According to Luncheon organiser Geoff Carter, the Luncheon rounded out a solid year for the group, predominantly final year students of the class of '64.
"These gatherings first happened about ten years ago and we've been catching up every two or three months ever since," Geoff said.
"It's more than 50 years since we finished at Parade, but we've stuck together."
The gatherings aren't confined to class members of '64 either.
"This year we were joined by David Blackley (1981) whom I taught at Alphington and whose late brother Mark I played cricket with for the Old Paradians," Geoff said.
"Gerard holds the aggregate for most runs at Nothcote, including Bill Lawry, and he accredits me for making him an opening batsman when I promoted him from five or six at Under 12s."
Geoff added that three more attendees – John Meehan, Mike O'Meara and Peter Rigg – had joined the group on the strength of a catch-up at the Bedford-Madden Luncheon at the Garvey Oval, "so the numbers are growing".
Those interested in joining the group are urged to contact Geoff's brother Phil Carter c/o the Parade College Bundoora Campus.
Images courtesy Phil Carter