Final year students of Parade's Class of 1963 have reunited at the Old Paradians' Association's monthly luncheon at Melbourne's RACV City Club.
Pictured here are, from left to right: Peter Murphy, Terry Laragy, Tony Killen, Noel McClelland, Tom Ryan, Barry Pritchard, Graeme Pound, Pat Mount, Michael Quin, Max Cashmore, John Mount, Michael McKinley and John Sonneveld.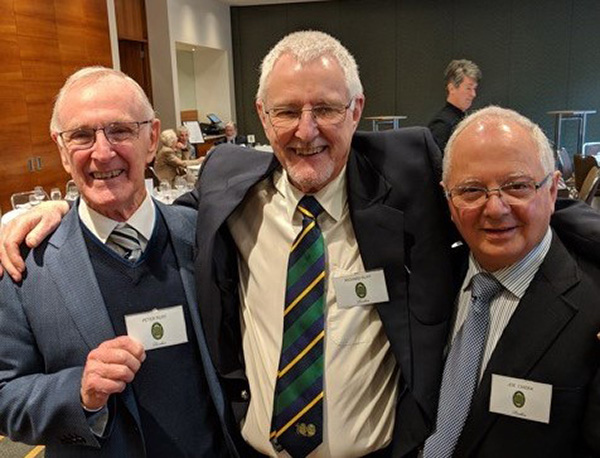 They came together with the assistance of Pat Mount, who took up the challenge to locate his former contemporaries.
"It was wonderful to re-connect with the 'boys' that you had not seen since leaving school or had not seen for many years," Pat said.
"Now that most of us are retired (or semi-retired) we can make the time to renew valuable friendships. It was a very enjoyable day.
"Thanks to all those who attended and all of those who got back to me with apologies accompanied by best wishes. Every comment or reply received was supportive and that was very encouraging and very much appreciated."
Also amongst those thrilled to be in the house for the reunion were the Ruff brothers Peter and Richard and Joe Chiera who completed their final years at Parade in 1963, '64 and '63 respectively, and are pictured here.
Another passionate advocate was John Bell, who in an email to Pat, wrote: "Chatting to the lads reinforced how great it is to know such good people, through your efforts to bring us together after a million years as though schooldays were only yesterday".
Pat added that his search for fellow former classmates who completed or would have completed their final year in '63 continues. He hopes that members of the '63 group will continue to gather at the Association luncheons, which have been held on every second Wednesday of the month since 1936.