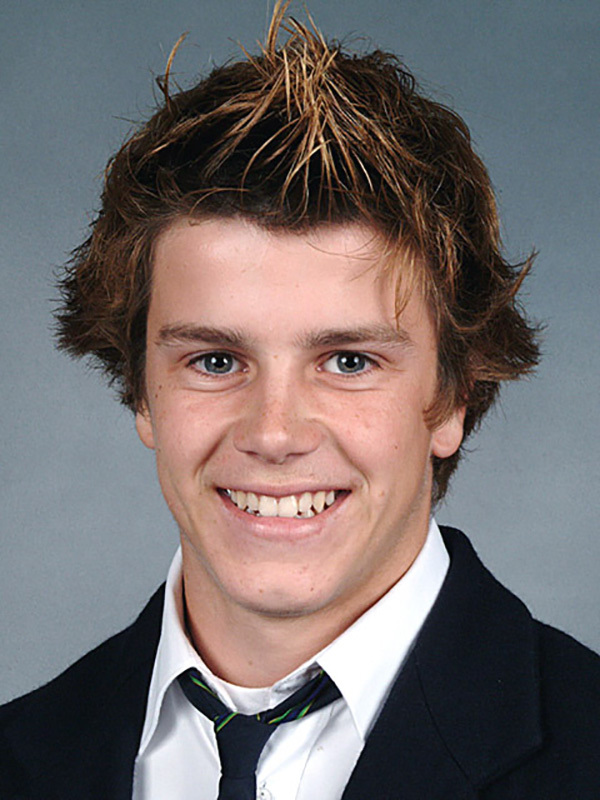 Trent Cotchin has completed the short, history-making walk to the podium, becoming the first Old Paradian in 120 years of VFL/AFL competition to raise the cup as a Premiership-winning captain.
In joining his coach Damien Hardwick in hoisting the silverware to the heavens over the MCG, the 198-game Richmond on-baller also became the latest to join an elite band of Old Boys to have savoured senior League Premiership success – 17 in all in the 115 years since Bob Rush played his part off half-back in Collingwood's first VFL Grand Final victory of 1902.

It is also a matter of record that at least one Old Paradian has featured in a VFL/AFL Grand Final triumph in each decade (with the exception of the 1890s and 1980s) since the League competition's inception in 1897.
The coveted list of VFL/AFL Premiership players ex-Parade is as follows;
RT 'Bob' Rush (Collingwood 1902 & '03); Jock McHale (Collingwood 1910 & '17); Pat Shea (Essendon 1911 & '12); Harold 'Lal' McLennan (Fitzroy 1913 & '16); Bob Carew (Richmond 1920 & '21); Jack Garden (Essendon 1923 & '24); Phonse Kyne (Collingwood 1935 & '36); Edward 'Vin' Brown (Carlton 1945 & '47); Brian Beers (Collingwood 1958); Bill Serong (Collingwood 1958); Pat Guinane (Richmond 1967); Sergio Silvagni (1968 & '70); Peter Caven (Adelaide 1997 & '98); Andrew Eccles (Adelaide 1998); Blake Caracella, (Essendon 2000, Brisbane 2003); Ben Johnson (Collingwood 2010) and Trent Cotchin (Richmond 2017).
Trent is Richmond's third Premiership player ex-Parade after Bob Carew and 'Paddy' Guinane. His assistant coach at Punt Road, Blake Caracella, participated in Grand Final victories as a player with Essendon in 2000 and Brisbane in 2003 and more recently as an assistant coach with Geelong in the Premiership year of 2011.
A student through four years at Parade before crossing to Penleigh and Essendon Grammar School, Trent completed his schooling at the Bundoora campus in 2005. That year he was part of the College's Year 10A Premiership team – a team which included future League footballers Daniel Currie and Patrick Veszpremi, and the current Old Paradians Amateur Football Club captain Chris Kandilakis.
Trent represented Parade in football for the first time in Year 7, 2002, under the watch of his then coach the late Paul Crowe. In the ensuing years 2003-'5, he chased the leather for the College under the tutelage of Rob Peckham, a self-confessed Richmond tragic.

To quote Rob: "Trent was always destined not just to be an AFL footballer but to be a leader. When he first spent time at Punt Road in Year 10 I joked with him how great it would be to one day see him run our for my Tiges".
How well Rob remembers a game at the Garvey in his first season as coach. "Trent grabbed the ball out of the middle and drove it 40 metres on his non-preferred foot. The ball didn't go any higher than head-high and he hit a Parade kid on the chest lace-out . . . and everyone who was there then knew he was a very special kid," Rob said.
"Trent was always an exceptional talent, but he was always working to improve himself too. In year 9 he committed himself to a pre-season with West Preston, one of the top teams in the Northern Football League, and not long after he got a placement with Richmond."
Given his AFL allegiance, Rob has had extra cause to follow Trent's football fortunes, and he's witnessed first-hand how quickly and dramatically they've changed.
"Twelve months ago, when the Tiger Train had temporarily derailed, Craig Seckold and I caught up with Trent at the VFL Grand Final where he was the AFL Schools Ambassador. At that point Richmond were in the middle of a full club review and on the receiving end much public scrutiny," Rob said.
"Trent appeared to have the weight of the world on his shoulders, and just desperately wanted to enjoy some much needed time away with his girls.
"I remember saying to him that day that he had the worst job in footy. He was captain of one of the biggest clubs so he got all the attention, but without success for so long that attention often came for the wrong reasons. To see his transformation this year, as a leader and as a player, to see him enjoying his footy again and playing with the freedom and skill that saw him win the 2012 Brownlow Medal has been very pleasing.
"But as a long-suffering Tiger, to see him raise that cup on Saturday afternoon was a very emotional moment. It gave me great pleasure at that moment to message Trent to say, 'What a difference 12 months makes? Now you have the best job in footy. Enjoy it'."
In a previous interview, Chris Kandilakis remembered Trent as a standout on-baller in Parade's Year 8 and 9 Premiership teams.

"That Year 10 team would have been Trent's last at Parade, and even then I remember him playing a lot of Northern Knights games and not being able to play for the school," Kandilakis said.

"The side was pretty good through all those years. From Year 7 to 10 I reckon we only lost one game - the Year 7 Grand Final. We won Year 8, drew the Grand Final in Year 9 then won it for finishing minor Premiers and in Year 10 we knocked St Bede's over fairly comfortably.
"The next year we ended up playing against him after he got the scholarship at PEGS and PEGS beat us in the Herald Sun Shield."
As fate would have it, Chris and his brother Jim were at the MCG supporting Adelaide, as his cousin on his mother's side, Rory Atkins, was amongst the Crows' Grand final 22.
In the wake of the Crows' 48-point defeat, Chris's feelings were somewhat mixed.
"For obvious reasons I was supporting Adelaide," Chris said. "I was with Rory in the rooms after the Preliminary Final at Adelaide Oval, and although he was pretty down after the Grand Final I gave him the thumbs-up as he walked up the race.
"I saw Trent raise the cup and all the very best to him. It's fantastic. I was part of a Premiership in 2015 and while it's not on the same scale I can imagine how he feels.
"Trent's just a fantastic bloke who carries himself so well and if I saw him now I'd be the first to congratulate him."
The Old Paradians' Association wishes to congratulate Trent Cotchin on leading Richmond to a famous victory, and to Blake Caracella for contributing to the team's solid showings through the home and away series and its flawless finals campaign.
The Association also commends another Old Paradian Damien Cusack (2001), for officiating as boundary umpire on that last Saturday in September.