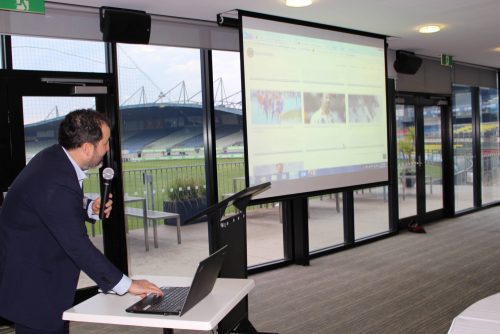 Adam Dale – Parade College's only post-World War II Test cricketer - came armed with his precious baggy green in addressing the Old Paradians' Association Business Breakfast at Ikon Park recently.
Dale, a final year student of the College in 1986, pulled the coveted apparel item from the inside of his business jacket and, as with his many and varied tales accumulated over a quarter of a century in the game, graciously shared it with his audience. He is pictured here with his Australian and Old Paradians caps in the company of old schoolmate Nick Kerr (1986) on the left and Troy Cox (1985).
The baggy green, given to him by Mark Taylor on the eve of the 3rd Test against India in Bangalore in 1998, carries Adam's signature and the number 378 (incorrect as he is the nation's 377th Test rep) inside the lining.
Adam spoke at length of his years at Parade (Years 11 and 12) after crossing from Cathedral College then headquartered at the Old Bluestone Pile, and of his cricketing journey around the continent and indeed the globe.
He told of the great influence in his career (the then Queensland coach John Buchanan) and of the characters with whom he had played along the way – from Darren Lehmann with whom he debuted in the same Test, to Glenn McGrath, Ricky Ponting, Shane Warne and the Waugh twins.
And he recounted the moment in the first dig in Bangalore when he bowled the great Sachin Tendulkar, although, as he somewhat dryly admitted, "the little master was on 177 at the time".
Adam is one of only two Old Paradians ever to have represented the nation at Test level.
The first was Leo O'Brien, who according to enrollment records attended Parade College in 1921 and '22. Leo represented Australia in five Tests, amongst them the Second and Fifth Tests of the infamous "Bodyline Series" of 1932-33.
Adam's address followed a presentation of the Old Paradians' Association's soon-to-be-launched redesigned website. Justin Kelly, on hand with fellow Old Paradian Tim Jenkinson of the Class of 1998, completed the presentation, as the website has been remodeled by their digital development & IT services company Fitzroy IT.