Damien Woodruff – Onwards and Upwards
It's not often you come across someone who experiences two life-changing events that leaves incredible memories for so many others as well.
Damien Woodruff was known to many as the guy who secured the kind of quinella that most Australians dream of…winning tattslotto and owning a Melbourne Cup winner (for that matter the Caulfield Cup as well) with the champion stayer, Doriemus.
It seems the obvious place to start Damien's story. But it would be wrong to suggest these events defined the man. He was always a big personality that others easily gravitated to. Good fortune just happened to land in the lap of someone already capable of leaving a positive impact on everyone that got to know him. His net was simply cast wider as a result of his wins.
Damien was raised in Kingsbury, the youngest of four children. He attended the local parish primary school until the end of Grade 4 and then went on to Cathedral College as a choir boy. He was to re-join many of his mates to finish his schooling at Parade for Forms 5 & 6.
He settled into Parade very easily, leaving an immediate impression on students meeting him for the first time. For a start he possessed the kind of laugh that filled a room of any size, drawing everyone into the moment. Loving his footy and cricket helped him assimilate as did his reputation as the honey-boy that every girl at ballroom dancing wanted to be with. They weren't alone. The truth is, everyone felt better when they were in his company.
Within a few years he was off-the-market, marrying a Kingsbury girl named Kerri Gooch at the age of 21 with two sons by the time he was 24. Despite the earlier references this was by far his most life-changing event. It was a successful and enduring marriage, their love and devotion to each other evident throughout the years, right up to his final days. It was a true partnership, the two of them equally responsible for how they shared their good fortune among family and friends.
Aside from family, his devotion to the Collingwood Football Club was hard to match as was his passion for horse racing. I guess that's to be expected when you achieve early success as an owner of a Melbourne-Caulfield Cup winner.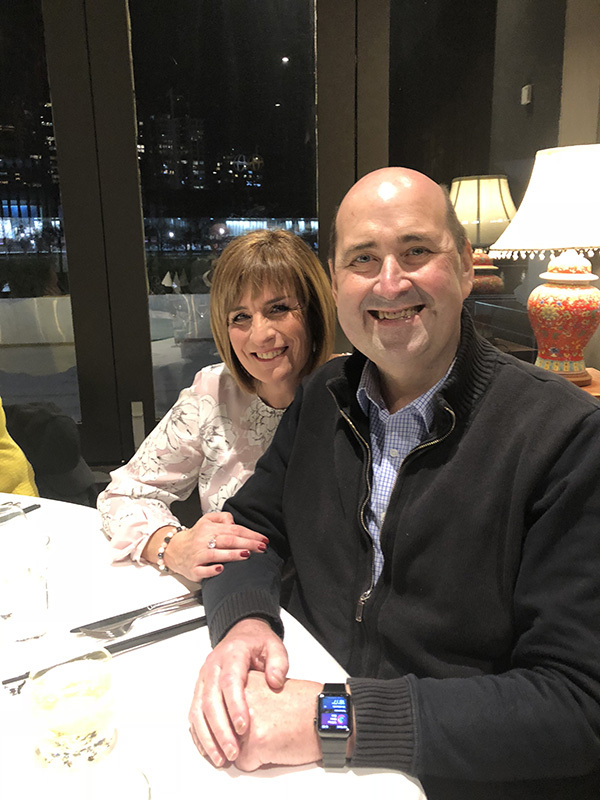 He spent his entire career with the NAB, building great friendships with so many of his business banking clients who always valued Damien's disarming candour and pragmatic management of their banking arrangements.
A little more than four years ago Damien was diagnosed with pancreatic cancer. It's so hard to adopt a positive attitude over a cancer with one of the lowest survival rates of the major cancers but to no one's surprise, Damien's fight was inspirational. He worked closely with The Pancare Foundation raising awareness and gathering thousands of dollars in donations. His signature sign off became "Onwards and Upwards" and you were obliged to reply with the same. And for the best part of three years his response to treatment had us all believing he could be one of the 6% that survive this cancer beyond five years.
Sadly that wasn't to be. He passed away on the 15th of January 2019 at the age of 57.
In the days following his passing social media was littered with photos of people drinking from the Melbourne Cup…their own personal tribute to a guy responsible for a memory that will remain with them forever. But each and every one of these people have a hold on a thousand-and-one other memories that he left behind. And that was the true essence of the man. Onwards and Upwards Pecka.
- Michael Smith (1978)
If you would like to donate to Pancare go to pancare.org.au