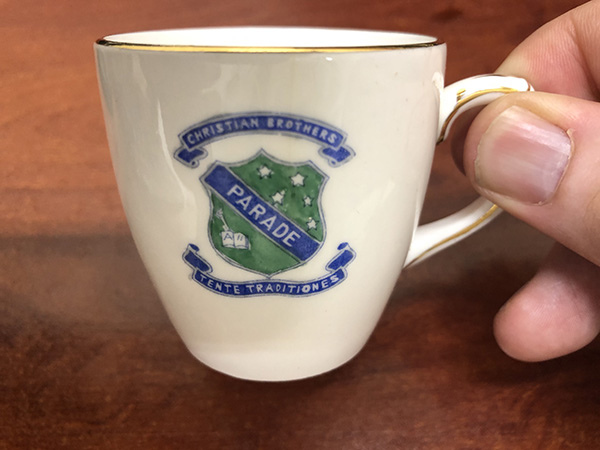 It was at the conclusion of the recent Old Paradians' Association Lunch at Melbourne's RACV City Club that Max Hallam approached with some personal artefacts from Parade's immediate post World War II years.
In doing so, Max, a final year matriculation student who earned Honours in French at the College in 1950, asked that the vestiges – a set of five fine bone china coffee cups manufactured by ABL Grafton in England and four decorative certificates – find a new home in Parade's Heritage Centre at the Bundoora campus.
In an accompanying letter, Max wrote of the cups: "My mother bought these in 1948 when I started at Parade. Apparently similar cups were available for the 'public schools'."
The certificates relate to the years 1945 (when Max, then at St Thomas's Clifton Hill, obtained first place in the 1st year solo section of the Christian Brothers' Elocution Competition) through to 1950 for first placing in French in matriculation.
The 1950 document carries the signature of Br. Carey, while the 1948 and '49 equivalents - which Max earned for first placing in Intermediate and second in Form V respectively - each carry the signature of Br. Marlow.
Of the certificates, Max wrote: "Bill Dunne (1944) told me these were a hangover from the years of World War II when no books were available for prizegiving – I don't know how long they lasted after mine".