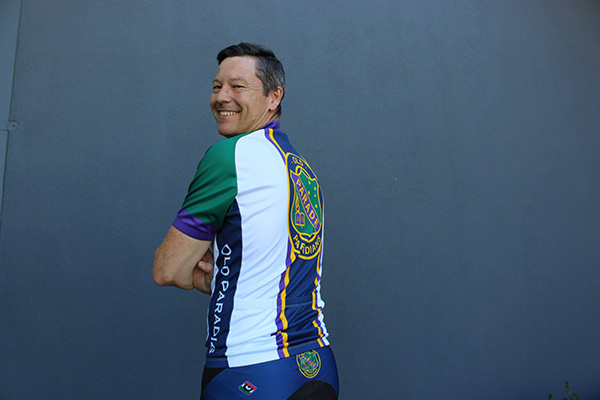 The Old Paradians' Association, in establishing a new cycling team for 2018, has commissioned the design of a striking uniform in College colours.
The purple, green and blue, together with a fleck of Old Paradians gold on a background of white, is modelled here by Anthony Glatzel, a final year student of 1989.
"The strip is extremely comfortable, is nice and colourful and ticks all the boxes," Anthony said.
"This outfit might just get me back on the bike. Why not? I used to ride when I was younger. I cycled the whole east coast of Australia up and back. It's a great exercise, far better than running, providing of course that you don't crash."
The outfit was designed and manufactured by Connie Bof of Giramondo Sportswear. Connie's son Nathan, a Year 11 Parade College student, is an accomplished Victorian cyclist who is intending to join the team when it completes its first leisurely cycle in the annual ride coinciding with Parade's Open Day on Sunday, February 18.
The ride, which commences at the College's Preston Campus, takes in the old East Melbourne and Alphington locales before finishing at the Grevillea Pavilion on Parade Drive at the Bundoora Campus. Cyclists preferring to pick up the ride at either at the Old Bluestone Pile in East Melbourne or at Sparks Reserve near the old Parade Preparatory College in Alphington can do so before the peloton arrives.
Old Paradians and non-Old Paradians who would simply like to gather for a sausage and a softy at the finish line and also view the Bundoora Campus at its pristine best are welcome to visit the Grevillea Pavilion (just beyond the admin block on the right-hand side of Parade Drive) where the barbecue. More details will be made available as raceday nears.
Those wishing to join the Old Paradians cycling team and are interested in purchasing the strip can contact Tony.DeBolfo@parade.vic.edu.au. Requests will be answered when the College reopens after the Christmas/New Year break in late January.