Where had I been? Well, after our mother left the marital home in Elsternwick, I was eventually taken by my father to be looked after by his uncle, aunt and seven children in Roseberry on their farm in the Mallee district of Victoria. They had two boys, Charlie and Tim McCarthy, and five girls who mainly looked after me as a toddler, until Dad collected me about two years later.
Subsequently, I met the seven cousins of Dad, mainly as an adult, and I realised they were still interested in my welfare. One of them, Lily McCarthy, became a Carmelite nun, and when I visited her many years later she said she had been praying for me all my life.
Apparently when I arrived in Gladstone avenue on Dad's shoulders, I was playing a toy trumpet and alan (the eldest son) said to Peter: "Who is the little skite on Dad's shoulders?". Anyway, I settled in very well with my extended family. Aunty Cele was amazing. When I was four years old, Peter and I asked "where is our mother?". Aunty Cele replied "I am your mother!". Okay we thought. They were truly golden years . . .
St Joseph's Elsternwick was such a contrast (dark and gloomy of Jane Eyre). One day Peter and I wagged it from school. We stayed in a vacant allotment on Glenhuntly Road all day, thinking no-one saw us. Wrong. Dad found out later and Peter copped it. But Dad realised we were unhappy at that school and decided we should join Alan at Parade.
Peter and I started in 'Micky' Reardon's classes, Grades, 2, 3 and 4 in one room, in 1938. He was a very good traditional teacher. George Davies was a fellow pupil in Grade 2 while
Peter was in Grade 3.
Later in 1939, the Vienna Mozart Boys Choir joined the Parade College. The boys had been stranded in Perth when war was declared with Germany. Dr. Mannix, Archbishop of Melbourne, "rescued" the choirboys, brought them back to Melbourne and settled them in houses around St. Patrick's parish. Several of them joined us in Micky Reardon's classes, for example, Kurt Schuster, Herbert Strommer and Kurt Schuster, the youngest.
During my time with "Micky" Reardon, several themes stood out. At first, there was talk of 'Houses' and I used to wonder where they were. Eventually, these houses each carried names and colours – Arthur House was red, Gorman House was purple, Belleville House was blue and Power House was yellow. Finally my brain worked it out – "Houses" were another name for "Teams" and at this time, Houses were named after well-known Old Paradians.
Another theme was syllables (Micky called them "silly bulls"). It was a great way to learn how to pronounce and spell, e.g. "com-pos-i-tion" or "Con-stan-ti-no-ple". Another theme was "parsing" – noun, verb, adjective, adverb, etc. – it was like a complicated game. Another was "subject and predicate" which analysed a sentence. The predicate was divided into verb, object or complement and adverbial adjunct. As you can understand from all this, we were well-grounded in grammar.
Peter was always one class ahead of me which was great for reassurance. Peter was always Dux of his class while I was usually a placegetter. When I went into Grade 5 (the room next door to Micky's), Peter was in Grade 6 in the same room. Mr. Rahilly was now our teacher. That year, Peter and I were made Junior Prefects, along with Peter and john Walker and a few others. Mr. Rahilly was a very good teacher and one of the themes I remember was "Christian Politeness) which we went through in great detail.
In 1942, I was in Grade 6 and taught by a young Br. O'Neill, who was very popular. There were two Chinese boys in the class, along with George Davies, Bill Barry, John Walker and Kurt Schuster and others.
During this war period, the grass beside the tram tracks along Victoria Parade were dug up for trenches. I remember having my first real cigarette courtesy of Bryan O'Loughlin, whose sister had received cigarettes via an American soldier – there were plenty of American servicemen around then. Around this time, my cousin Sheila McGrath, with whom we had lived, was now working as a secretary for the Americans in Brisbane.
In 1943 I was in 7th Grade – then called 1st Year Intermediate believe it or not. That year we were introduced to Latin and French as well as Science. We had two teachers – Br. Connelly and Mr. Lawson Muir, both very good teachers. It was exciting to have Mr. Muir, who took you on excursions (having heard from my brothers). Mr. Muir also arranged for me to have diving lessons from the then Junior diving Champion of Victoria at the Richmond Baths after school.
I had been swimming and diving from Parade at an early age. There is a photo of the Parade Swimming Team (1938 or '39) and I am the youngest of the group. Compared to me, some of them look like men.
Next year, 1944, I was in 2nd Year Intermediate (Year 8) with the same two teachers. One excursion was to Mordialloc Beach where we could hire two boats – very exciting. Another excursion was to Sherbrooke Forest looking for lyre birds. Mr. Muir also took us for Science, but if we misbehaved – no visit to the Science block. He also had two straps – "Big Bertha" for serious misdemeanours and the "Little Gat" for minor breaches. For example, spelling mistakes would be the "Little Gat" – one on each finger to the dity "Eeny, meeny, miny, mo". He did have a sense of humour!?
One day Mr. Muir arranged for me to go down to the city by myself to collect and pay for the tickets for our class to see the Shakespearean play "A Midsummer Night's Dream". Can you imagine the confidence he must have had in me to allow me to do that? I was 13 years old at the time. At this point I was also playing gold with my father on a Saturday morning at Royal Park Golf Links where Peter Thompson was Club Chairman as a junior.
The following year, 1945, our school level was called Proficiency (Year 9). Our new teacher was Br. Mahoney who replaced Br. Connelly (suffering from a nervous condition).
During the war years (1939-1945) and for a few years afterwards there was a serious housing shortage. We were very happy at 47 Woolten Avenue, Thornbury where we lived comfortably for about four years.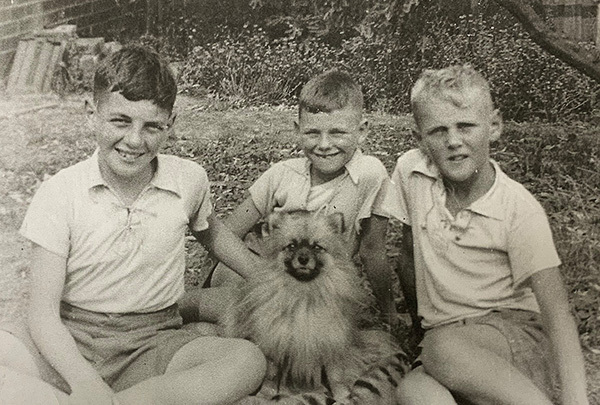 Then the owner wanted to return so we moved lodgings, first to a Guest House in Elizabeth Street, Elsternwick, where the co-owner died. Then we found lodgings at 183 Brunswick Road, West Brunswick for 18 months. Dad shared a bedroom with Alan, and Peter and I shared a doubled bed in the bungalow. All meals were supplied by Mrs. Lyons, the co-owner.
Towards the end of 1944, Peter went to Strathfield to commence training to be a Christian Brother. It was quite traumatic for me because Peter, my brother, friend and advisor was now missing. However, it taught me to be resilient on my own with just Dad because Alan had now entered the Navy service. At this time, Dad decided that I should return to Aunty Cele's for a while. He decided to lodge at The Parade Hotel, corner of Victoria Parade and Napier Street. It was very conventional for Dad because he was the foreman/manager of a process engraving firm Lyell-Owen, on the corner of William Street and Lonsdale Street (now the Magistrate's Court).

Naturally I was very comfortable at Aunty Cele's. I still belonged to the Brunswick Swimming Club and would ride my bike from Northcote to Brunswick once a week. Aunty Cele and Uncle Phil didn't have a telephone so I don't know how Dad would communicate with them except by turning up. Anyway, Aunty Cele, Uncle Phil and Molly went away on holidays around this time. Beforehand they arranged for me to stay with friends, Mrs. Carew and her married sister and son who was studying to be a doctor. It was the nicest house in Gladstone Avenue and they had a refrigerator! At that time, most people only had an ice chest, so for a fortnight in 1945 I was spoilt.
Dad turned up with Alan in his Navy suit. Alan said that I should stay with Dad at the Parade Hotel, so reluctantly I had to pack my bag and go with Dad and Alan to the hotel. I don't know how my bike got there . . .
Anyway, I lived at the Parade Hotel for about 18 months. I gradually got used to it and only had to walk 400 metres to school. In those days the hotel probably would have been classed 3-star but in 1945/46, probably 4-star. Everyone there was very kind to me, the meals were very good and sometimes I would return for a two or three-course lunch!
By 1946 I was finally in Intermediate where we were inundated by students from St. Colman's. our teachers were Br. Quain, Br. Murphy and Br. Murphy – and occasionally Br. Crennan filled in as an emergency. Br. Moloney was very district and you dare not move a muscle!
One of the highlights for me was French dictation – both challenging and interesting. Another highlight was Br. Murphy on Religious Education. I believe we did nine subjects and had homework in every one, so homework would stretch to three hours daily.
Another of the highlights of living in the hotel was that I met Mr. Mickey Miller, the ex-Bantamweight and Featherweight champion of Australia. I was also friends with Mickey's son. They showed me his albums and he was handsome then. He was also a gentleman, but sadly he'd been bashed in too many fights. Mickey won his last fight against Terry Reilly on a TKO in Perth. With the money he won he bought a hamburger shop in Sydney Road, Brunswick.
During schooldays, his son and I went training with him for his last fight. We left those at 6.00am and jogged down Napier Street until we reached the Fitzroy football ground. There he and I ran around the oval many times in a "sweat suit" – and inside the changing rooms, a trainer pummelled him with a heavy medicine ball.
After that we caught the tram into the city and went to the Gymnasium where he skipped endlessly. Then he worked on a heavy boxing bag, followed by quick work on a light, flexible boxing bag. Then it was sparring in the ring with a sparring partner while wearing protective head gear.
When I told Dad excitedly all about that experience he said "Do you want to learn to box?". I thought for as moment, then remembered that Micky Miller was handsome once, and slowly said no!
Towards the end of 1946, Dad was offered a house "for rent" in Black Rock by an old acquaintance. Alan went down to inspect it and said "Yes". In the meantime, Peter had returned from Strathfield, Alan from Japan, so we were a family of four again.
There was debate with Principal Br. Crennan about whether I should transfer to C.B.C. St. Kilda which was nearer, or remain at Parade and travel for about 90 minutes to school. Br. Crennan thought it would be better for my morale and well-being to remain at Parade, so that's what happened.
In 1947 I commenced Leaving, studying English, French, Latin, Physics, chemistry, Maths A and Maths B and I thought I would like to be a doctor. Towards the end of Term 1 I said to Br. Nelson "Do you mind if I drop Latin because I'm getting confused between the two languages?" To my surprise he said "Okay".
In Matriculation in 1948 it was difficult choosing the "right" subjects to be a doctor. For instance, two of my best subjects were French and Physics (the latter thanks to Br. Quain) but the timetable had them clashing. For better or for worse I chose French and we had a special tutor. For Maths I chose Calculus and Applied but I couldn't understand what Br. Marlow was talking about, so I dropped Maths. Finally I failed three subjects and my only pass was French with 2nd Class honours.
In 1949, Dad wasn't too happy about me returning to school. However, Alan talked Dad into allowing me to try second-year Matric. Alan also gave me advice on how to study, so I returned and studied six subjects as hard as I could. Fortunately I passed English, French, British History and Chemistry, which meant at some stage I could study Arts at Melbourne University.
In the meantime I had to earn a living, so became a Student Teacher (in the Victorian State Education System) at Caulfield North Central School in 1950 and followed up at Melbourne Teachers' college in 1951. From 1952 I taught in various State Schools.
- Ian Stanley Dunne