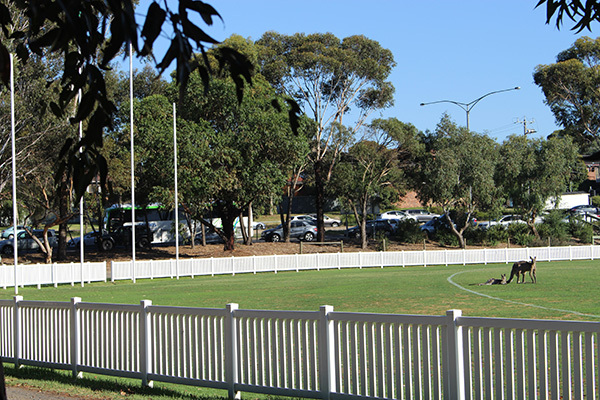 Pictured taking full advantage of the idyllic conditions at the Garvey Oval, home to the Old Paradians Amateur Football Club, were two kangaroos lazing in the forward pocket at the Plenty Road end of the ground.
Though there was no sign of Senior Coach Smith, Captain Kandilakis or the green men, the two roos completed a light session. Clearly the ripping strip agreed with the marauding marsupials, who were happy to pose for these pics within the white pickets and within close bounding distance of the Frank Mount Social Room and the Maurie Considine Scoreboard.
While the straying kangaroos have since been tended to by wildlife welfare officers, those wishing to chase the Sherrin for the love of the game are urged to hop to it, and front for the more conventional Old Paradians training sessions at the nearby Naughtin Oval on Monday and Wednesday nights from 6.00pm.
Contact details for Senior Coach Ryan Smith, Reserves Coach Anthony Jolley and Under 19 Coach Paul Healy can be found on the club website, www.oldparadiansafc.com