In its last formality for 2017, the Old Paradians' Association has declared Michael Sullivan the posthumous recipient of this year's Honorary Old Paradian award.
Sullivan, Parade College's first lay teacher and a member of the inaugural OPA committee of 1914, tragically died just two years after its first meeting was convened.

News of Sullivan's award was conveyed to Luncheon attendees by Ray Hangan, a final year student of the College in 1950. He is pictured here doing the noble deed at the Association's final luncheon for the year at the RACV City Club.
Ray revealed that the association had acted on the recommendation of the late Bill Dunne, who had personally confided to him not long before his passing in early 2014 that Sullivan's legacy should be acknowledged.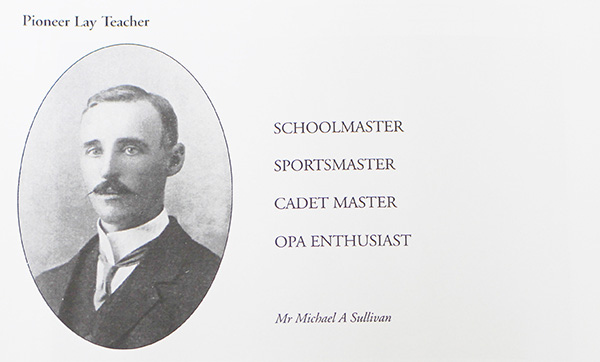 "Bill and I were just chewing the fat as they say, and all of a sudden he said to me in quite an animated tone 'Mick Sullivan . . . something's got to be done'," Ray recalled.
"Bill's wife Joan, who was there at the time, then said 'Ray, I think Bill's given you a job' – and today we see the final culmination of that job."
Ray then canvassed details of Sullivan's life, having accessed research material, not the least of which was The Parade Story, to serve this purpose.
"What do we know about Michael A. Sullivan, apart from the fact that he was born in 1877 and it's just over 100 years since he died of blood poisoning in October 1916?," Ray asked.
"Sullivan was known as a schoolmaster, sportsmaster, cadetmaster and, very importantly, OPA enthusiast. He was educated at St. Francis's and taught there before commencing at Parade in 1902 as the first full-time lay teacher. He taught primarily in Grades 1, 2 and 3 and it could be said of him that he was responsible as a schoolteacher in introducing the very young to the College."
Ray then quoted the reminiscences of the Old Paradian Harold Hoare, who in the 1921 Golden Jubilee edition of The Paradian, reflected on his days as a student under Sullivan's care.
"It was the writer's privilege to be associated with Mr Sullivan for about four years, and during this time, I can safely say, I never heard an unkind word spoken of him by any of his pupils or by anyone else. In school life two virtues shone out prominently – his amiability on all occasions, and his thoroughness in preparation of school work and in his imparting information to his youthful charges. Never flurried, always regular and punctual, he was, in my estimation, an ideal schoolmaster.
"The late Mr Sullivan was a very efficient sports master. The 'Parade' was at its zenith in the sporting arena when he had charge of affairs. His coaching of the senior football team was highly spoken of by all, many of those trained by him becoming well-known members of League teams after leaving school. But it was at the annual sports meetings that his services proved invaluable. His knowledge of competitors, his attention to every detail, and his courtesy to all won him universal admiration, respect and affection."
Ray added that in 1909, in response to an appeal from Archbishop Carr to the various Christian Brothers' schools, Parade College established a senior cadet unit which comprised around 160 boys volunteering to undergo military training. Inevitably, Sullivan took charge of the unit and all its related activities.
Ultimately, Sullivan's interests transcended the College years and were channelled towards the ex-pupils – and having been a member and secretary of the early association of Old Boys from Brothers' schools, he was perfectly placed to join the fledgling Old Paradians' Association, whose committeemen included RT 'Bob' Rush, JF Cody and the President James Kennedy.
"Undoubtedly, as a teacher at Parade and mixing with Old Paradians, Michael Sullivan became clearly imbued with the fact that even though the general Old Boys Association had collapsed, Parade itself should have one," Ray said.
"He, along with Bob Rush, James Kennedy and others, began the work of establishing the first committee of the Old Paradians' Association, and as they say, the rest is history.
"We are now the beneficiaries of Sullivan and his interest in Old Boy activities."
Sullivan becomes the seventh recipient of the Honorary Old Paradian award after John Joss, John Nicholls, Phillip McLaughlin, Keith Sharkie, Guy Rodrigues and Maurie Considine.
Established in the Old Paradians' Association's Centenary Year of 2014, the award acknowledges those men who, whilst not schooled at Parade, have contributed significantly to the cause of the College and/or the Association over many years.
Though Sullivan was married, his wife Elsie bore no children which meant there were no beneficiaries to be presented with the award struck in his honour.
However, the Association is arranging for an appropriate plaque to be placed at Sullivan's grave – an unmarked grave he shares with Elsie and his dear mother Ellen in the Melbourne General Cemetery.