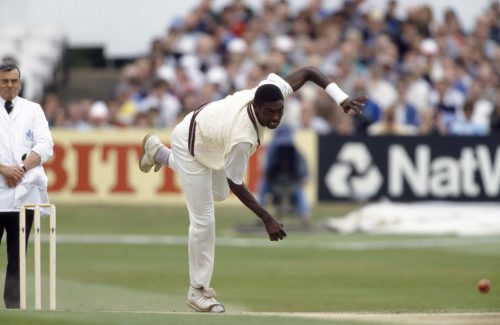 Many a tale was told at the recently-convened 30-year reunion of Parade's final year class of '87, but few more vivid than Jason McGregor's.
That Jason was in the house to wax lyrical about the events of Long Island in the late 1990s was something of a minor miracle – and he still has the scar to prove it.

Jason's frightening encounter happened in a cricket match between Staten Island and Nassau County, where he unwittingly faced up (sans helmet) to one of world cricket's most fearsome pacemen.

Now read on . . .

I still have a fairly clear memory of the events.

I was working in New York in the mid to late 1990s and I heard through some friends that there was a cricket competition that was of quite a high standard. So I joined the Staten Island Cricket Club.

The team was comprised of commonwealth expats with a few Australians but most were from India, Sri Lanka or Pakistan with almost no Americans. The teams that we played against were mostly of Caribbean origin and were aligned with teams from down there, example a team aligned to Jamaica, another with Trinidad, and so on.

I found out later that good players of first class standard would be brought up to play because there was money involved. But I was pretty confident in my ability back then, having opened the batting for the OP's second XI.

Our first match was at home for Staten Island and was played on a pitch that we shared with the local baseball team. The pitch was rolled dirt with a mat laid across the top. I noticed that the spectators had no idea what we were doing and would regularly just wander across the outfield.

I volunteered to open the batting and take strike. Backing my judgement, I didn't wear a helmet.

I remember looking back to the slip cordon to see how far back they were standing so I could get a sense of how fast the bowler would be.

They were standing a fair way back, which was slightly perturbing.

I looked up to see who I was facing – just as a rather lean and lanky West Indian fellow started tearing in from the boundary. His first ball, whizzed through, while his second ball was a throat ball which hit my gloves, went straight up into the air and I was out caught.

I walked off thinking that no-one was going to get any runs against this guy, which turned out not to be the case as we had some pretty good batsmen. I remember this being quite a high-scoring match and thinking that the standard of cricket was such that it was not going to be a walk in the park.

Later in the season we were playing a team in Nassau County which is in Long Island. This team played on a turf pitch and it had rained overnight and the pitch was actually quite slow. We batted first and we still had a limited kit and my opening partner ended up with the only helmet that we had. I was facing another big West Indian guy (didn't know who he was at the time) but by this stage of the season I felt a bit more prepared for the bowling.

I remember early in my innings that he bowled a short ball but it stuck in the wicket and came through quite slow. I went to play a hook shot and played through the shot before the ball got to me. I remember it coming at me in what seemed like slow motion and being more stunned by it than being hurt by it. The ball didn't break my jaw, it just cut me, so I suspect that it didn't hit me flush. I didn't feel any pain because I was lucky where I was hit and the pitch had taken the pace off the ball.

I was taking strike for the next delivery when I noticed blood dripping on the pitch. My batting partner then came down the wicket and said "You better head off to get the chin looked at". As I was walking off the ground the fellow who bowled the ball said to me quite firmly - "You disrespected me" - presumably because I wasn't wearing a helmet.

I caught a cab to the hospital and had a few stitches put in (see attached photo) and returned to the ground thinking I would resume my innings. But by then my team had been bowled out and we were in the field.

At some point during this game it was pointed out to me that the bowler was Patrick Patterson, the former West Indies fast bowler. Looking back I think the pitch conditions probably saved me from being killed.

Overall, the standard of cricket in New York was quite high and we played all over New York and even teams from other cities like Philadelphia. I have a few other stories I could tell but these are for the next reunion.

editor's note: at a recent gathering of legendary wicketkeepers organised by the Lord's Taverners in London, former West Indian keeper Jeffrey Dujon nominated Patrick Patterson ahead of Curtly Ambrose, Wayne Daniel, Joel Garner, Michael Holding, Malcolm Marshall and Andy Roberts as the quickest of the Caribbean's bowlers to whom he had kept.
Patrick Patterson – the story of an unquiet mind - http://indianexpress.com/article/sports/cricket/patrick-patterson-an-unquiet-mind-4762590/