In the lead-up to the much anticipated celebration of 21 years of Parade College Musicals at The Athenaeum on August 25, an extraordinary portfolio of photographs from four years of Old Paradians vaudeville nights has surfaced.
The stills, in the keep of Damian Cosgriff (1978) for almost 40 years, reveal former teachers such as John Joss, the late Brother Clem McMahon (pictured) and Frank Russell as you've never seen them before, through the course of the four vaudeville nights staged in the Greening Auditorium annually from 1979-'82.
Former Parade College teacher Patricia Joss (pictured), who produced all four shows, remembered that the late Rene Stella "approached me to put on vaudeville nights for the Old Paradians' Association".
"They were staged in the old gym over each of those four years and everyone involved had an absolute ball," Patricia said.
"John (Joss) was the soft shoe boy with Clem McMahon and (former Association President Lance Phillips). Lance's wife Marie was a dancer so she choreographed it all, and the soft shoe boys used to practice their routines at the Phillips' place between the lounge room and the kitchen. In fact I can remember Clem, while practicing his routine in the hall, saying 'How many steps to the kitchen?'."
Patricia recalled that a dinner preceded each vaudeville show, which involved not only teachers but parents and current students committing their energies to anything and everything from Irish ditties to wartime and old west songs, with the odd melodrama thrown in.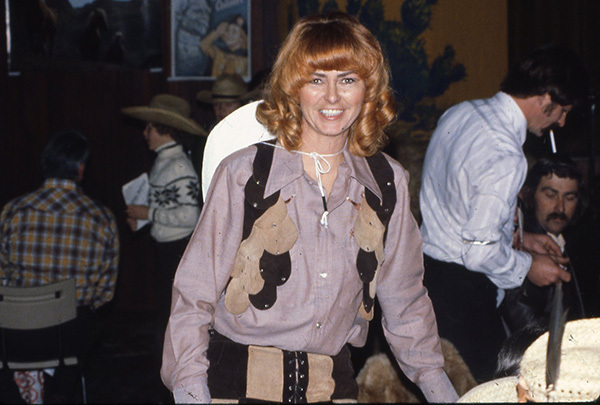 "I remember the opening number in the first year was 'Tradition' from Fiddler on the Roof.
"I'm not sure whether it was the first or second night that we threw popcorn at the villain Frank Russell. Unfortunately the popcorn had oil in it and left marks when it hit the stage floor," Patricia recalled.
Patricia also remembered another Old Paradian, who shall remain nameless, delivering a marvellous rendition of "Danny Boy" not realising the fly in his trousers was undone. As for Damian Cosgriff, "he played a great Jimmy Cagney".
To view all of Damian Cosgriff's images, click here
To book your tickets to Encore – 21 Years of Parade Musicals 1996-2017 – a one night only musical extravaganza at Melbourne's iconic Athenaeum Theatre, click here