Flick the pages of the 1965 edition of The Paradian and you'll find Valentino Stella's name prominent in the matriculation results of the previous year. The record shows that Master V.J. Stella passed with First Class Honours in Pure Mathematics and Physics; and Second Class Honours in Calculus and applied Mathematics, as well as Chemistry.
Ten years ago, Professor Val Stella (BPharm 1968, HonLLD 1997) was awarded the Takeru Higuchi Research Prize, which recognises the highest accomplishments in pharmaceutical sciences and is open to researchers from around the world.
Professor Stella was so honoured for his significant research contributions to the pharmaceutical sciences including the novelty and originality of his research programs; his success in translating the findings into commercial products that are being used clinically to treat humans; the impact of his research findings on the industrial scientists who are responsible for discovering drugs and developing drug formulations; and his dedication and commitment to teaching and mentoring student pharmacists and visiting scientists.
As one colleague quoted in Val's nomination letter:
"Seldom in modern history has the pharmaceutical sciences field had a scientist who was able to so frequently translate research findings into commercial products used to treat humans. His contributions to the pharmaceutical sciences through both basic and applied research have been significant and abundant. Among those working in the research areas of pharmaceutical cyclodextrin and prodrugs, Professor Stella would be considered one of the leading experts in the world."
In December 2020, Val, the distinguished professor of pharmaceutical chemistry, called time on his extraordinary career at the University of Kansas (KU) – a moment captured for posterity by the American midwestern state's Lawrence Journal-World.
The relevant article, which appeared on the ljworld.com website just prior to the New Year, was passed on to the Association by another Old Paradian Garry Nervo (1967) - and with the permission of the news service's publisher Chad Lawhorn is reproduced as follows:
'It's the impact you have on people's lives': Retiring KU professor invented widely used drugs for HIV and other conditions
There's a high chance you know someone whose life has been saved, extended or improved by a drug invented by University of Kansas professor Valentino "Val" Stella.
Stella himself does: A KU colleague and the father of another both used the drug Velcade to treat blood cancer, to name just two.
"About two-thirds through my career, all of a sudden I realized this is not about publishing another paper," said Stella, an internationally lauded distinguished professor of pharmaceutical chemistry at KU.
"It's not the papers, it's not the grants, it's not the accolades. It's the impact you have on people's lives."
Stella's 43-year career as a professor at KU came to a close with his retirement this semester. Velcade is one of several drugs he invented or co-invented that made it to market as a commercial product. Including those, he said he holds 45 U.S. patents.
Stella has specialized in prodrugs, which involve developing better ways to formulate and deliver drugs to the body.
In addition to Velcade, other drugs Stella invented or co-invented are:
Viread, which millions of people worldwide have used to treat HIV. It's also used to treat chronic hepatitis B.
Fosphenytoin (the brand name is Cerebyx), a water-soluble form of phenytoin that, instead of being taken orally, is injected to treat major epileptic seizures in emergency situations.
Fospropofol (brand named Lusedra), an injectable form of the anesthetic propofol.
Captisol, the solubilizer used to create injectable forms of the anti-schizophrenic drugs Geodon — again, used in emergency situations because it's absorbed quickly — and Abilify, which can be administered monthly so patients don't have to take daily pills. Captisol is now in a total of 10 FDA-approved products, Stella said.
Julie Nagel, KU's associate vice chancellor for innovation and entrepreneurship, said Stella ranks in the top two or three of patent-holders at KU but that the use of his inventions counts more than those numbers.
"You can spend a career collecting patents, but really what's important and what sets Val apart is the impact the patents he has gotten have had on how we treat diseases," Nagel said.
One of the Velcade patients Stella knows is Nagel's own father.
He was diagnosed with multiple myeloma around the time Velcade came on the market, Nagel said. That was 12 years ago, and he's still with the family this Christmas.
"His oncologist, who doesn't know who Val Stella is, said Velcade was the biggest splash in treating this disease since I've been a physician," Nagel said.
Stella said he's heard from doctors who've used fosphenytoin on a patient who had a seizure on the operating table and injectable Geodon on a schizophrenic patient in crisis in the Lawrence Memorial Hospital emergency room.
"It comes close to home," he said.
Stella, 70, is originally from Melbourne, Australia.
He got his bachelor's degree in pharmacy from the Victorian College of Pharmacy in Victoria, Australia. He then came to KU, where he received his doctorate in analytical pharmaceutical chemistry and pharmaceutics, and had the legendary professor and mentor Takeru Higuchi as his graduate adviser.
Being a businessman in addition to a researcher helped Stella propel his inventions from patents to products.
Stella founded three pharmaceutical companies to help with that process. This year he became one of KU's first two inductees into the National Academy of Inventors. In 2010 he was an inaugural inductee into the Lawrence Business Hall of Fame. He also was a founding board member of the Bioscience & Technology Business Center at KU, which opened in 2010 to help other entrepreneurs.
"He can help understand how to transform the science into a business venture," BTBC executive chair Laverne Epp said. "In addition to being a board member he's been a valued adviser to other inventors. He has a very broad network across the country and internationally. He's introduced us to some important people."
Besides helping people through his own research, Stella said he's proud of the 100-some KU doctoral and post-doctoral students and visiting scientists he worked with over the years who went on to have successful careers that also impact lives through science.
One of them is Rob Myers, now working in the pharmacy field in Idaho Falls, Idaho, who worked for Stella first as a lab technician right out of Lawrence High School in 1979. Myers went on to get his bachelor's, master's and doctoral degrees in pharmaceutical chemistry from KU, working with Stella the whole time.
Myers was the person who mixed up the first batch of fosphenytoin, the injectable seizure drug, as an undergrad in the early 1980s. At the time, he said, they borrowed lab space in Malott Hall, found as big a container as they could and made as big a batch as they could.
Of course the team hoped the drug would succeed, but Myers said he didn't hear much about its progression until later, when fosphenytoin made it to market.
"The inventions or the creations that we had in the lab that Val directed have had direct influence on the treatment of care, like the fosphenytoin. The previous formulation was horrible; it would destroy the vein it was being infused in … Val's idea was, 'Let's go around that,'" Myers said.
"That was the beauty about Val, the thought about how to get around the problems — not through them, but around them."
Stella, who's married with three children and now four grandchildren, said he's glad he made time for his family and his children's activities throughout his busy career, when some opportunities to "get bigger" might have made that impossible.
Stella and his wife, Beth Stella, have served as United Way of Douglas County campaign co-chairs, and he's worked with KU Endowment to raise money for pharmaceutical chemistry-related efforts.
He said in retirement he'd continue to help raise money for KU. He said he's also considering a new startup company for veterinary drugs, specifically for companion animals.
Stella said that although people like him often get the "direct glamour" of their inventions and research, it's a team effort. He said he stayed out his career at KU School of Pharmacy because it's a "kind" place to work where people get along and cooperate.
"We do what we do because we want to impact people's lives," he said. "And we have fun along the way doing good science."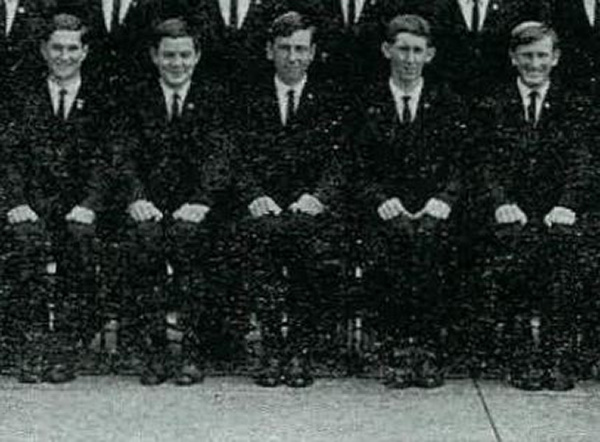 Parade's Matriculation Group 1 Class of 1964. Val Stella is the student pictured in the middle. At the far left is the '64 College Captain Terry Barker. At far right is Geoff Carter, later the long-serving teacher at Parade Preparatory College.
Other images (courtesy LJWorld.com): Professor Val Stella, pictured at Simons Laboratories on West Campus on Wednesday, December 14, 2016; and from left to right Professor Stella, KU Chancellor Bernadette Gray-Little and Gov. Sam Brownback at KU's Bioscience and Technology Business Centre in 2013.