This fabulous photograph, captured at the Bundoora Campus in September 1977, shows Form II (Year 8) students, then members of the Old Paradians' Under 14 football team, standing proudly by a banner prepared by their mothers for the upcoming Grand Final against Keon Park Youth Club.

The photograph reflects the level of support provided by teachers and parents for the boys – Parade College pupils for a few short years; Old Paradians for the rest of their lives.
John Goulding (1981) graciously shared the photo, as a mark of respect to the team's coach - his father Arthur, who died recently at the age of 81.
Arthur Goulding is the man crouching to the left of the banner. Others include the then College staff member Brother Robert Aron who helped recruit the players and resident goal umpire Des Flynn, whose wife Jean, together with Marie Hammond, also peddled pies, sausage rolls and Cornish pasties on matchdays from the mobile kiosk – a second-hand mini-caravan acquired by Arthur and repainted in the College colours.
"Dad was very proud to be associated with the Old Paradians. He coached the OPs 'Unders' for a couple of years and was one of the initial founders of the St Damian's Football Club as a feed-in to the Old Paradians," John said.
"He formed a great association with Father Briglia who together with Brother Aron would come to our house for dinner and discuss ways of creating better engagement between Parade and St. Damian's and various projects to improve the school."
Another son, Phillip (1983), remembered his father's special relationships with the many fellow members of the College community who supported Parade in a myriad of projects.

One such project involved the construction of the squash courts and trampolines at the Bundoora Campus through Arthur's involvement with the College's Father's Committee.

"Dad was not a builder, but he built our houses and could apply his broad trade skills to carpentry, tiling, fencing and carpet laying," Phillip said.

For the record, the John Flynn-captained Old Paradians' Under 14 team of 1977, which participated in B-Section of the Preston District Junior Football Association competition, lost to Keon Park in the big one at Preston City Oval. But John Goulding took out Best and Fairest honours for the team in that season, was also runner-up in the B & F for the comp, and at 15 found a place on Collingwood's Under 19 list through his showings for the Old Paradians..
Arthur William Goulding is survived by his beloved wife Lorraine, sons John, Phillip and Robert (1989) and daughters-in-law Maree and Colleen, together with eight grandchildren - two of them having also attended Parade.
After a long illness, Arthur died peacefully in the Heidelberg Repatriation Hospital on June 21. Last Monday (June 28) Arthur's funeral mass was conducted at St Joseph's Catholic Church in Benalla where he and Lorraine had married some 58 years before. John delivered the eulogy and John's son Father Marcus Goulding conducted the service.

Arthur was then laid to rest at Benalla Cemetery, not far from one of his English-born ancestors Joseph Goulding, an early pioneer of the Benalla township.
Amongst the many tributes paid to Arthur were members of those Under 14 Parade teams he so capably coached. To quote John: "I'm proud to say that many of those boys I went to school with have been contacting me and sending out their messages of condolences to our family . . . and they still recall the positive influence that Dad had in their lives".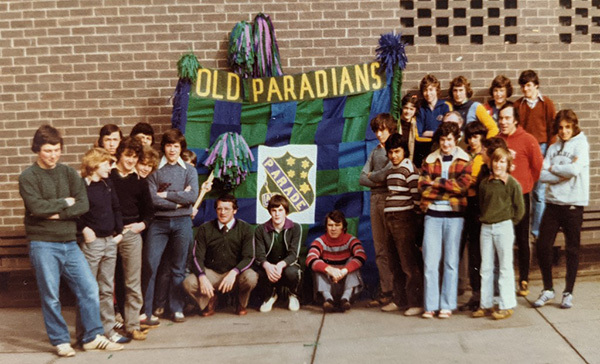 The Old Paradians' Under 14 Football Team players and officials, September 1977.
Standing to the left of the banner, from left to right: John Stella, James Shanahan, Mark Peters, Craig Backway (obscured by Mark), Mick Deylen, Tom Anderson, Joe Picone, Anthony Loton and Brett Backway (obscured, holding the flogger).

Seated: Arthur Goulding (Coach), John Flynn (captain) and Jim Shanahan (team manager).
Standing to the right of the banner against the wall: Chris Renehan, Tony Canavan (vice-captain), Stephen Brennan, Paul Luby and John Goulding.

Standing in front of them: Larry Heath, Garnet Rodrigues, Wayne Ennor, Des Flynn (obscured), John Trench-Thiedeman, Michael Ryan (looking towards the banner), Stephen McDonald, Br. Bob Aron (runner) and Renato Bartolomei.
Absent: Tony Beers, Brendan McClements and Peter Shanahan.


Images: The Goulding family and The Paradian