He is pictured in his school uniform, sitting cross legged in the front row - a member of Parade's Intermediate B Class of 1936. At just 14, Master Ron Bennett shared the hopes and dreams of his 36 fellow pupils when he proudly posed for the College photographer.
But those hopes and dreams would never materialise for young Ron. A world war would see to that.
Ronald Andrew Bennett, the son of Ernest and Mary Bennett, was born in North Fitzroy on October 4, 1921. He was the third of five siblings, following his sister Rae and brother Ivan, and preceding sisters Muriel and Stella.
On completing his intermediate at the 'Old Bluestone Pile', Ron furthered his studies at the Marist Brothers' St Patrick's College in Sale, before finding employment as a clerk with the Council for Scientific and Industrial Research (later the Commonwealth Scientific and Industrial Research Organisation).
But he maintained his links with Parade as a valued team member of the Old Paradians' Amateur Football Club . . . and he wore the purple, green and blue with pride.
Ron was two months short of his 20th birthday when in August 1941 he enlisted for wartime service at nearby Royal Park.
Issued with service no. VX61150, Private Bennett was initially assigned to the Redbank Reinforcement Depot, before completing drills with the 6th Infantry Training Battalion at Royal Park and later the Darley military camp in mid-September of '41.
On his return to Melbourne the following month, he joined the 2/21st Battalion.
The 2/21st Battalion was an infantry battalion of the Australian Army. Raised for service during the war as part of the Second Australian Imperial Force, it was formed on July 11, 1940 at Trawool (on the middle reaches of the Goulburn River in central Victoria) as part of the 23rd Brigade of the 8th Division.
In October 1941, Pte Bennett and his fellow battalion members transferred to Darwin. Two months later, they boarded a troop ship for overseas service in the Dutch East Indies (now Indonesia), and on December 17 disembarked on the island of Ambon – a part of the Maluku archipelago, about 1000 kilometres north-west of Darwin.
Five days after his arrival, Pte Bennett was admitted to the East Indies Hospital with follicular tonsillitis (an infection of the tonsils). Discharged on December 28, the young soldier had just experienced his final Christmas.
Pte Bennett's battalion had been deployed to Ambon following the Japanese invasion of Malaya as part of Gull Force to defend the strategic island's harbour and air strip. However, with the defence of Ambon considered untenable due to the limited military resources available and overwhelming Japanese strength the soldiers of the 2/21st were subsequently captured despite determined resistance, surrendering on February 3, 1942.
Pte Bennett was officially declared missing on Ambon on the previous day (February 2). A follow-up report noted his capture by the Japanese as a Prisoner Of War on February 15.
But the Old Paradians' fate would remain a mystery for the next three and a half years. Not until September 13, 1945 – nine days after the formal Japanese surrender, did the following words appear on Pte Bennett's Service and Casualty form:
Killed In Action (Executed by Japanese) Nov/Dec 1942, Ambon
Back home in Australia, on the morning of Thursday, September 13, 1945, an article headlined MEN OF 2/21 BATTALION FROM AMBON EVACUATED BY RAN CORVETTES, appeared in The Argus.
The following is an edited version of that article:
RAN Corvettes have evacuated to Morotai 164 prisoners of war, including 14 Australian officers and 109 other ranks, from Ambon, in the Ceran Sea. Forty-two of the total number are stretcher cases.
The Australians are what remain on Ambon of the 2/21 Battalion and attached troops, known as Gull Force, which defended Ambon in early 1942. The original strength was 807, and unit rolls kept by the prisoners show that 411 have died and 17 were executed. it is not known what happened to the remainder of the force, members of which were taken to another area some time after their capture.
On September 8 four corvettes dashed from Morotai in response to radio signals from the prisoners. Ambon was reached at midday on September 10. An American-born Japanese was taken aboard as interpreter to assist the Australian interpreter, and contact was made with the Australians on the wharf at 2pm. they were on parade with their commanding officer, Major G. de V. Westley, of Hawthorn (V), as the corvettes docked.
Most of the rescued men are Victorians. there are some Queenslanders among them, also two Indian officers and 24 other ranks, three of them stretcher cases. These were picked up at sea from a Japanese barge by the Latrobe at night after a rendezvous had been arranged.
TRANSMITTER DEMANDED
It was not until September 2 that the Australians were informed by the Japanese that the war had ended. Major Westley at once demanded a wireless set to make contact with the Australian forces, and was given a broadcast receiving set.
A protest brought a transmitter, which was useless. The Australians took over the Japanese wireless station, and two American operators who were among those rescued re-established contact with Morotai.
The first brief message sent contained the following information from the commanding officer of the Australians: "As senior officer of the 123 Australians, nine Americans (including one civilian), and seven NEI POW in Ambon, I request clarification of the position and definition of our present status."
To this came the reply: "VX44808 Major G. de V. Westley, 2/21st Battalion, is appointed to command your party. Japanese command Ambon has been ordered to obey all your orders and provide stores, transport, or other requirements you have."
This was the first contact these men had had with the outside world since they were captured three and a half years ago.
In addition to men of the 2/21st Battalion there were a section of 2/11th Field Co, C Troop 18 Anti-Tank Battery, a detachment of 2/12 Field Ambulance, 104 Light Aid detachment, and attached troops.
BRUTAL TREATMENT
For a while the prisoners were well treated and food was plentiful. Then naval troops took over from the army, and a civilian administrator named Ike Ouchi was brought to the camp as administrator. After that they were more or less brutally treated by Ike Ouchi and some of his guards. They were made to perform work of a military nature, such as handling bombs and ammunition, digging anti-tank ditches, and gun positions. When they protested they were informed that international law no longer applied.
When they complained that their camp and hospital were not clearly marked against air attack, and that bombs were stored within the confines of their camp they were threatened that if they complained again an officer would be executed and an example made.
Six weeks after their capture three officers and four other ranks escaped. Later they were followed by another four other ranks, and later still by two other ranks. These escapes were concealed from the Japanese for a few days, and afterwards the men heard from interned Dutch brought from other islands that the men had got back to Australia.
On October 26, 1942, the lieutenant-ant-colonel who commanded the force and 266 others were transferred. the guards told the men that they were taken to Hainan, off the coast of Indo-China. From then on Major Westley assumed command.
11 MEN BEHEADED
In November the Japanese discovered that the men were breaking out of camp at night seeking comforts for themselves and retribution against native spies. Twenty-three men were taken to a hill, where some of them were (tortured).
The 11 men the Japanese were seeking were beheaded on November 22, 1942.
Australians who made the rescue this week inspected the mass grave in which they are said to have been buried, with a board over it, on which the names are marked.
Documents taken aboard the ships by the men show that one man was shot on July 24, 1945, on the orders of 2nd Lieut Simakawa, camp commandant. four were beheaded by 2nd Lieut Ueda on April 26, 1945, for stealing four bags of rice and nine boxes of tinned fish. One man was beheaded by 2nd Lieut Nonji on April 30, 1945.
Until August 1944, treatment of working parties was fairly good. Later, however, sick men were beaten because they could not work. Treatment was brutal and men laboured in shifts from 6am until 9pm.
Later when deaths became so rapid, poles and saplings were used to mark the graves. The death rate for 1945 alone is shown by progressive months: January, 2; February, 11; March, 14; April, 24; May, 47; June, 72; July, 94; August, 29.
Almost all of these died from beri-beri, dysentry and malnutrition. On August 15 43 POW Camp was bombed by Liberators owing to the location not being marked. Steel helmets were withdrawn with the excuse that they were needed for Japenese paratroops. There were 180,000lb of bombs in the dump within the camp. The dump received a direct hit. Two men were wounded from the bombing, and when the dump exploded two minutes later six officers and four other ranks were killed and 75 wounded.
On August 29, 1944, three more men were killed from the air when 12 Liberators on an attacking force of 75 bombed the camp.
News of Ron's brutal demise was finally conveyed to heartbroken members of the Bennett family, who placed the following notice for their boy in the September 18 edition of The Argus.
BENNETT.-Ronald Andrew, VX61150. 2/21 Btn., executed whilst P.O.W., Amboina, November 1942, loving son of Ernest and Mary Bennett, sadly missed brother of Rae, Stella, Ivan and Muriel, aged 21 years. Sadly but proudly missed.
On September 29, 1945 this photograph of the final resting place of Pte Bennett and his 10 fellow members of the battalion appeared in The Argus. Pictured paying his respects at that grave was an Australian soldier.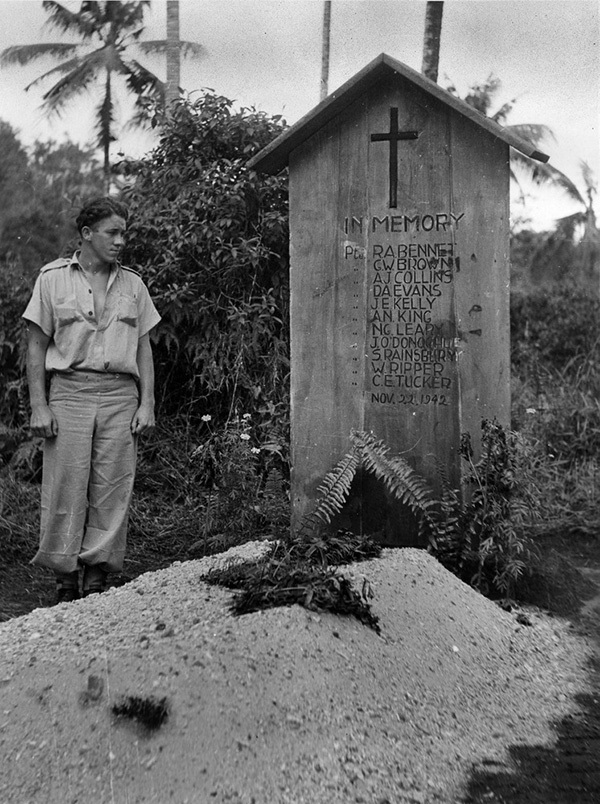 The caption reads as follows:
IN AMBON TO MEET HIS BROTHER, Stoker J. F. O'Donoghue, of 5 hill Street, Hawthorn, of the first relief party, found that his brother had been executed by the Japanese with 10 other POWs. Here Stoker O'Donoghue stands by the mass grave (Australian Official photo.)
Before they left camp, the surviving Prisoners Of War placed fresh flowers on the mass grave, whose headstone reads: "In memory. Privates R. A. Bennet (sic); G. W. Brown; A. J. Collins; D. A. Evans; J. E. Kelly; N. G. Leary; J. O'Donoghue; S. Rainsbury; W. Ripper; C. E. Tucker. Nov. 22. 1942".
Three weeks later, details of Pte Bennett's short life and cruel death were included in an article, together with a portrait photograph of the young soldier, in The Argus ofFriday, October 12, 1945:
POW EXECUTED ON AMBON
Pte Ron Bennett, 2 21st Battalion, AIF, youngest son of Mr and Mrs E.W. Bennett, of East Brunswick, was executed on November 22, 1942, while a POW on Ambon. He was one of 11 men who escaped from the prison camp in an endeavour to get food. All the men were recaptured by the Japanese and executed. They were buried in a common grave, with his name inscribed above it, in a newsreel of the POW camp on Ambon. Pte Bennett, who was educated at the Christian Brothers College, Victoria pde, and St Patrick's Sale, was a leading amateur footballer, and a member of the Old Paradians team. He represented Sale Old Collegians in the Coleman Cup handball series. Before joining the AIF he was on the staff of the CSIR, East Melbourne.
Today, a bronze plaque in Ambon War Cemetery perpetuates the memory of Ron Bennett, a brave Old Paradian who gave his tomorrows so that we may have today.
Etched into that bronze plaque is an epitaph which reads:
HIS DUTY FEARLESSLY AND NOBLY DONE
EVER REMEMBERED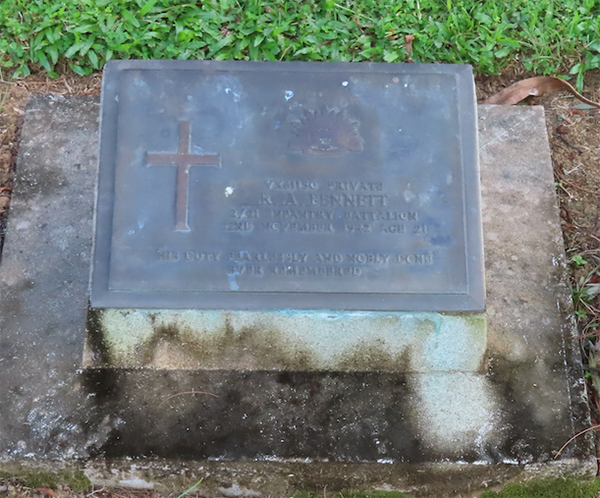 The following is an interview with an Australian Gull Force veteran over wartime film, which includes (at 3.28) soldiers on Ambon Island paying their respects at the final resting place of Private Ronald Andrew Bennett and 10 fellow Prisoners of War executed there on Wednesday, November 22, 1942