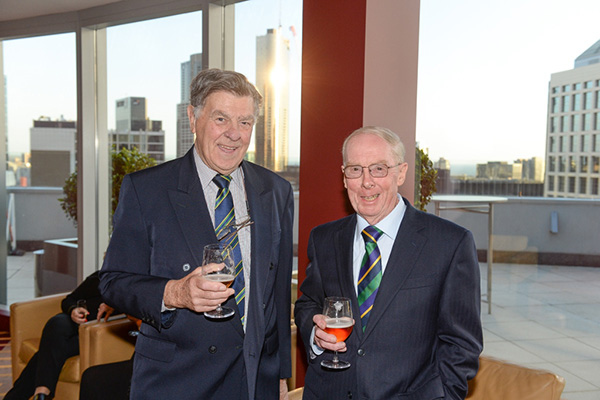 John Griffiths, an Old Paradian whose long and dedicated commitment to the Association's football club as Committeeman and Secretary was rewarded with Life Membership, has died at the age of 82.
A former student at St. Colman's in the immediate post-World War II years, John completed his final year of schooling at the Old Bluestone Pile in in 1949. His son Damien followed suit, as a final year student of 1982 at Parade's Bundoora campus.
John was a regular at the OPA's monthly luncheons at the RACV City Club, which is why fond tribute was paid to him by Hilton Deakin at this week's gathering. Said Hilton: "Johnny died, probably with a football in each hand".
In late 2014, John was amongst the many hundreds of diners at that venue to celebrate the Association's Centenary year. That night, he was pictured sporting his old Paradians tie and enjoying a beer, in the company of (from left to right) his wife Pauline, and Beverley and Brian LeBrocq (an old College contemporary of John's as one of the 49ers).
Originally an East Preston boy, John was the youngest of four children and the only son of Clarence and Gladys Griffith. He followed his sisters Dorothy, Nance and Margaret (who died not long after her birth) and only Nance is still living.
John completed his schooling at St Colman's in 1947 then obtained a scholarship to Parade where he completed his Leaving and Matriculation years. He then embarked on what would be a long professional career with the Titles Office.
John met his future wife Pauline at a dance at the Heidelberg Town Hall, in the Melbourne Olympic year of 1956. "It's an easy year to remember because of the Games, John went to them and he kept the stubs of those tickets," said Pauline.
"First impressions of John were that he was very quiet and that carried right through. John never raised his voice and his sister Nance told me that she never heard him raise his voice even as a child."
Pauline believed that her late husband committed to the Old Paradians football club when Preston CYMS folded. "He played a bit of footy at Preston, and when it disbanded he joined the Old Paradians and played a few reserves games," Pauline said.
"The Old Paradians were lucky to gain his services as Secretary and Committeeman but we were lucky too. We met a lot of great people at the club and for the past 50 years I have gone out to lunch with the wives of the husbands who were connected – ladies like Bev LeBrocq, Maurine Considine and Helen Wakeling."
John and Pauline married at St Joseph's Catholic Church, West Brunswick on her birthday in November 1960. They would raise three children – Damien, Gabrielle and Katrina, who died two years ago.
"The best way to describe John is that he was unflappable," Pauline said. "He was always very happy too, and though he sometimes got angry when dementia came, that was a mitigating factor. In truth, John loved life, he loved to socialise and he was happy."
John died at Templestowe's Southern Cross Care on November 2. Requiem Mass for John will be offered in St. John's Catholic Church, corner of Yarra and Cape streets, Heidelberg, on Friday, November 10, 2017, commencing 11.30am.
A private cremation will follow the service. In lieu of flowers, donations to the St. Vincent de Paul Society in memory of John would be greatly appreciated.