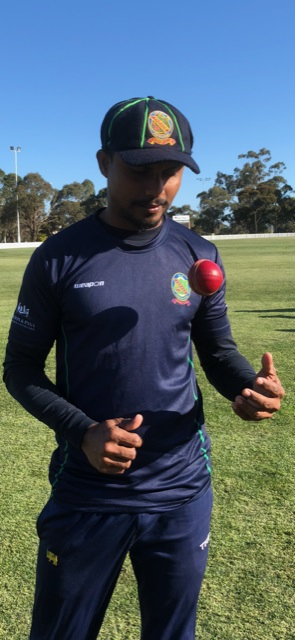 Sri Lankan all-rounder Udara Jayashanka Ranasinghe has completed an extraordinary debut for the Old Paradians' Cricket Club, capturing a club record 9/22 in the second round of the Money Shield.
Udara, the 26 year-old hailing from Galle, recently ripped through the Lower Plenty batting line-up with his off spinners, as the visitors were bundled out for 92 on the Garvey Oval. The Old Paradians took first innings points, replying with 9/187 – 45 of them from Udara's willow.
It is understood that Udara's "nine for" from 21.5 overs and seven maidens, eclipses the previous best figures recorded by an Old Paradian of 9/60 set in season 2001/02.
As Udara's English is somewhat limited, OPCC Senior Coach Michael Cocks took the liberty to laud the player's performance and noted the solid influx of Sri Lankan players within the Old Paradians ranks.
"We have a very big Sri Lankan community through the cricket club. In fact our 5th XI is entirely made up of Sri Lankans," Michael said.
"There has always been a solid number of Sri Lankans playing at the club and we've always been a multicultural club."
The Old Paradians currently sit third on the table behind Lalor stars and competition leader Heidelberg, in the ten-team Money shield competition.