It's more than a quarter of a century since David Cosma last wandered the vast open spaces of the Bundoora Campus in his College uniform.
But the singer/songwriter fronted for his final day armed with his trusty guitar, and to his eternal credit he's now put words and music to precious film of that momentous occasion all those years ago.
In marrying the tune "Take Me" from his newly-released album The Death of Discovery, David may well have pieced together Parade's first music video – which in part includes pictures of the since-demolished Edmund Rice Campus beyond the Brothers' Cemetery to the rear of the property.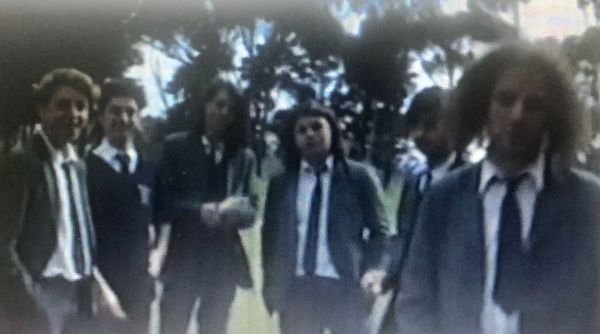 Here David reveals the story behind the story;
Okay, so a few weeks ago, my mate Enzo Tomasiello, found a couple of old VHS videos. One was titled 'Cosma's 18th'. Not sure how he ended up with it all these years but nonetheless, I got hold of it. As detailed, it had (ancient) footage of my 18th birthday shenanigans but I was pleasantly surprised to find more footage, of my last day of school, Year 12, Parade College 1992.
Upon viewing, I half expected to find the typical pranks and madness you hear about with a 'last day at school' and sure, there were some cheeky moments, choice language and bravado on display however I was pleasantly surprised to find a snap shot of time which gave me a glimpse into my teenage years and specifically my time spent at school, which for me were the most memorable, enjoyable and life defining years of my life. I loved my time at Parade. I was no academic genius yet I loved the environment and the people in it.
The video camera was mine. Unlike today where everyone carries a HD camera with them at all times, a video camera in the early 90's, especially in a school environment, was a bit of a novelty.
The opening shot with me and my car was shot by one of my best mates, Joe Tricarico (whose son coincidently, Max Tricarico, was just elected as 2019 school captain).
Thereafter, I shot some of the footage and when I appear in front of camera, Nick Milano is cameraman...
Upon seeing it, I recall wanting to capture a few things for posterity, the ERC campus (long gone), various staff (you can see us talking to Mr. Joss at the start, we tried to evoke a reaction out of the librarians where we'd often be causing mischief, we visited Anne Mills in the tuck shop, our adopted God Mother was a wonderful woman), there's a big free for all footy match taking place (which was pretty much a daily occurrence), I remember taking the guitar and performing for some mates in the ERC quadrangle, there's lots of general standing about, taking about things of the time, lots of buffoonery.
I had enough close up footage to identify nearly 40 students and staff, names which are listed below. I wish I had filmed more students and teachers! There's many more faces in the video which I can't identify but I'm sure ex-students may see themselves or friends they know...
Here's a list of the staff and students I was able to identify - Stephen Baggio, Jason Balazinec, Michael Basile, Michael Cavedon, Marco Centofanti, Brad Cordina, David Cosma, Paul Damiano, Joe De Fazio, Andrew Demaria, Damien Del Medico, Adele Fernando-Swart (librarian), Jason Findling, David Gargaro, Marco Gatino, Tony Gospic, Dean Horsington, John Joss (teacher), Michael Kavanagh, Darren Kozul, David La Greca, Daniel Lepore, David Mariani, Nick Martello, Michael McCrohan, Nick Milano, Anne Mills, Lino Murdocca, Cameron Murphett, David Murulli, Robert Pegoraro, Ivo Pes, Fiona Powell (librarian), Mark Rainer, Matthew Rumuno, Brendan Thomas, Enzo Tomasiello, Joe Tricarico, David Vespa and Bruno Zangari.
To quote Molly Meldrum, do yourselves a favour and check it out - "Take Me" from The Death of Discovery;