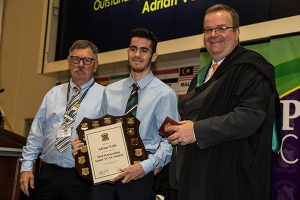 Adrian Vella, a final year student of the class of 2018, has been named this year's Old Paradians' Association's Senior VCAL award winner.
A certificate of acknowledgment and shield were presented to Adrian by Director Pathways Education and OPA Committeeman John Nicholls in the presence of Acting Principal Andy Kuppe, together with teachers, staff and students at the recent Term 1 Assembly in the Bundoora Campus' College Hall.
"Adrian is another wonderful example of a Parade student getting the most out of the opportunities the College has to offer. He was able to consistently impress his teachers with his determination and effort in everything he undertook," Assistant Principal, Teaching and Learning Geoff Caulfield said.
"Sometimes overcoming some significant hurdles, Adrian was able to complete his Senior VCAL program that included a Certificate III in Sport and Recreation, Certificate II Building and Construction in Carpentry as well as a Certificate II in Small Business.
"Adrian was able to develop his skills and experiences in a variety of different ways over not only his Year 12 year but over the past three years."
Adrian will this year take up a traineeship in sport and recreation at Parade College and complete a Certificate IV in Sport Development as a part of that traineeship.