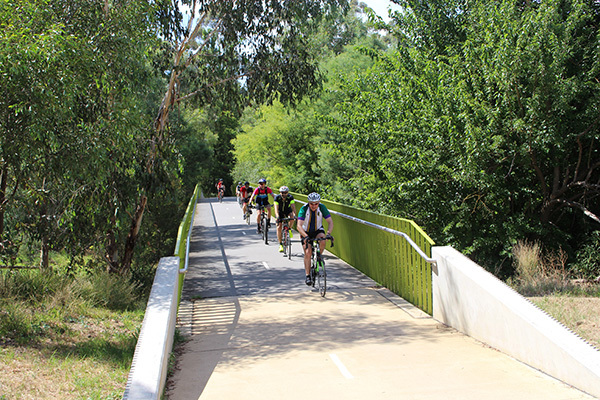 Tales of Parade's two former campuses – 'The Old Bluestone Pile' in East Melbourne and the Preparatory College at Flowerdale – were shared during well-earned drink breaks in the Old Paradians' Association's Annual Preston-Bundoora Bike Ride.
The 40-kilometre bike ride, which coincided with Parade Bundoora's and Preston's much-anticipated Open Days, this year attracted 26 riders who represented a healthy cross-section of both the Parade and Old Paradians communities.
In warm conditions, all 26 riders – including Old Paradian Matt Donoghue (1989) and his son Mason (Year 9) pictured here before setting off from Preston – completed the ride without hitch.
One of the riders, Peter Gilmartin of Parade's final year class of 1968, recounted stories of his College days as riders assembled in the shadows of the old East Melbourne campus on Victoria Parade. Similarly, Paul Schofield (1991) reflected on his years at Parade Prep, as riders downed drinks within walking distance of the old Flowerdale property.
Asked his thoughts on the event, Peter Gilmartin replied: "The highlight was seeing so many current students getting involved, and I love the father/son father/daughter participation, which was fantastic".
"It's good for the younger people to develop an understanding of what makes Parade, so that when the name 'Alphington Court' arises as an example they know where it comes from," Peter said.
For the record, the following cyclists completed the Old Paradians' Association's 2019 Annual Bike Ride:
Tony Bianco, Mitchell Challis, Adam De Beer, Deon De Beer, Mason Donoghue, Matt Donoghue, Edward Dynes, Peter Dynes, William Dynes, Peter Gilmartin, Darcy Grogan, Wayne Grogan, William Grogan, Alex Haffenden, Glenn Haffenden, Chris Henderson, Joseph Ibic, Robert Ibic, Mark Love, Dino Rebellato, Paul Schofield, Angelo Sirianni, Lourdes Sirianni, Xavier Sirianni and Warren Stirling.
The Old Paradians' Association acknowledges the support of all cyclists who supported this year's ride, and expresses its thanks to Mirella Busso-Lee (in her last event for the association) for overseeing the bike ride, to John Abrahams and Lewis Derrico who acted as marshals, and to Dino Rebellato and Paul Schofield for guiding the peloton safely home.