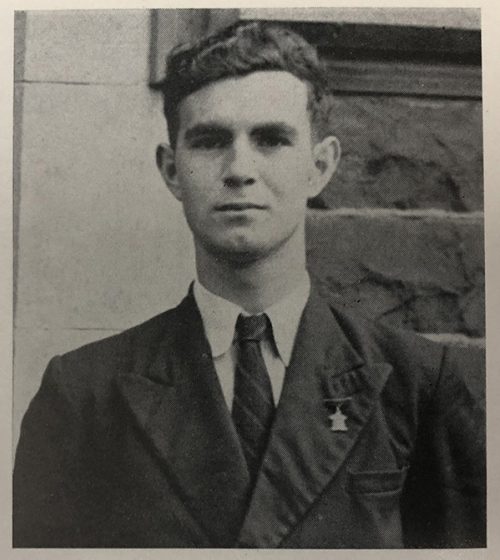 Sixty years may separate their respective tenures . . . but fate recently brought Parade College's 2018 Captain Matt Casamento and his '58 equivalent Dennis Green together for the first time at the Bundoora Campus.
Matt and Dennis are pictured here after their chance meeting, having been drawn to the Old Paradians' Association's office on their own separate missions. Matt dropped by to collect a consignment of chocolate bars donated by the Association to assist current students with their ambitious $50,000 fundraising campaign for the Comboni Sisters Hospital – "50 years, 50 grand" as the campaign has been dubbed given that this is the 50th anniversary of Parade Bundoora's existence.
Dennis, meanwhile, paid the OPA a visit in his quest to convene a 60-year reunion of students who completed their matriculation at the 'Old Bluestone Pile' in 1958 – and as he suggested to Matt, "You'll be pursuing this same course of action someday. That's how much you've got ahead of you".
"A 60-year reunion eh? . . . Wow, that's freaky," came the reply.
The accompanying image of the then 18 year-old Dennis Green appeared above the following profile featured on page 28 of The Paradian in 1958.
DENNIS CLIFFORD GREEN, Captain of Parade
Dennis Green has spent the past five years in the College, coming to Parade from St. Colman's. His quiet and determined character early singled him out for leadership and his fine record through the College made his choice for the Captaincy easy. His ability in study is of no mean order; he is a first class debater; he has presided over the destinies of the Y.C.S.; and he has fulfilled the onerous duties of Cadet Under-Officer with distinction. For two seasons he has played back pocket with the College XVIII. Next year, when Dennis moves on to tertiary studies, he will undertake the course in Civil engineering. Well done!
If you would like to pledge a donation to assist Parade College students in their fundraising campaign for the Comboni Sisters Hospital, please contact Tony.DeBolfo@parade.vic.edu.au