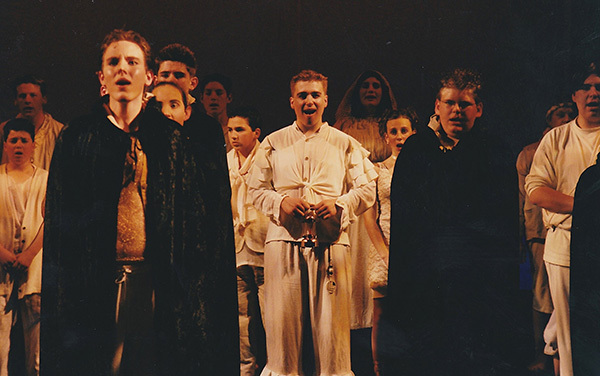 A group of Old Paradians are banding together to bring to life a one-off event celebrating the past 21 years of Parade College musicals.
The Old Boys – John Abrahams (1982), Luke Bortignon (2017), Michael Butera (2002), Ross Chapman (2006), Brad Cocks (1999), Tyson Legg (2000), Reardon Jones (2003) and Stephen Valeri (2007) – have been part of regular planning meetings in the lead-up to the event, tentatively booked for the night of Saturday, August 25 at a venue to be confirmed.
And they're calling on former cast and crew, together with orchestral members and production staff from Parade, CLC Eltham, Our Lady's Heidelberg, Santa Maria College Northcote and Mercy College Coburg to again lend their support.
To quote Brad: "We're getting the band back together".
"More than 1500 people in cast, crew, orchestra and production teams have gone on to create lifelong friendships, careers and in some instances even marry those they met through the musicals," Brad said.
"To celebrate in true style, plans are underway for two massive events in 2018 . . . and we need anyone who was ever involved in a Parade show overt the past 21 years to help spread the word."
The group yesterday launched its Facebook page - Encore! 21 Years of Parade College Musicals – which is to showcase stories and images accumulated from every show from as far back as Barnum in 1998 through to Catch Me If You Can last year.
Within 24 hours of the launch, more than 200 interested parties had joined the page.
"This is a great start, and we are calling on everyone to tag their friends and feel free to post as many past memories, photos and general banter as you wish," Brad said.
"Whether you have been involved in one show or many, the latest or the first, buckle up for a hell of a ride."
For those not on Facebook but would like to be kept informed, emails to parademusical21@gmail.com are also welcome.