As the matriarch to ten children (six sons, four daughters), Edna declares with genuine conviction that she and her late husband Terry hold the record for the most sons simultaneously schooled at Parade (East Melbourne and Flowerdale) – Paul (1965), Bernard (1966), Gerard (1968), Leo (1970) and Gregory (1973).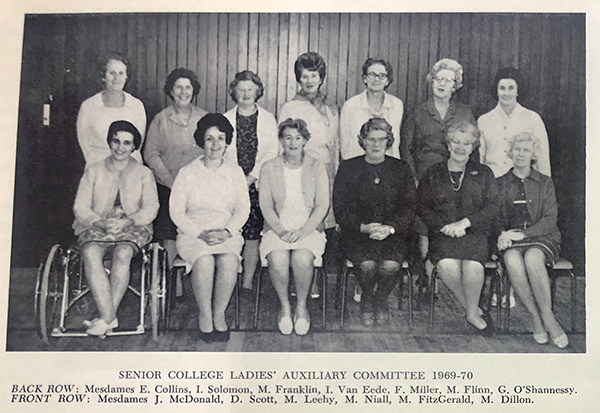 The sprightly Edna Collins, who celebrated her 100th birthday with family and friends last Saturday (May 25), claims a unique record at Parade College.
Edna has survived Paul, who died last September. On Wednesday she joined her fourth son Leo in completing a sentimental journey back to the Bundoora Campus where her five grandsons were also schooled - during which time she was photographed in the reception area beneath a pictorial montage of College history where her five sons are pictured.
"Parade was good for the boys, because it gave each one of them a community spirit," Edna said.
"Each one of them became involved in community things."
Born and raised in Ascot Vale, Edna lived through the dark days of The Great Depression and World War II.
"I left school at 14 and went straight to work because I came from a poor family who couldn't afford school," Edna said.
"It would have been good to further my studies, but as it happened it didn't matter."
Edna's work ethic was the stuff of legend. As Mum to ten, nine of whom were educated at various primary and secondary institutions in the north, she recalls one particular year in which she committed her energies to five different school canteens no less.
Asked the secret to longevity, the former Vice-President and Life Member of Parade College's Ladies Auxiliary unhesitatingly volunteers the regular digestion of buttercream and ice cream – a gastronomic combo she freely admits leaves her dietician reeling.
But Edna is tracking along rather nicely.
"I'm going pretty good. My legs aren't happy, but everything else is all right," she says.
"I'm still loving life because I'm interested in everything and that's a good way to be."
As the much-appreciative recipient of a dark Navy Blue guernsey with the No.100 on the back for her birthday, Edna laments the fact that she may not be around for the next Carlton Premiership.
But with every day that passes she takes greater comfort in the knowledge that she's never seen her beloved Blueboys lower their colours to Collingwood in a Grand Final.