As part of a glorious farewell assembly acknowledging his 25 years at the helm, outgoing Principal Dr Denis Moore was inducted into the Old Paradians' Association Hall of Fame, on an historic day in which the Bundoora Campus' College Hall was renamed in his honour.
Old Paradians' Association President Dr Paul Shannon presented Dr Moore, a fellow Old Boy of Parade, with a glass memento acknowledging his induction.
"In 2010, the Old Paradians' Association was struggling for relevance and it was under Br. Denis' leadership and vision that it was revitalised into what it is today for future generations," Dr Shannon said.
"Br. Denis has been and continues to be a good shepherd, a servant leader, a visionary, mentor and friend to a great many people. Br Denis is someone we all love very much, and I couldn't think of anybody more worthy induction into the Old Paradians Hall of Fame.
"On behalf of the Old Paradians' Association, it is my great pleasure this afternoon to induct Br. Denis into the Old Paradians' Association Hall of Fame."
Dr Shannon's tribute was paid before an audience including members of Dr Moore's family, dignitaries, the Acting Parade College Principal Andy Kuppe, the former Principal Br Laurie Collins, staff and students, together with 17 of the past 25 College Captains under Dr Denis' watch, who also saw a new College Captains Honour Board unveiled during the assembly.
An incredibly moving moment came when Old Paradians Stephen Valeri (2007) and Matt Casamento (2018) together sang 'Bring Him Home' from the musical Les Miserables.
Outgoing Parade College Chairman Darryn Borg, Parade Director Pathways Education and OPA Committeeman John Nicholls and State Member for Bundoora the Hon. Colin Brooks furthered the tributes to Dr Moore, as did St Joseph's Geelong Principal Tony Paatsch. Tony told the audience that whilst Dr Moore was a man of few words when in attendance at the various gatherings involving fellow Principals, "everything that he has said has been absolute gold and was always worth listening to".
"The Greek philosopher Zeno reminds us that that the reason why we have two ears and one mouth is that we should listen more and talk less. Br Denis listens and listens and listens, and when he speaks he cuts through the nonsense with statements that are wise and sensible and pragmatic and visionary," Tony said.
"As fellow Principals we've learned a lot from Br Denis. We've learned that you don't have to love the limelight to be an effective leader. We know that Br Denis is a shy man, but being Principal of one of Victoria's largest schools is a high profile position (and) he's shown us that you can lead very effectively by flying under the radar.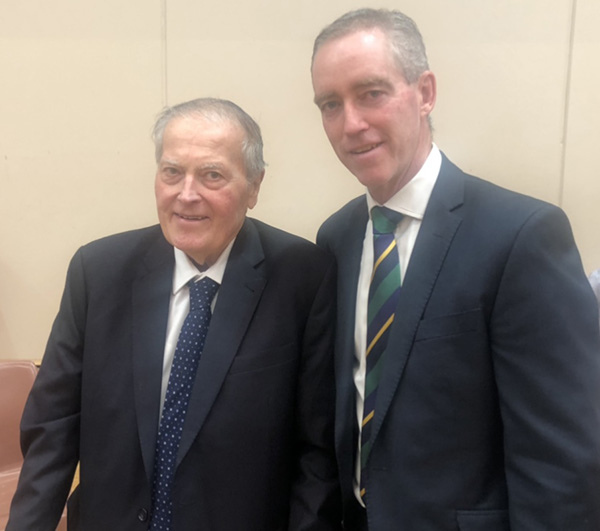 "We've also learned about loyalty. We've seen Br Denis' loyalty to his colleagues, to his friends, to his church, to Parade and to his Christian Brothers . . . and in recent years we know that loyalty must have been sorely tested many times.
"And we've seen in Br Denis what a genuine educator looks like. Becoming a teacher's pretty easy, but being an educator requires an incredible depth of understanding, a breadth of vision and a willingness and capacity to act to achieve that vision. Br Denis has all of these in spades.
"So Br Denis, on behalf of those Principals who had the honour and privilege of sharing Principalship wish you, I want to thankyou for your company and your friendship and for what you taught us. Few of us will ever serve a community as Principal for 25 years and we are in awe of you as we look at your achievements here at Parade.
"You are a giant of Catholic education in Victoria and we wish you well as you move into whatever life holds next."
EREA Executive Director Dr Wayne Tinsey, who was officially given what he considered "the opportunity of a lifetime" in unveiling a plaque acknowledging the formal renaming of the venue the Dr. D.J. Moore Hall, also paid tribute.
"Br Denis has dedicated his life to education and nobody embodies the highest ideals of our vocation in education - those of personal integrity, Christian service and belief in the young – more than Br. Denis Moore," Dr Tinsey said.
"For his College educators he's been a friend, a mentor, a role model and an inspiration. He's been all these things and so much more to the many thousands of young men, staff and others who have been touched by Denis' wisdom, his skill, his gentleness and his care.
"Catholic education in the Edmund Rice tradition has never had a more faithful son than Br. Denis Moore."
In response, Dr Moore took the opportunity to thank all who had paid tribute at his farewell assembly and noted that whilst ill health had forced his absence from College duties these past 12 months, he had still managed to keep abreast of the latest happenings.
In reflecting on the past quarter of a century of his Principalship, Dr Moore noted the on-going change and growth at Parade, both in staff and facilities, adding that "the goal was always to ensure the best conditions for good learning and quality teaching in the College".
"It's been my great joy to see well over 6000 young men pass through the College on their way to University or Tafe or apprenticeship . . . and we've put much effort into offering alternative courses such as VET and VCAL, to give students more chances to succeed in the light of their career choices," Dr Moore told the audience.
"None of us operates in a vacuum and I acknowledge the support of so many people over the past 25 years and the support of a very effective school board over time and a very efficient and industrious leadership team, and a great number of dedicated staff who have been eager to bring about the best results for our students."
Dr Moore also acknowledged the College's significant embrace of the Community Action initiative, where students have committed their energies to the welfare of the poor, elderly and disadvantaged in society.
"The journey over the past 25 years has certainly had its challenges and difficulties, but it's been a great journey of responding to changing needs in education and offering young men what they need to move on in a complex world," he said.
Dr Denis Moore cbc is the 16th Inductee to the Old Paradians' Association Hall of Fame. He joins the following Inductees to the Hall – Lou Arthur, Gen. John Baker, Sir Bernard Callinan, Michael Cocks, Sir John Collins, Lt. Col. Charles Denehy, Mr. Leo Doyle, Bill Dunne, The Most Rev. Arthur Fox, Ivan Hutchinson, 'Jock' McHale, Sir Norman O'Bryan, Michael Pratt GC, Capt. Prof. Kevin Rickard AM and John Wegner AO.