Richmond's oldest living Premiership player Patrick ('Paddy') Guinane, a part of Parade's all-conquering 1st XVIII teams of the mid-1950s, died yesterday (Sunday) at the age of 80.
Joining Richmond in 1958 from the neighbouring St Ignatius YCW team, Paddy followed his father Dan, who had represented the Tigers in 103 senior appearances through the 1930s and '40s.
At 6'3" and 14st. 6lb in the old measurement, Paddy cut a formidable figure in yellow and black. In 148 senior League matches through 11 seasons at Punt Road, he topped the Tigers' seasonal goalkicking tallies with 50 in 1966 and 41 in '68, which bookended the drought-breaking 1967 Grand Final victory over Geelong under Tom Hafey's watch.
Wearing the No.1, Paddy, as vice-captain, was an able ally to the then team leader Fred Swift, in a 20 which included Bartlett, Dean, Hart and Northey, and the famed midfielders Bourke, Barrot and Clay.
For two seasons from 1969, Paddy chased the leather for VFA outfit Dandenong. In '71, he accepted an invitation from his old Richmond teammate Tony Jewell to join Caulfield, and as centre half-forward he was part of the Bears team that accounted for Brunswick in the 1973 2nd Division Grand Final.
On retirement as a player, Paddy returned to Punt Road where he coached Richmond's Under 19s in 1978-'79 and reserves in 1980-'81. He later served as a Club Board member from 1985–'87, and again in 1989.
An old schoolmate Russell Lewis recalled with genuine affection the life of Paddy - "a gentle giant in every sense" as he put it.
"Paddy was typically Richmond. His father's home was what was called a 'labourer's cottage', although it's all gentrified now and is the place to be," Russell said.
"His father was a tram driver and I think Paddy was one of seven or eight children. He told me that the old house had three bedrooms - one for Mum and Dad, another for the girls and another for the boys. Paddy grew up in a tough neighborhood but because he knew everyone he seldom ran into trouble."
Having first attended Richmond's St James' primary, Paddy joined Parade after earning a singing scholarship.
"He (Paddy) had quite a lovely soprano voice and was part of the Cathedral choir," Russell recalled.
"He also liked Latin, but I remember he was never able to make (Brother) Moloney's Latin class due to his choral commitments at the Cathedral. Moloney put it to him - 'Is it going to be Latin or the Cathedral?' and Paddy stuck with the singing - something he told me he later regretted because he liked Latin."
Paddy captained Parade's Under 15 football team in 1954, the same year he earned Best & Fairest honours. His contemporaries - future Carlton footballers Sergio Silvagni and his cousin John Benetti, together with Kevin Bergin, the 1954 College Captain and captain of the '54 1st XVIII - completed the 17-match season without defeat.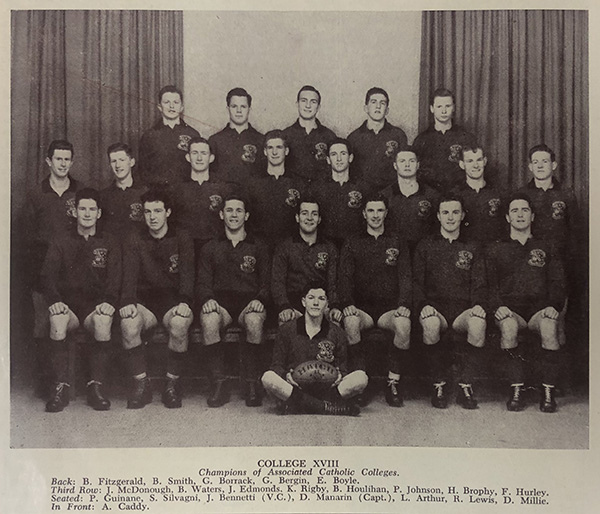 In '55, Paddy was elevated to the 1st XVIII, which had rather conveniently retained Silvagni (as No.1 ruckman) and Benetti (centre half-forward) for another season.
Not surprisingly, the Parade team, captained by Dom Manarin, went back-to-back – once again undefeated - and in The Paradian's player notes the following was recorded;
Pat Guinane: The 6'2" baby of the team with tons of football ability. In the ruck proved an excellent deputy for Serge. A fine high mark and a good kick. His best game against Scotch.
Paddy turned out at centre half-back for the College that year, with Russell Lewis, Parade's 1955 Malouf Trophy winner for general excellence, up front at full-forward.
Paddy completed his matriculation with honours in English Expression, Pure Mathematics, Applied Mathematics and Chemistry, and gained a Commonwealth Government Scholarship. He also earned an Atomic Institute Cadetship and Secondary Teachers' Studentships, but as it would have required him relocating to Canberra and well away from the football club that he loved, Paddy resolved to pursue teaching as his vocation.
Sergio Silvagni and John Benetti followed their football dreams to Princes Park, while Paddy inevitably found his way to the old Richmond ground. It was there, according to Russell, that Paddy also discovered white line fever.
"He wasn't the fastest bloke but he was a big strong fellow. you couldn't compare the bloke off the football field with the one on it. when he crossed the white line he became something different," Russell said.
"Graeme Richmond was running Richmond by then and Paddy would have died in a ditch for him. He was pretty close to Graeme and when Graeme died and was buried down at Point Lonsdale, and on the anniversary of his old friend's death, every year without fail, Paddy used to visit his grave."
Through the 1970s, Paddy officiated as a science teacher at Richmond Technical College, later becoming its Vice-Principal. On doctor's advice, he retired early due to a chronic back ailment, and acquired a 25-acre property and dwelling at Little River where he lived until the end. Though he pursued an interest in thoroughbred breeding, a prize-winning champion horse sadly proved elusive.
On the evening of Friday, November 4, 2011, Paddy joined old teammates Sergio Silvagni and John Benetti at a gathering of Parade's VFL/AFL footballers at Bell City. That night, Paddy was named in The Pride of Parade Team of the Century, amongst League football luminaries 'Jock' McHale, 'Phonse' Kyne, Peter Bedford and Serge.
Paddy died after his life support was switched off, a week after he had suffered two strokes. He is survived by his wife Glenda, but they had no children together.
"We all have our faults, and Paddy's biggest fault was that he could talk the leg off an iron pot. If ever you bumped into him at The Valley (Moonee Valley) you couldn't get away from him," Russell said of the late Paddy Guinane.
"But as I said earlier, Paddy was a gentle giant and he was very non-judgmental. He seldom said a bad word about anyone even though he knew what they were like."