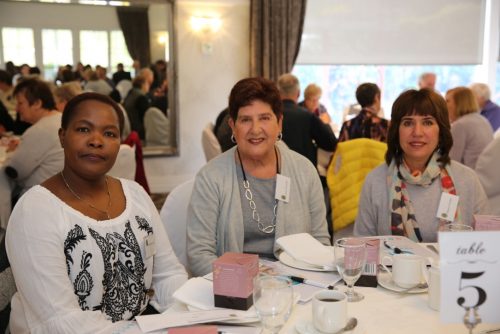 The Old Paradians' Association's (OPA's) 2018 High Tea has attracted the largest audience in the event's three-year history, with 74 people, mostly women, supporting the event in what was National Women's Health Week.
Members of College staff including the Principal Dr Denis Moore, as well as the staff of Northpark Private Hospital headed by its General Manager Petra Snelleman, were part of the High Tea gathering, which featured a most entertaining keynote address from Dr Sally Cockburn, known to most in media circles as "Dr Feelgood".
Petra is pictured seated on the far left at the main table, alongside OPA CEO Tony De Bolfo, Dr Moore and Kevin McMahon (1965), this year's recipient of the Association's Community Service Award.
Standing from left to right is OPA President Lewis Derrico, Northpark Hospital Director of Nursing Liz Bognar, Consulting suites Manager Virginia Kotsios and Finance Manager Melinda Bouquet, the Guest Speaker Dr Cockburn, Northpark's Business Development Manager Lisa Augusteen and Kevin McMahon's wife Sue.
Featured in the second photograph are from left to right: Dr Ester Munyisia (mother of current Year 8 student Fidel Kigen), Lucy O'Connell (mother of Brian (1981) and Paul (1986) ) and her daughter Sharon Prosser (mother of Jack (2015) and James (currently Year 12)).
Lewis said that the Association was extremely encouraged by the turnout from the Parade and extended communities, amongst them the parents of past, current and future College students.
To view all photographs from the Old Paradians' Association High Tea, go to the Image Gallery section at the bottom of the homepage.
images Rachel Raucci, Imagine the Possibilities