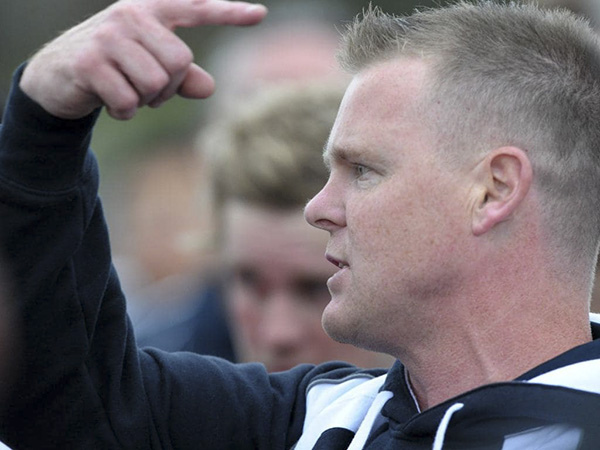 The Old Paradians' Association Amateur Football Club has confirmed the appointment of Phil Plunkett, an Old Paradian of the class of 1991, as Senior Coach for 2019.
Phil, who coached Heidelberg to the Senior Grade Premierships of 2006, 2007 and 2008 and Bundoora in 2013, replaces the retiring Ryan Smith, who recently commandeered the Old Paradians to Division 1 promotion in the Victorian Amateur Football Association (VAFA).
"It is exciting to return to the club," Phil said. "I was down there as a young 19 year-old player and to be able to return as coach to impart some of my football knowledge on the kids excites me."
For the past two years, Phil has built on his football knowledge through his involvement with TAC Cup outfit Northern Knights and by his own admission has learnt a lot under the watch of coach Justin Wenke. In that time, the 44 year-old was also afforded the rare privilege of spending time on the coaching panels at both Carlton and Melbourne, which has broadened his view of the game, "and I'm really looking forward to sharing it with the Old Paradians players".
"I come back at a time when things are starting to turn for the Old Paradians, which is exciting," Phil said. "Hopefully I can help build on that momentum so that we can get back to where we were not so long ago.
"I'm very positive in the way I coach, so hopefully I'll be able to encourage the boys to play some really exciting football. I find that the more you enjoy it the harder you work, so from day one the footballs will be out, which will hopefully encourage a lot of players to get down there and enjoy it."
Phil was also mindful of the importance of the football club's healthy relationship with Parade College. Reflecting on his time with the Knights, he was well aware of the club's use of the College as a training facility.
As he said: "That was one of the key factors that really ignited my interest in the Old Paradians position, that I had a really good relationship with those boys coming out of Year 11 and Year 12 whom I'm hoping will continue together as mates and join the Old Paradians on the way up".
Old Paradians' Association Amateur Football Club President Mike Jolley said the club was delighted that Phil had committed as Senior Coach.
"We are thrilled to have someone of Phil Plunkett's calibre join our club as head of the coaching group," OPAAFC President Mike Jolley said.
"Phil has an extensive and highly-successful playing and coaching record. He is also a past student and was a decorated Australian Rules player at Parade College."
Mike said that that the football club had built a strong culture of improvement in recent years "and everyone understands what is needed if we are going to achieve our longer term goal of winning premierships and lifting our club into the higher grades".
"The recruitment of Phil Plunkett as our senior coach is another important element in achieving our long term goals," Mike said. "We believe Phil will add significant value to our club in the coming years."
At Parade, Phil was part of the 1st XVIII team which in 1991 finished runner-up in ACC competition and a Herald Sun Shield semi-finallist. He earned best and fairest honours that year, in a team which was captained by Brad Gravell and included Luke Smith, Shane Watson, Rob Maiorana and David Cosma.
The following is a snapshot of Phil Plunkett's football history:
Playing
Montmorency Junior Football Club
Parade College Seniors - Best and Fairest
Northern Knights inaugural team
Preston Football Club seniors
Fitzroy Football Club (VFL) Reserves
Preston Football Club VFA. Captain three years
Heidelberg Football Club
Coaching
2006 Northern Blues Reserves and Senior Assistant Coach
2007-2009 Senior Coach Heidelberg Football Club (Premiers 2007, 2008 & 2009)
2010 - 2011 Senior Coach Oak Park Football Club (Runners-up 2011)
2012 Assistant Senior Coach Bundoora. NFL
2013-2016 Senior Coach Bundoora Football Club NFL (Premiers 2013)
2017-2018 Senior Assistant Coach Northern Knights TAC Cup