Former members of the feted Vienna Mozart Boys Choir – future Old Paradians who found themselves stranded in this country on the final leg of the choir's global tour at the outbreak of the Second World War – are to be the subjects of an Australian feature film.
According to The Hollywood Reporter, StudioCanal Australia is developing Vienna Boys Choir with Goalpost Pictures and Screen Australia as the second feature under its Cultivator Fund.
Penned by The Sapphires screenwriter Keith Thompson and to be produced by Goalpost's Rosemary Blight, Vienna Boys Choir tells the true story of the world-famous choirboys who after touring the United States and the Pacific found themselves trapped in Australia when on September 3, 1939 war was declared the day after their final concert in Perth Town Hall.
On the invitation of the then Archbishop Daniel Mannix, the boys, ranging in age from eight to 14, returned to Melbourne with their musical director Dr Georg Gruber and their teacher Dr Otto Sternberg. Though Dr Gruber and Dr Sternberg were interned in a prisoner of war camp at Tatura for the duration of the war, the boys formed the nucleus of the new Cathedral Choir. In return, Dr Mannix arranged for each of them to be billeted out at no cost to foster homes in the inner city area and schooled at Parade East Melbourne, the 'Old Bluestone Pile'.
"This was great foresight by Dr Mannix. The Parade boys looked after them, as did Monsignor Lyons and Dr. Gruber . . . and Dr. Gruber was interned and eventually deported, later becoming a professor of music in South Africa," said the late Bill Dunne in paying tribute to Walter Hauser on Walter's passing in February 2012.
"Like a lot of those boys, Walter lived in East Melbourne, within walking distance of the school. I remember that he lived in Simpson Street with Mr. Cooney, the sacristan at St Pat's Cathedral and because Mr. Cooney was Dr. Mannix's chauffeur Walter often hitched a lift with them."
The tour became a life-changing experience for the choirboys - amongst them Old Paradians Franz Denk, John Eder, Ernst Koller, Gustav Radda, Olav Schappacher and Kurt Schuster - all but one of whom chose to remain in Australia to forge new lives.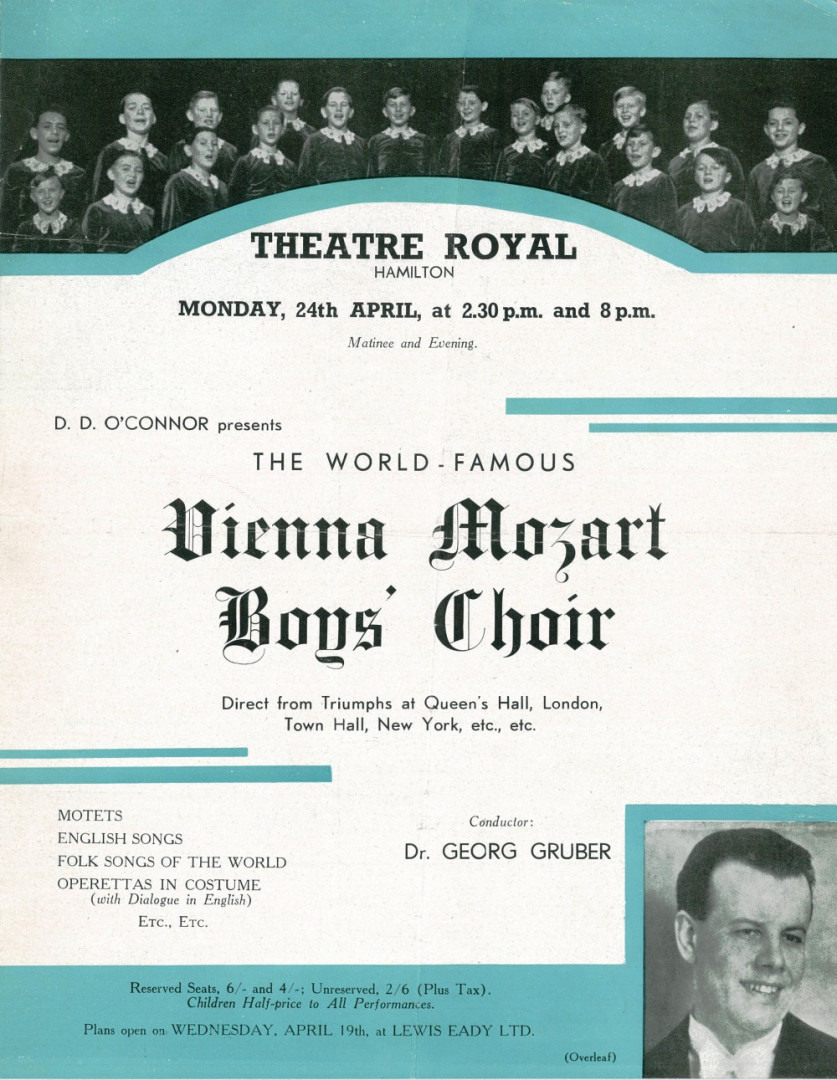 Thompson said he'd been inspired by the story since he'd heard it 30 years ago and has been researching and authenticating every step of the way.
"It's one of those stories that's impossible to forget, since it's the stuff of a great movie drama," he told The Hollywood Reporter's Pip Bulbeck.
Earlier this year, StudioCanal Australia said it would invest in a biopic of beauty maven Helena Rubinstein as the first feature in its Cultivator Fund.