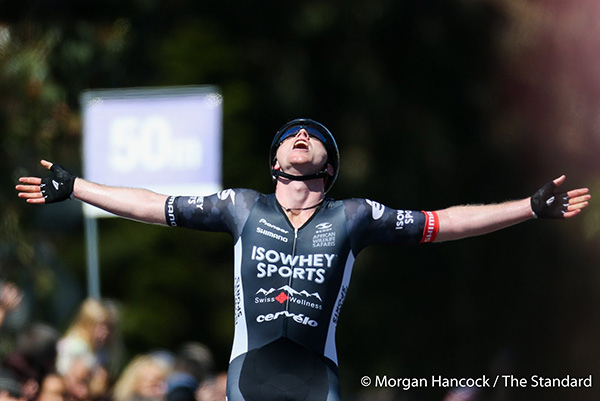 Old Paradian Nathan Elliott, the first man to win back-to-back Melbourne to Warrnambool cycling classics in the 102-year history of the race, has confirmed that he is a starter for the Association's annual Bike Ride on the morning of Sunday, February 18.
And Nathan has called on Parade students past and present to join him in the race, which takes in the Preston, East Melbourne and Alphington Campuses and ends at the Bundoora Campus on what doubles as the College's Open Day.
"I'm looking forward to the ride, and encourage all Old Paradians and current students to be part," said Nathan, prior to a three-hour cycle up hill and down dale in Hurstbridge.
A final year student of Parade College in 2008, Nathan completed what Cycling Victoria reported was "one of the bravest and most daring rides" yet seen, in the most recent Melbourne to Warrnambool. He was part of a six-rider breakaway from the outset in the torturous 277-kilometre trip but, despite a lead of more than five minutes, was collared by the two mountain stages at Camperdown with 65 kilometres to race.
The 26-year-old was part of every attempted breakaway for the next 50 kilometres before he "went for broke" with six kilometres to ride.
Nathan has also confirmed that his old Parade schoolmate Daniel Peck will also ride, as the association's cycling team continues to take shape.
Nathan only began to cycle in his days as a Year 11 student at the College, which he conceded is reasonably late in a cyclist's lifetime, with his father's old road bike the lure.
"I started riding that bike and my enjoyment just grew and grew," Nathan said in a previous interview.
And the rest, as they say, is cycling history.
Currently a full-time rider having completed his under graduate degree in biomedicine, Nathan indicated he'll ultimately return to University to complete his doctorate in medicine.
But first thing's first, and he looks forward to donning the Association's striking new cycling uniform recently commissioned for the race.
Current College students are encouraged to join Nathan and the Old Paradians team on the ride, with the school to subsidise costs of the cycling jerseys as a student incentive.
Those wanting to participate are urged to register their interest with Mirella.Busso-Lee@parade.vic.edu.au at their earliest convenience.