The experiences gleaned in his time as Captain of Parade College in 2002 have served Daniel Giddings well in confronting the many and varied challenges of his professional life – particularly these past two years of life in lockdown.

Since 2012, Daniel has been part of the Melbourne-based Jones Lang Lasalle (JLL) – a global real estate, occupier and investor firm whose origins can be sourced to the United States way back in 1783.
As an Executive Director and Head of Property & Asset Management (Victoria) for the firm, Daniel's duties carry with them great responsibilities, not the least of which is the welfare of 185 staffers within the organization.

But 185 is a walk in the park when compared with the 1500 students on his watch in his final year at Parade almost 20 years ago.

"Part of the reason I'm sitting here today is because of the opportunities I got, and I can link them back absolutely," Daniel said, in a recent catch-up in the shadow of the Majorca Building on De Graves Street.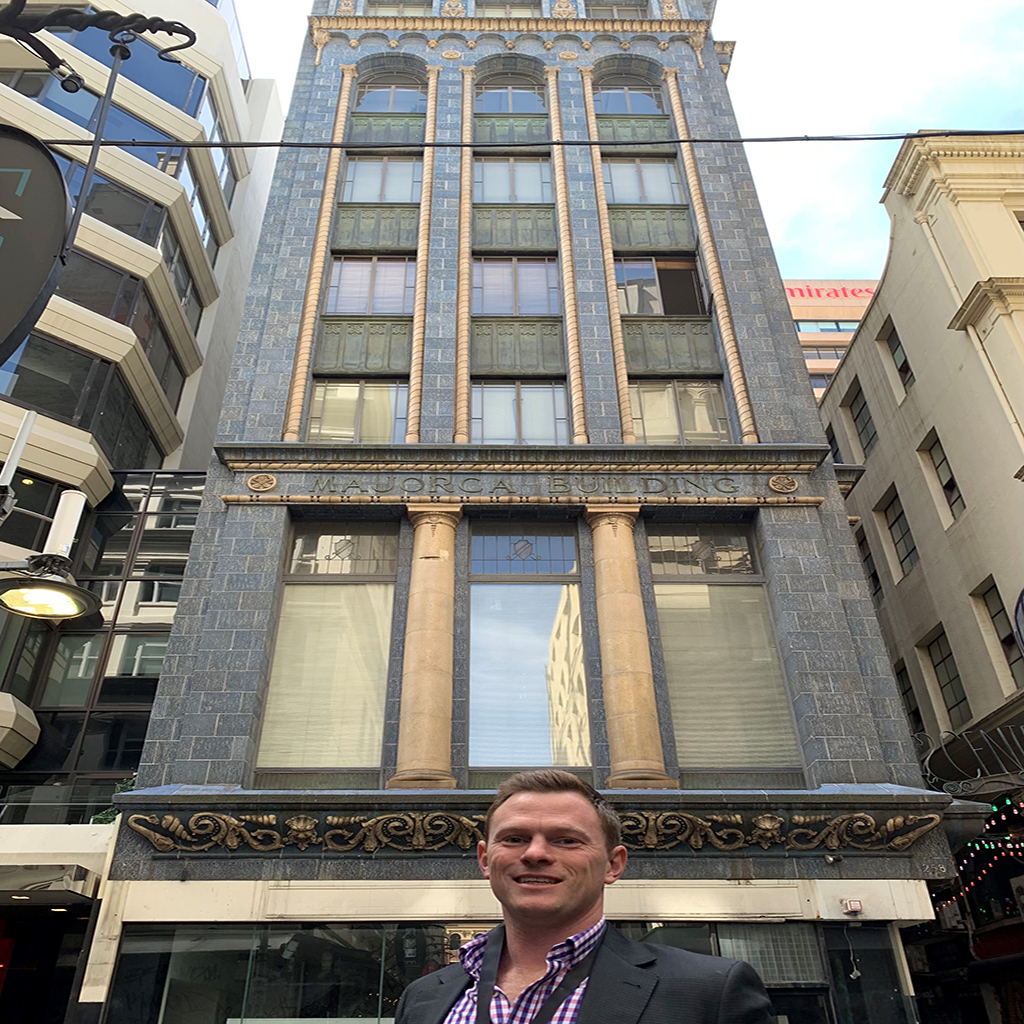 "Being captain was all about creating relationships and connections with people, talking in public and framing policy which then turns in to strategy. I don't mean to sound arrogant as I thought I had the credentials going into Year 12, but it was all about overcoming fear to grow - which is what you've got to do in those scenarios when you've got to get up there and address fifteen hundred kids as it was then."
The upheaval on people's lives as a consequence of COVID-19 lockdown has of course been profound – and Daniel's world has not been untouched. On top of the obvious changes to his work routine, Daniel, at 37, has also had to overcome major back surgery and play "Mr Mom" with wife Aine to sons Theodore ("Teddy") – a four year-old - and nine month-old Joseph ("Joey").

Ironically, lockdown allowed him to recover from the op, and more significantly spent those first few precious months with his son – a situation that would never have arisen had it not been for his enforced working from home.

As he said: "In the time my nine-month-old boy's been alive I got to see almost every waking moment of his life. I got to see eight hours of Joe a day, compared to my first boy Teddy, who I got to see for 80 minutes at the worst time of the day when I got home from work".
Lockdown has also given Daniel a great perspective. Though he won't miss the restrictive nature of it, he readily admitted that lockdown actually served as the catalyst for a number of unlikely positives, particularly the 2021 model.
"Sometimes you have to stop and reflect, and for me it was a new promotion, a new house, a major back operation, the arrival of a new baby and making a couple of visits to the Royal Children's Hospital – all in the space of three months through lockdown," Daniel said.
"When I look at that I think: 'Yeah, it's been a big year', but in saying that I've got a roof over my head, a great job and I've not dropped in income the whole time I've been in the pandemic like a lot of other people . . . I know there are others who are a lot worse off."
Based in the Melbourne CBD, JLL's bread and butter is commercial real estate, through the management of shopping centres, office skyscrapers, industrial parks and the like, and actively ensuring that all spaces are occupied – a side of the business that has obviously been impacted.
"That said, the comment of a year ago that there'd be all this massive empty office space with everyone working from home and no-one returning was massively overstated, because people are social creatures who want to be in a social environment where they're close to bars and restaurants," Daniel said.
"If you look at the lockdowns in sequential order, the first last year carried a novelty factor where 'Zoom's great and I can work from home whenever I like', as opposed to this year where the longer the lockdown went the more people realised there were a lot of deficiencies in working from home.
"So what's happening right now is that people are finding middle ground. They're thinking 'Whereas I was working from home five days a week it might now be two days a week', or 'I might now work in the office from ten until three'. It's more a case of 'I'm no longer going to be first to turn the lights on and the last to turn them off anymore'."
Another of Daniel's observations in respect of the pandemic is that it's actually put the spotlight on the pressures of everyday living – and people have generally become more open and transparent in terms of what's going on behind the scenes.
In an employer-employee relationship, that's a good thing according to him.
"The pandemic has brought on a residual pent-up stress and fatigue – a common burnout amongst everybody at the moment – and it may well be that those issues have posed problems both at home and in the workforce," he said.
"That in turn has forced people to be open and confide in others that they need support, and if the solution is, say, spending more home time with the family, then so be it."
On a personal basis, Daniel is also recalibrating, for as far as he's concerned the days of 9 to 5 are dead.
"I distinctly remember setting off for a run at lunchtime with this massive sense of guilt because I was leaving the office, which wasn't that long ago, but now it's all about work life integration," Daniel said.
"People who are tied to work emails over the weekend or at six or seven at night shouldn't feel any shame in spending two or three hours on a Wednesday morning or afternoon with their kids or whatever the circumstance might be. Today's work is outcome driven, it's not about time, and for the next generation of worker it will all be about flexibility."