Through the unrelenting, ongoing course of the COVID-19 pandemic, Austin Health's ICU Director Dr Stephen Warrillow (1990) has stood firm on the front line.
That is incredibly reassuring for those Victorians whose lives are quite literally in the hands of the Old Paradian and his dedicated team.

But the past 18 months have challenged them all like never before. To quote Dr Warrillow: "The team is tired".
At the State Government's recent press briefing, Dr Warrillow took to the podium to plead his case to all Victorians to protect their loved ones and the unsung heroes looking after them intensive care.
In doing so, Dr Warrillow offered a real insight into the remorseless pressures posed by COVID-19 on ICU, as he urged his fellow Victorians to vaccine for the greater good.
The following is Dr Warrillow's address:
The Intensive Care Unit is usually the last line of defence for a human being's life. We only manage the sickest of the sick and I learned very early in my career as an intensive care specialist that no-one ever really wants to meet me or my team. You don't want to be in a position where you need our care because by the time a person who is critically ill needs care from my nurses, my physios and my colleagues, life is really on the line.
We are a well-resourced team in terms of our equipment. We have great outcomes and prodigious skills in terms of critical illness and the outcomes we achieve here in Australia are unparalleled around the world.
But intensive care is a finite resource and even with exquisite planning and deploying of our resources we are challenged by this pandemic. We've got a lot of patients to care for in our routine business as usual activities. We've got a lot of patients who may have complications with pregnancy; patients who have to have major cancer operations to allow their survival; we've got patients with heart attacks, brain haemorrhages, trauma, strokes, overwhelming pneumonia – all sorts of catastrophic illnesses that threaten their lives – and that's the world that I work in. That's the world that me and my team live in.
Covid has thrown out some additional challenges, and by and large the system has really responded very well to those. But the most important thing that the community can do to allow us to do our jobs is to follow the directives and get vaccinated, because whilst our system is very agile and very capable it's possible to overwhelm us. Even with the best equipment and the best training in the world we only have a finite number of ICU nurses for example. These are highly-trained clinicians who take years of dedicated training and effort to get to the elite level where you can manage all the complex requirements of a critically ill patient.
There's going to be a lot that's said and written in due course about these interesting times, but I think there's a sense that the true heroes of what has occurred in the past 18 months are the ICU nurses who go in there day in day out, never complaining, wearing full PPE (Personal Protective Equipment) – not just the mask but the full impervious gown, the face shield and the mask and often NDO5 (density filter) for dealing with Covid for 12-hour shifts – and they just get on with it.
In a sense that's what all of us in ICU sign up for. That's part of the deal when we started our training. But I don't think anybody necessarily knew it would be this difficult, that we'd have to deal with the challenges of a pandemic, that we'd risk being faced with impossible choices about who we might even admit to intensive care if we are overwhelmed, and certainly our families didn't sign up for this. Our families have been dragged along for the ride whether they'd wished for that to occur or not.
One of the things that is challenging about intensive care is that because we manage only the sickest of the sick, thankfully for most people out there it's not particularly relatable. So I thought it might be helpful to share some of the stories . . . about what happens when somebody becomes critical in the ICU, particularly with Covid - and draw on some of the experiences of last year with patients we looked after.
It's well-understood that the people who are most vulnerable to critical illness with Covid are perhaps the older patients and those with other medical problems. But I think it's important to emphasise that in no way have they been the only patients we've been looking after. In fact, thankfully many of our older members of society are immunised and not getting critically ill, which is wonderful. But we've seen a younger cohort of patients come through and some of them have been very unwell. The sickest patient that I took care of last year was in their early 40s and previously really fit and well. They were extremely sick.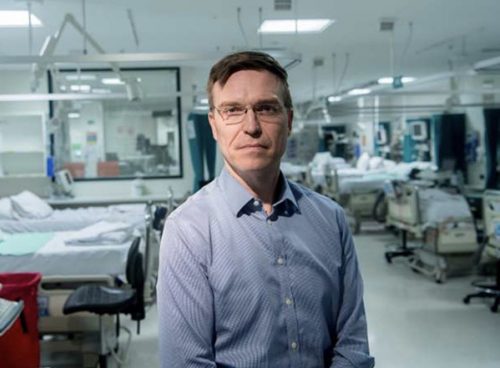 In terms of the involvement of the lungs from Covid, which is the primary challenge we have from a critical care perspective, is hard to explain I suppose . . . but it's like drowning on dry land. You just cannot get enough oxygen, you cannot get enough air, no matter how much you try. The relentless effort to breathe is overwhelming to the point where the patient simply can't maintain that anymore – and you have to put a tube down to the throat, we anaesthetise them and we put them on a ventilator. To do that to a human being is a big deal. It's hard for those patients and we do it when there is no alternative. For some patients this is where the illness becomes arrested and we turn things around. For some patients though the deterioration continues and in a sense other body organ systems get dragged down with the critical illness, and we see patients with failing kidneys, failing hearts, and the immune system itself can take a hit or become too overreactive.
These are incredibly complicated challenges to manage and if patients aren't turned around in a hurry for our stock standard ICU patients it's very common for them to stay maybe a couple of days. We can turn things around and get them out pretty quickly. With Covid, almost invariably, the patients have a long stay, so the number of intensive care bed days they occupy is considerably more than our business as usual case mix. So it's not just the numbers of people who become critical ill and need our care - otherwise they might die - but the length of time they need to spend with us whilst they recover and are safe enough to be discharged to the ward – has a huge impact on our ability to care for all the other patients.
Another important concept is that of displacement. We will always provide critical care support to Victorians that need it. We've got your back. But it means we have to make certain choices. If we are overwhelmed with demand by Covid patients that necessarily impacts on our ability to care for other patients. That includes patients who might need major elective heart surgery for example, or major semi-elective cancer surgery, so someone is going feel the impact of that ICU bed being a precious resource.
Our system is finely tuned to generally speaking have a really good match between society's demand and our ability to deliver, but that neatly balanced paradigm can be overwhelmed in the setting of a massive pandemic. So just as the community did a great job of last year, we in the intensive community are really asking people to do whatever it takes to get your vaccine. As we have heard, the right vaccine is the one you can get - and make a decision with the support of your GP if necessary and get yourself immunised - because that's the way you can ensure we have the least impact on intensive care.
Critical illness is essentially almost unknown amongst the fully vaccinated. If you are fully vaccinated you may still be able to get Covid but you're not going to become critically ill, you're not going to die and you're not going to need intensive care support – which means that we've got availability for the unvaccinated population. So severe Covid disease such as requires intensive care admission is pretty much a disease of the unvaccinated. That's clearly coming out in information we're seeing from overseas and it's increasingly our lived experience in Victoria and as we've seen with our colleagues in New South Wales.
An important thing to touch on, and I'm often asked this, is "How is the team?". The intensive care community is a tight-knit team – the doctors, the nurses, our physios, our support staff, our techs, our lab assistants – who work very closely together and provide a lot of mutual support to one another. But the team is tired. This has been relentless and like all of you we've not had the opportunity to spend time with our loved ones the way we ordinarily would, to not have holidays, to not have time away. They're incredibly resilient and their dedication is humbling, but they're tired . . . and there's a finite time that people can keep this up. So we really implore people to help us out by protecting us. We want to maintain our normal high standards of care and my colleagues at streaming hospitals such as the Northern, Box Hill, The Alfred and the Royal Melbourne are doing a superb job of maintaining the excellent standards of care that we know deliver great outcomes that are globally recognised as being incredibly good.
What we don't want to do is get overwhelmed with an influx of admissions requiring intensive care support so that we have to change our model of care that isn't the gold standard that we try to deliver every single day. We will obviously only do that if we get huge numbers – and we've got plans for how we would do it and how we would do it as safely as we possibly can – but those are decision I don't want my team to have to make because every Victorian should reasonably expect that the level of care they get will be world class under all circumstances. As I keep saying, we're very keen for the community to keep supporting us by getting immunised, following hand hygiene rules, socially distancing, staying at home and doing all the things that have been the mantra for the past 18 months and will keep us safe.
Thankyou for your support - without the community support we wouldn't be able to do our job. Thankyou to our families and a special thankyou to the bedside clinical teams that are making all this wonderful work possible.
images: ABC, The Age