Melbourne daily newspaper the Herald Sun has identified five premiership players, a Brownlow Medal winner, Fitzroy's last captain (Brad Boyd, pictured) and a Collingwood best and fairest amongst its star-studded line-up of Parade College graduates who have achieved big things at the top level of Australian Rules.
Parade has churned out no shortage of football heroes over the decades, with its Best VFL/AFL Team of the Past 50 years making for impressive reading.

The Herald Sun team, named recently, includes the three-time Richmond premiership captain Trent Cotchin, who was also a joint winner of the 2012 Brownlow Medal alongside Hawthorn's Sam Mitchell. Cotchin spent his first four years of high school at Parade College, before comleting his last two years of schooling at Penleigh and Essendon Grammar School.

Cotchin's football resume also includes three best-and-fairest wins at Richmond, All-Australian honours in 2012 and being named the AFL Coaches' Association Champion Player of the Year in 2012.

Former Essendon champion Blake Caracella is another premiership player to come from Parade College. The midfielder-forward played in Essendon's 2000 premiership before going on to win a second premiership with Brisbane in 2003 after being squeezed out of the Bombers due to salary cap pressure.
Former Collingwood midfielder Ben Johnson won a premiership in 2010 with the Magpies, during a career that spanned 235 games for the club. Two-time Adelaide premiership player Peter Caven and 1998 Crows premiership player Andrew Eccles also hail from Parade.

The school produced Collingwood 1976 best and fairest Robert Hyde, who played in the 1977 drawn Grand Final and the Grand Final replay the following week.
Fitzroy's last captain, Brad Boyd, has been named at half-forward in the side.
Former Hawthorn and Carlton midfielder Daniel Harford (pictured) was Parade College captain in 1994. That year, Harford, as captain, led the 1st XVIII onto the MCG for the Herald Sun Shield Grand Final with Essendon Grammar, as a curtain-raiser to the Collingwood-Essendon match - and Parade secured the Shield for the second year in succession, with a 102-point hammering of the Grammarians.

"This side would go down as one of the greatest teams in the College's history," Daniel noted in his captain's report for the 1994 edition of the College annual, Paradian.
A 162-game player for Hawthorn and Carlton, Harford is also in the best team of the past 50 years along with teammates from that 1994 side Caracella, Daniel Lowther and Jarrod Molloy.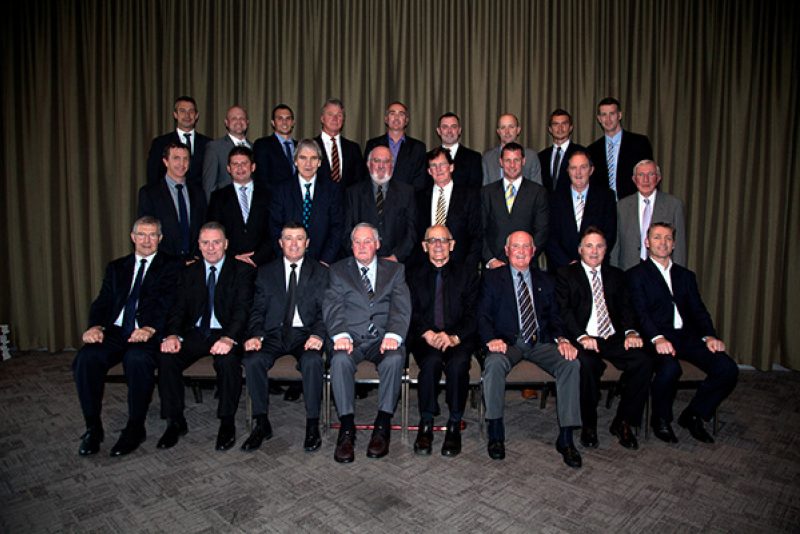 Parade College's finest VFL/AFL footballers gather at a function convened by the Old Paradians' Association in late 2011. (L to R, back row) Blake Caracella, Daniel Lowther, Patrick Veszpremi, Robert Hyde, Mark Beers, Daniel Harford, Matt Ryan, Ricky Dyson and Peter Caven, (middle row) Jason Croall, Tony Woods, Peter McKenna, Eddie Murphy, Paddy Guinane, Glenn Sandford, Kerry Foley and Brian Turner, (front row) Sergio Silvagni, Mark Lawson, Greg Beck, Bill Serong, John Benetti, Brian Beers, Shane Bond and Russell Dickson.
PARADE COLLEGE'S BEST VFL/AFL TEAM OF THE PAST 50 YEARS
B: Robert Hyde (COLL/ESS), Michael Reeves (NM/FITZ), Tony Woods (FITZ/COLL/HAW)
HB: Ben Johnson (COLL), Peter Caven (FITZ/SYD/ADEL), Graeme Allan (FITZ/COLL)
C: Shane Watson (COLL), Trent Cotchin (RICH), Andrew Eccles (ADEL/CARL)
HF: Daniel Harford (HAW/CARL), Brad Boyd (FITZ, BRIS), Ricky Dyson (ESS)
F: Blake Caracella (ESS/BRIS/COLL), Jarrod Molloy (FITZ, BRIS/COLL), Matt Ryan (COLL/SYD/BRIS)
R: Adam Pattison (RICH/StK), Terry Keays (COLL/RICH), Jade Gresham (StK)
INT: Mark Beers (COLL), Shane Bond (COLL/NM), Jason Croall (COLL), Jim Plunkett (WB/CARL)

Selection criteria: Any player who debuted at VFL/AFL level from 1971 onwards was considered eligible for selection. Selection was based on achievements only at VFL/AFL level and not achievements at school level or in other competitions.