The pastries were appropriately enough within groping distance of Damian Callinan - or "Custard Guts" as he was once dubbed by an unforgiving Old Paradians football crowd.
Reflecting on the origins of the nickname, the will o' the wisp former wingman recalled an Amateur contest involving the OPs and Whitefriars some time after he'd defected from the former to the latter.
"The two teams were third and fourth and we were going to play finals regardless of the result – and in those days the Old Paradian Brian Grills was coach of Whitefriars," Damian said recently.
"I was getting absolute hammered by the crowd in that game. I was getting heckled and I hadn't been to the OPs for a long time. Some of them started calling me 'Custard Guts', which was my older brother Chris's nickname, but I wasn't going to throw him under the bus so I just copped it.
"I played crap early so when I left the ground at half-time the Old Paradians crowd was literally screaming at me . . . I remember I was ten metres from the boundary line when Franky Coghlan, the Old Paradians trainer, sauntered over, stood in front of me and said 'You f..ing so and so Callinan!'.
'Grillsy' told me not to worry about it, but I came out after half-time all-fired up and I got about ten touches. I then had an opportunity to take out one of the Hewitt boys who'd also been calling me 'Custard Guts', but I missed him, missed the ball and went over on my left leg and did my ACL.
"I copped a bundle tear and the fracture healed itself, but my football career was over and that was around 1992. Thankfully there's a good redemption story here because after I went down with the injury the first bloke to come to my aid was Frank Coghlan and he helped me off the ground."
Damian has somehow managed to weave the words "Custard Guts" into a crowd scene for the newly-released Australian feature film in which he stars, The Merger – a big screen adaptation of the writer/comedian's acclaimed one-man stage show which has been almost a decade in the making.
Recently, over a pastry or three at Thornbury's funky Umberto Espresso Bar, Damian talked of the genesis of The Merger, which premieres this weekend at the Melbourne International Film Festival Centrepiece Gala.
Broadly speaking, The Merger's empathetic storyline involves Damian's Troy Carrington character doing his bit to deliver the failing Bodgy Creek Roosters from football oblivion by recruiting refugees to play on the team. The film explores community, assimilation and social change but is really a story about how love, loss and its ensuing grief is universal and transcends geography and politics.
For Damian, The Merger has been many a footy season in the making – and as he said: "I knew it was never not going to happen because there was always a lot of resolve".
"I originally wrote a show called Sportsman's Night, which is slightly based on the true story of the Hepburn and Gordon footy clubs who had a massive stoush pre-match. The upshot of this story was that Hepburn had a pretty bad reputation for violence, with about three blokes put in hospital," Damian said.
"Now as with a lot of shows I do, they're based on one little moment and I remember watching the club President being interviewed on A Current Affair or one of those shows and being asked what he was going to do with his footy team. Well the President was standing there with his grandson who was about nine or ten and staring into the distance, when he turned to the kid and said: 'What is the kid going to do without a footy team?', but because the kid wasn't really engaged the President gave him a little clip – a backhander – and from that moment I thought, 'Wow' there's the story'.
"So I basically wrote this one-man play about this football club, Sportsman's Night, to help raise money for the club's legal appeal. The play involved three main characters – there was the little kid who hated footy, but was stuck in the town and decided to be a filmmaker and narrate a doco that cut back to Sportsman's Night; then there was 'Bull' – the racist, violent, homophobic, misogynistic club President; and there was Troy Carrington – a character I'd already conceived who was the journeyman footballer who played 13 games with four clubs over nine years and ends up in this country town – but he's changed, he's got cultural ideas and is a left-leaning environmentalist."
Damian's show was a runaway success, earning a Barry Award nomination along the way and, more significantly, opening a few doors.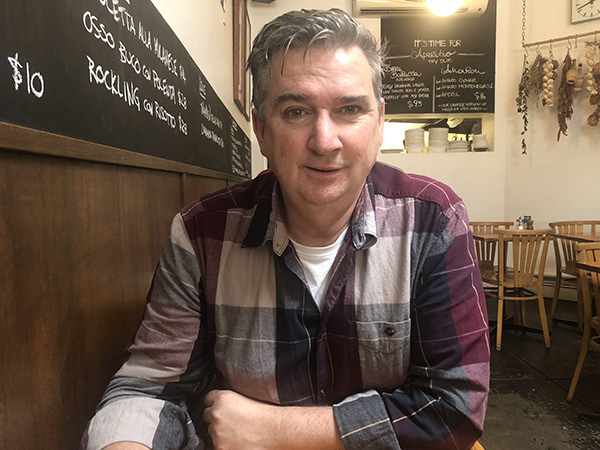 "About eight years down the track Regional Arts Victoria approached me to say 'We've got funding to put into the arts to address racism in regional communities, and we want you to be part of it'. I know they funded a couple of other people although I don't know what became of their works," Damian said.
"At the time the guy who ran Regional Arts Victoria pointed to the characters in Sportsman's Night and said "You've got the template". So I went away and pretty quickly came up with the idea of the club a few years down the track. I obviously couldn't tackle all aspects of racism. In the initial draft I included an Indigenous storyline and a few other different things . . . but at the end of the day a simple story is a good story, and I came up with the idea 'What if Troy, the left-leaning ex-AFL player, recruited refugees to save the dying club? In essence I wanted to create a story that resonated with people of all ilks.
"That was the genesis of the whole thing and I did a lot of research before I wrote a single word knowing 'this is a commission, I better get it right' . . . "
In taking Sportsman's Night on the road to the Hobart Comedy Festival, Damian won the backing of a mate Gavin Baskerville, a fellow comedian based on the Apple Isle.
"Gavin said 'Shoot me a film and I'll help you'," Damian said. "Now Gavin's studied film and knew a lot about structure and stuff, so him and I knocked about for around six months and started working on a draft, during which time I was involved in a feature film called Backyard Ashes. As a result, the director of Backyard Ashes Mark Grentell and I became mates. He saw my live show in 2013, loved it and said we should work together. We then sought funding and that's how it started.
The original funding came through from Screen NSW to write a treatment and they gave me a consultant to work with, Simon, a film expert who had lived in Australia for 20 years but was now based in London. We had these great late night Skype discussions. Then Screen Australia got involved. First funding came through to develop a script and I went through about 20 drafts . . . and then we got the green light."
Damian first represented the Old Paradians at Under 14 level in the good old days when the club fielded a plethora of junior age feeder teams.
"I remember playing against teams like Preston Districts and Keon Park. We never won flags, but we were always competitive. We were okay," Damian recalled.
At Under 19 level under the watch of the late Cliff Hart as coach, he captained the Old Paradians and took out competition Best and Fairest honours in the process.
"I was playing wing/half-back that year but we were quite small, so I played the first four or five games at centre half-back then ended up at centre half-forward. I wasn't much of a mark, but I had a good engine and I used to run them around."
Damian remembered that the club rather bizarrely neglected to advise him that he'd been invited to the B & F count.
"I was supposed to be there on the night but someone forgot to tell me," Damian said. "I won the count by three votes and then I got a call from the President the next morning to tell me 'Oh Damian, you won the Premier Division Best and Fairest last night' to which I replied 'Oh thanks'.
"They had a follow-up presentation ceremony on A-Section Grand Final day at Elsternwick Park and I was one of three or four Under 19 winners there on the day. We ran a lap of honour in the gear and I wore one of those big old woollen jumpers with the collar. The crest had come off the chest, so there was just this darkened mark visible and as for the No.15 on my back the one was half the size of the five. Everything about it was s..t.
"On the lap of honour it was blowing a gale and at one point I had to kick a footy into the crowd. 'Jacko' (David Jackson, an old schoolmate from his final year of 1982) was with me that day and I said to him prior to the lap – Jacko, head over to the wing'. Anyway he sat on the fence, I drilled the kick straight at him, and a guy used him as a stepladder to take the grab over the top."
Damian ran around for the OPs reserves, "kicked a couple of bags" then got promoted to the Damian Gilmore-coached seniors. He played three games before being dropped, but was on the cusp of a senior finals recall having trained with the squad by season's end.
The following year, in a pre-season practice match against St. Bernard's, he copped a whack to the ear. "I remember hearing churchbells and they were still ringing in my eardrum two or three days later," Damian said. "Dad took me to a specialist who told me 'You've perforated your eardrum – no contact sport for three months'. That was 1985 and that was it.
"The next training night I went to the club to tell the reserves coach I wouldn't be playing for 12 months. He was a pretty dour bloke and he said to me 'Why?'. I did the doctor thing and told him my eardrum might have been irreparably damaged for the rest of my life, and he just shook his head and walked off. I thought 'Good compassion' and I was a bit dirty about it – and I didn't hear from anyone at the club for about three weeks until someone rang to ask me for my jumper back. That was the first phonecall I got.
"The next year I went to Darwin and played for North Darwin Magpies in the NTFL who were terrible, then I played out in country Queensland. I was definitely intending to come back to the OPs to play there with my brother Chris, but I was teaching out at North Ringwood and also looking after state wards, so I couldn't train much. Then one of my best mates Bernard Tierney was captain of Whitefriars and he said 'Why don't you come down?' – and that's what I did."
Now, more than a quarter of a century after last lacing a boot, old 'Custard Guts' again takes to the field – only this time to a far greater audience than those who turned out for his last hurrah in Donvale.
To view The Merger trailer, click here