Joe and Irene Tresckitta are part of the fold at Parade. Their twin boys Daniel and Matthew are both Old Paradians, while youngest son Brendan would, under normal circumstances, now be pursuing studies as a Year 12 student at the Bundoora Campus.
But these are not normal circumstances. Eighteen-year-old Brendan (pictured here between Daniel on the left and Matthew) is battling the extremely rare neurodegenerative condition called SMA-PME.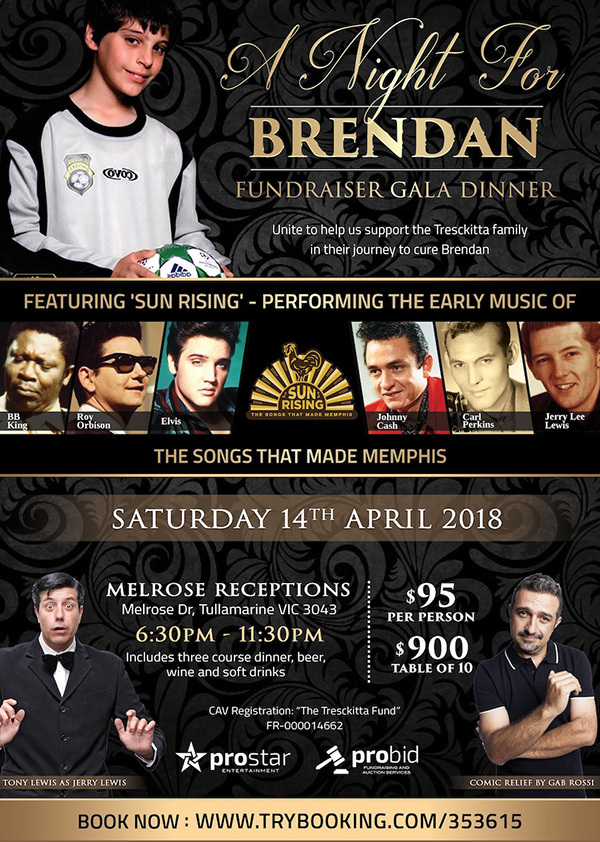 Brendan is one of only 20 people known to be afflicted by SMA-PME worldwide - which is why his family are turning to the purple, green and blue network in their time of need. To quote Joe: "Irene, the boys and their partners and family and friends have been wonderful with Brendan, but we need more help".
The hope for the Tresckitta family is that a medical breakthrough can be achieved in the treatment of Brendan's extremely rare and debilitating disease, which is unfortunately compounded by the young man's epilepsy caused by the condition. A medical answer would, said Joe, allow Brendan a quality of life "that such a beautiful young soul deserves", but while researchers are furthering their labwork in Canada and the United States, trials are still some way off.
In reflecting on Brendan's early years, Joe said that his son first experienced an issue with his hearing ("which we now know was caused by the same condition".) That problem was manageable for a time, and when Brendan pursued his studies as a Year 7 student in 2013 his teachers backed him all the way.
"But then other issues began to manifest themselves and Brendan was diagnosed with epilepsy," Joe said.
"Usually epilepsy can be kept under control with medications, but in Brendan's case it was caused by the underlying condition (SMA-PME)," Joe said. "At the time the doctors completed a lot of tests – blood tests, skin biopsies and the like - and Brendan was off for a month. But the results all came back negative and the doctors were left baffled."
By mid-2013, Brendan's hearing was on the decline, prompting Joe and Irene to withdraw their son from Parade and find a placement for him at St. Mary's College for the Deaf within Marymede Catholic College at nearby South Morang. The College's special school for the hearing impaired was good for Brendan. He enjoyed the school environment and specialized assistance he received and continues to receive.
"Brendan was an active child too, He was a good cross-country runner, a basketballer and a soccer player, but then he started falling and dropping things and finally had to resort to using a wheelchair," Joe said.
"From there Brendan's condition deteriorated and he started experiencing full Tonic Clonic seizures. He was finally diagnosed with SMA-PME in mid-2016 and is the only person in Australia known to be afflicted with this condition."
The Tresckitta family knows that unless a medical breakthrough can be found and administered, the condition will relentlessly continue to rob Brendan of those daily activities most take for granted – the capacity to move, to speak and to eat and drink without assistance – and the seizures and twitching remain the constant.
For all that though, the Tresckittas remain upbeat. As Joe said: "We're trying to put money aside for Brendan and if a treatment becomes available and has to be administered overseas then we will go. That won't come cheap . . . but he's my son and I'll do anything to arrest the condition's advancement".
Accordingly, all Old Paradians and members of the Parade community are urged to join the Tresckittas in finding a way for Brendan.
One way is to support an impending Fundraising Dinner on Saturday, April 14 at Tullamarine's Melrose Receptions, at which the Old Paradian David Cosma (1992), with the backing of his five-piece band, Sun Rising, will belt out "The songs that made Memphis". Jerry Lewis tribute artist Tony Lewis also features through the course of the evening, with Gab Rossi providing the comic relief.
"Parade College and the Old Paradians can help, whether by being part of the gala night or donating to the cause," Joe said.
"The current Year 12 students were in Brendan's year. Some would remember him and some wouldn't because he was only there for a brief time, but he made friends there, as did his older brothers . . . "
To the many Old Paradians who now work as tradesmen, another opportunity has also presented. The Tresckittas would benefit enormously from those who may be able to commit their time and energies to the construction of a ramp and deck for Brendan at the family home.
"A relative did build a ramp for us with some minor assistance from me, but it's only a provisional one," said Joe.
"We're hoping that someone might be able to help build a better ramp and deck in the backyard so that Brendan can enjoy a little bit of sunshine."
Those who may be able to help Brendan and the Tresckitta family with the building of a ramp and deck are urged to contact Lou Metelovski on 0418 595845 or lmetelovski6@bigpond.com or the Old Paradians' Association c/o Parade College.
A NIGHT FOR BRENDAN
Fundraiser Gala Dinner
Melrose Receptions, Melrose Drive, Tullamarine, Victoria, 3043
Saturday, April 14, 2018, 6.30pm – 11.30pm
Featuring 'Sun Rising', Tony Lewis and Gab Rossi.
Cost, which includes three-course meal, beer, wine & soft drinks, is $95 a head or $900 for a table of ten.
Please support Brendan and his family by booking your ticket or tickets by the April 7 RSVP date here
Those who might not be able to attend the Fundraiser, but would like to pledge a financial donation can do so via the following;
The Tresckitta Fund
BSB 063 886
A/C 10524024