Kevin McMahon, an Old Paradian of the final year class of 1965 and the newly-appointed Victorian President of the St Vincent de Paul Society, has spoken of his life's journey in a recent address to the Association at its monthly luncheon at the RACV City Club.
Invited to address the luncheon as guest speaker and introduced by fellow OP Pat Mount (1962), Kevin talked of his work with St Vincent de Paul, and also of his 12 years of volunteering as a teacher at Providence school in Shillong, India - during which time he has led staff and students on a total of eight immersion trips to the area for Parade College.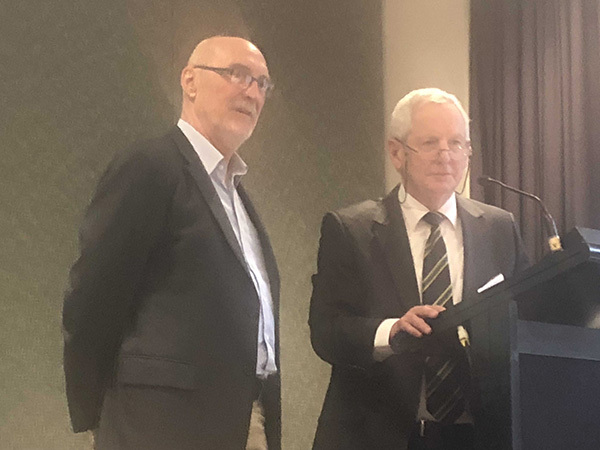 Reflecting on happy times at the "Old Bluestone Pile", Kevin told members of the audience that "one of the things I remember about Parade is that it gave me so many opportunities".
"I know Denis Moore (Parade College Principal), when he speaks publicly, often says that the school offers lots – it's up to the students what they take up and what they do with them – and that would be what my memories are of Parade," Kevin said.
"I remember there were activities like socials that the Brothers made available to us, and even things like promotion camps with the cadets which widened my horizons.
"I grew up in Thornbury and in those days you had a pretty narrow view of the world, but going to the promotion camps over Christmas holidays and meeting boys from some of the public schools, you suddenly realised that you were as good as any of them and that if you really wanted to you could turn your mind to anything despite all the background advantage they may have had over you."
Kevin's elevation to the St Vincent de Paul Society Presidency follows a long involvement with the society from home visitation with his Conference to leadership roles.
A past president of the Diamond Valley Region and the Northern Central Council, Kevin was a member of the Overseas Development Committee from 2014 to 2017 and vice-president of the Membership and Leadership Committee for the same period.
Significantly, Kevin's first work with the society can be sourced to his school days.
"Back in those days in Year 12 at Parade, everybody joined what they called the Sodalities, and I joined St Vincent de Paul," Kevin said. "I remember going out to chop some timber in some fellow's back yard and while there was no such thing as a de-brief back then it always stuck with me that this was something practical.
"I found that once I started doing the home visits, which is the core part of our work, I loved it and I found that I was actually reasonably good at it. I don't get fussed by seeing people living in conditions that mightn't be where I'd like to live. I sit and talk to people and then get around to what they really want from us.
"We don't ask people what their religious background is, we don't ask what their sexual orientation is – we don't ask anything except 'How's life going? What can we do to help?'."
If you are motivated and community-minded and would like to follow Kevin McMahon and lend your support to St Vincent de Paul, the society truly welcomes volunteers, particularly those nearing retirement who may have discovered lost time to help.