The Old Paradians' Association has recovered a small amount of unclaimed revenue through the Australian Securities and Investments Commission. In doing so, the Association has brought focus to the life of a former student and College benefactor thought to have financially pledged to the cause more than 60 years ago.
The story began in late February when Old Paradians' Football Club President Mike Jolley alerted the association to the fact that a dormant account in the OPA's name was listed on ASIC's website.
Further investigation revealed that an amount of money was originally placed in that account at the Commonwealth Bank at 367 Collins Street, with the bank subsequently confirming the name of the Association's account into which the money was deposited as the "JB Gargurevich Memorial Prize Fund".
Because the Old Paradians were required to prove tangible connection to reclaim the funds through ASIC, the identity of JB Gargurevich and the fund bearing his name became the focus.
With the assistance of Parade College archivist Rodney Prusa, it was discovered that the JB Gargurevich Memorial Prize (formerly Br BF McGee Prize) for English Literature first featured in Parade College's Form VI (now VCE) Award List from 1956.
The prize, awarded to the Form VI student who most excelled in the subject, was presented on an annual basis for a ten-year period through to 1965.
Parade's recipients of the JB Gargurevich Memorial Prize were as follows;
Edward Boyle (1956); David Cosgriff (1957); Matthew Walsh (1958); Chris Watson (1959); Michael McEntee (1960); Michael Quinlan (1961); Michael Crennan (1962); John Sexton (1963); and Bernard Mithen (1965). The prize, it seems, was not awarded in 1964.
Though the 1959 recipient Chris Watson was unaware of JB Gargurevich and his connection with the College and the Association, another former student, Ray Hangan (1950) remembered.
"JB Gargurevich was a benefactor who arranged for students to receive an annual prize (in English Literature)," Ray recalled.
"Obviously the fund remained, but in the course of time was not being activated."
Gargurevich's name is listed on an Honor Board of deceased benefactors on a wall outside the Parade College Bundoora Campus' chapel. He is one of 40 College benefactors listed between 1937 and 1994. His name, listed beneath that of John Wren, appears by the year 1950.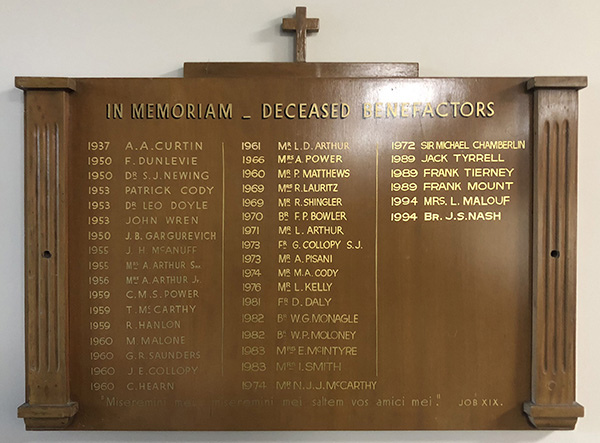 But what do we know of JB?
John Batiste Gargurevich, one of eight children of Matteo and Marie Gargurevich (nee Paine), was born in Melbourne in 1875. Gargurevich's mother was of French extraction, while his father, born in Dalmatia, was amongst Australia's early Croatian settlers, having disembarked the ship Prince of the Sea ex-Liverpool in February 1860.
College enrolment records indicate that Gargurevich attended Parade College East Melbourne in the 1880s, with his younger brothers Alexander and Henry also schooled there through the 1890s,
JB married Aida Maria Rebattaro, a Northern Italian migrant. JB and Aida later adopted a daughter, Ninette Marie (or "Nan" as she was known), then aged three.
In April 1945, Ninette married Benjamin David Tripcony of Middle Park – an airman who served through the Second World War.
Ninette and Benjamin (both deceased) became the parents of a son David (who died in 2011), daughter Julie (who died in 2007) and daughter, Marie, who now lives in Rosebud.
Marie was but a girl of four when Gargurevich died, so was unable to advise whether her grandfather was a student of Parade through the latter part of the 19th century or why he contributed financially to the cause of Parade and the Old Paradians' Association.
"But I do know that my grandfather set up a Trust to cover our education – my brother who went to Marcellin, my sister to Loreto Mandeville and myself to Siena," Marie said.
"I also know that my grandfather had an interesting life indeed. He was a champion cyclist (third in the 1895 Austral Wheel Race) who used ride with 'Oppy' (Sir Hubert Opperman). He was later the Assistant Secretary of the Victoria Amateur Turf Club from 1891 through to 1925 at least and was actively involved in the management of Caulfield Racecourse."
Amongst a number of racing-related articles sourced through the National Library's digital newspaper archive is one which appeared in The Herald on the evening of Saturday, October 21, 1922. Headlined "Stand Destroyed in Caulfield Racecourse Fire", the article features a photograph of Gargurevich surveying what was left of Caulfield's members' stand. The stand, judge's box and course administrative offices were thought to have been set alight just before 4am on Cup Day by the notorious Melbourne gangster Leslie "Squizzy" Taylor, as retribution for his eviction from the course earlier in the Spring.
Marie said that while Gargurevich's brother Alexander died at a young age, she remembered most of the remaining siblings.
"My grandfather I remember well and I had a great deal of contact with all his brothers and sisters throughout my childhood," Marie said.
"One of his sisters, Philomena, was a milliner who through the 1920s had a shop in the Block Arcade in Melbourne. Another sister, Louise, was a concert pianist who was given a scholarship at the age of 14 to study in London and who played for the crowned heads of Europe in the 1930s, including Edward VIII."
Marie also remembered another of Gargurevich's sisters, Fanny, who lived in Caulfield with her husband and was a potter who crafted intricate ceramics, and another sister, Katie, who was domiciled in Elwood with her husband and two children Yvonne and August. A brother, Henry served in France during the First World War.
"Then there were my aunties Louise and Mena who lived in the United Kingdom," Marie said. "I stayed with them in their flat in Hove, Sussex on an overseas working holiday at the age of 20.
"Louise taught music for 40 years at a Catholic Girls School and when Aunty Mena died Louise, then in her 80s, came back to Australia again. She had a flat in Toorak and I took my daughters to her once a week for two years for piano lessons (and for the story of her life!) She died at the age of 95."
JB and Aida lived at a residence on Canterbury Road South Blackburn called 'Milano', whose name was derived from the Milan Cathedral in which Aida was christened.
It was in that house at South Blackburn that Gargurevich, aged 76, died of heart failure on Sunday, September 30, 1951. His funeral service was held at St. Francis Xavier Church Box Hill he following Tuesday and he was buried in nearby Box Hill Cemetery.
Marie was delighted to learn that her grandfather's name was listed on the College's Honor Board of Deceased Benefactors, and was supportive of the Association in its quest to reclaim the funds.
The Old Paradians' Association committee will soon meet to discuss the most appropriate means of utilising the money first availed to the association and, by extension, Parade College, through the generosity of John Batiste Gargurevich all those years ago.