Wladymyr ('Wally') Magalas, one of 54 Old Paradians known to have served in the Vietnam War, and a father to former Parade College students Adrian (1996) and Daniel (1998), has died at the age of 70.
Born on May 14, 1947 in Mannheim, Germany, Wally was the son of Alexandra and Borys Magalas, displaced citizens of post-war Ukraine.
At the age of 11 months, Wally joined his parents in migrating to Australia. On arrival, the Magalas family found temporary lodgings at the Bonegilla Migration Camp in north east Victoria before settling in Greensborough shortly afterwards.
Wally completed his early schooling at Parade Preparatory College in Flowerdale and later pursued an electrical trade by way of Greensborough Technical School.
In Vietnam, Wally served as a Private with the 1 Australian Reinforcement Unit for a fortnight from late August 1969, and then with the 5th Battalion, Royal Australian Regiment from early September of that year until March 1970.
In March 1978, Wally married Eileen, a girl of similar Australian/Ukrainian heritage. Husband and wife settled in Montmorency and raised their sons Adrian and Daniel.
Wally worked as a Technical Officer for the Public Transport System - Trams (later Yarra Trams), his one job for more than 40 years. He was also extremely active in the Ukrainian community - chiefly in youth development and camp organisation (and later as grounds keeper) for Plast: Ukrainian Scouting Association. He also helped build Mt. Hotham's Kalyna: Ukrainian Ski Club, of which he was a long-standing member and booking officer.
Wally loved to tinker with and repair anything and everything. He enjoyed being outdoors, skiing and sharing a laugh over a drink with his friends. He had a knack for fostering friendships across many social groups that lasted decades, was always willing to put up his hand to help those in need and was never known to say a bad word about anyone.
Wally's battle with non-Hodgkins lymphoma endured for more than 10 years. Throughout this time, he stayed strong, never complained, never drew attention to himself or his fight and had the resilience to keep bouncing back from each treatment and setback. Most recently, he succumbed to multiple attacks on his body in a very short space of time and was sadly unable to muster the strength to keep fighting.
Fellow Old Paradian and Vietnam veteran Paul McCrohan, the President of the Tramways/East Melbourne RSL Sub Branch, paid tribute to Wally, who in 2015 joined fellow returned servicemen ex-Parade College at the annual Veterans' Luncheon convened by the Old Paradians' Association. Wally was photographed with them for posterity in the Frank Mount Social Room and stands third from the left in the group photograph accompanying this tribute.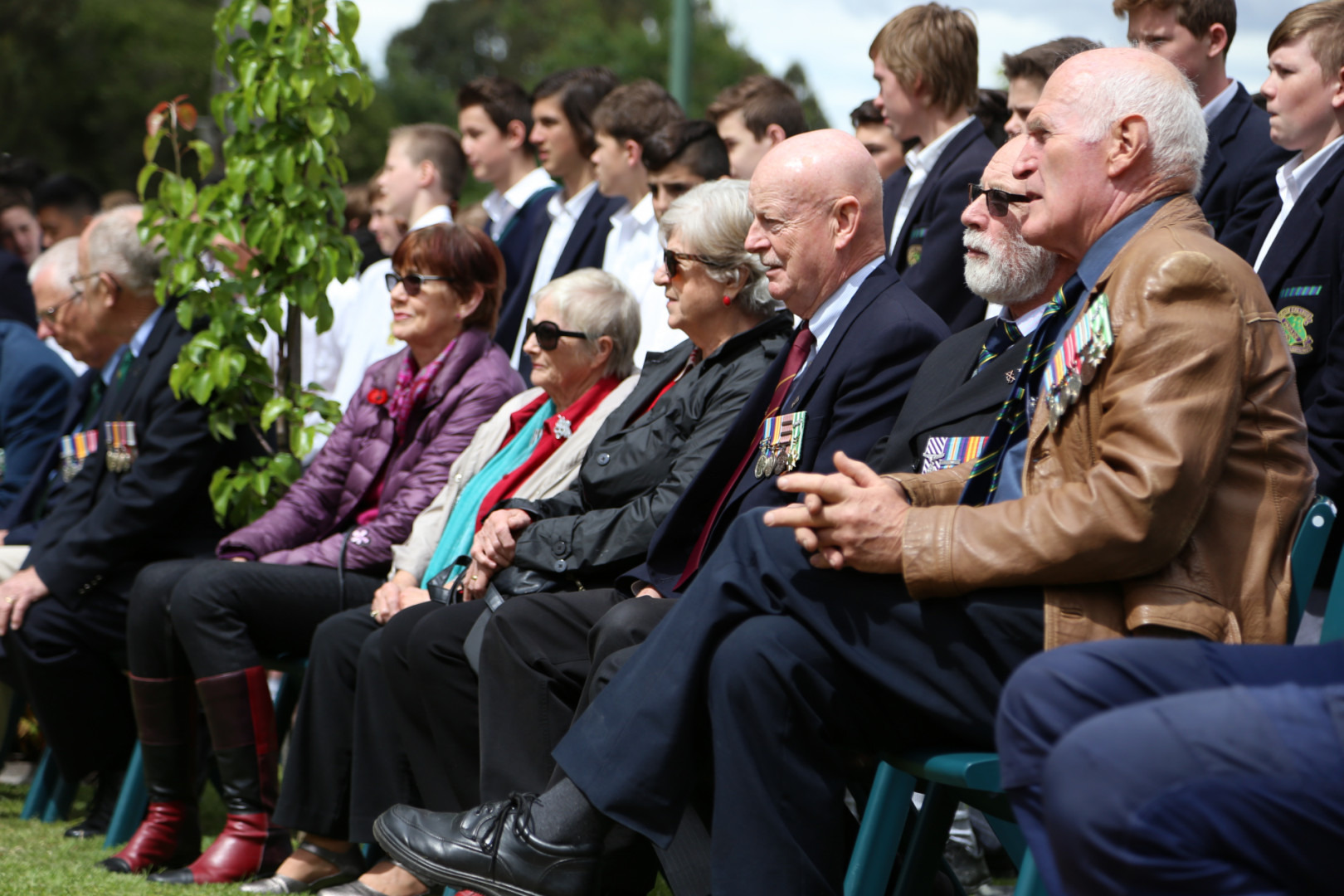 "Wally was very stoic all through his treatment," Paul said. "He was a much-liked and respected member of the Kokoda Gym at the Repat, of RSL Greensborough and of Tramways/East Melbourne."
Wally Magalas is survived by his wife Eileen, sons Adrian and Daniel and two grandsons Oryn and Tommá.
The Blessing of the Body (with open casket) is to be held at the Ukrainian Catholic Cathedral, corner Canning and Dryburgh Streets, North Melbourne, on Thursday, April 12, commencing 7.00pm.
His funeral is to be held at the same location on Friday, April 13, commencing 10.30am, with burial at Northern Memorial Park, 56 Box Forest Road, Fawkner. A wake with refreshments follows at the Memorial Park tea rooms.
Veterans are encouraged to wear suit and medals.