Noel Purcell, a Captain of the College in 1951, former Old Paradians' Association Secretary and a major player in the raising of funds for the fledgling Bundoora campus, has passed away at the age of 87.
A long-serving former Victorian Magistrate, Noel, died on Monday night (February 8), having been severely incapacitated by a stroke some months ago. Margaret, his beloved wife of 62 years, was with him to the end - and it is to her and Noel's family - son Simon (himself a final year Parade student of 1978) and daughters Kate, Jane, Sue-Ellen and Sarah - that the Old Paradians' Association extends its deepest sympathies.
News of Noel's passing was conveyed to the Old Paradians' Association by Joan Dunne, wife of the late Bill Dunne, the 1944 College Prefect and Noel's lifelong friend.
Another close confidante, the final-year student of 1950 Ray Hangan, recalled first meeting Noel at Parade four years previous, in what was Ray's maiden year at the East Melbourne College.
"First impressions were that Noel had an engaging and caring personality. Those traits made it easy for Noel's peers to like him and respect him," Ray said.
Reflecting on those precious school years, Ray recalled Noel sharing a similar interest in athletics, to the point that both young men represented the school in aths and joined the Old Paradians' Athletics Club as juniors.
"We were encouraged to do that by Brother Walsh, who was then a revered teacher at the school and who maintained a lifelong interest in the athletics club," Ray said.
"Noel was a pretty significant figure in the athletics club. Firstly, he was an outstanding hurdler who was up there with the state's best and competed in Victorian championships on a regular basis. He also competed for the Old Paradians' Athletics club for 15 years, 12 of them as a committeeman, and he was President in 1958."
Though Noel's career in the law somewhat curtailed his levels of participation, he was an incredibly dedicated and loyal Old Boy. Through 1961, '2 and '3 he served as Secretary of the Old Paradians' Association - firstly under the presidency of Leo Kelly, then Frank Mount senior – then upped the ante in the mid-1960s.
That was when the association, in alliance with the College's Fathers Group, established a fundraising appeal for the building of the new Bundoora campus. A target of $300,000 was set and a total of $245,000 raised - a princely sum given that the cost of an average suburban house in 1966 cost around $13,000.
Noel is pictured standing proudly in front of the tally board. Featured from left to right are Frank Mount, Lou Arthur, Br JS Nash, Noel, Br VF Monagle (the then Principal of Parade Preparatory College), Frank Tierney and the campaign chairman Judge James Gorman.
In 2010, When the Old Paradians' Association was revived under the watch of the then Parade College Principal Dr Denis Moore, both Noel and Bill Dunne were incredibly supportive of the OPA in its quest to act as a conduit between former students of the 'Old Bluestone Pile' and those more recently schooled at the Bundoora and Preston campuses.
Like Bill, Noel had an encyclopaedic knowledge of Parade's history and its identities "and with it a treasure trove of anecdotes," as Ray observed.
"Noel's intimate knowledge of the Brothers was unique in the sense that a lot of them were inclined to visit the family hotel in North Fitzroy, the Royal Oak as I recall," Ray said. "This gave Noel a real insight into the teaching brothers and indeed all the teachers of the time. You could say he was a repository of a vast amount of Parade history.
"Anyone who ever attended the Old Paradians Luncheons would vouch for the fact that whenever Noel chaired them he'd often produce, out of the blue, a gem or two about Parade and its people, which was fascinating to us all and equally important for us to know."
Noel's passing – some seven years after his old friend Bill Dunne died in the Old Paradians' Association's Centenary of 2014 – coincides with the sesquicentenary of Parade's existence.
The timing was not lost on Ray. As he said: "I'm sure that when the founding brothers arrived here in Australia they'd have all been hoping the College would produce men like Noel".
Noel's honest passion for Parade and its history only intensified following his retirement from the legal profession after almost 50 years. It was on Christmas Day 2003, the same day he turned 70, that the then Victorian Magistrate bid farewell after more than 16 years on the bench.
Completing 47 years in the law "it's only statutory senility that gets rid of me," Noel told a packed gathering at the Melbourne Magistrates Court that day.
An only child surrounded by lifelong warmth and affection as a husband, father and grandfather, Noel revealed how he initially struggled after parting ways with Parade College as its captain.
"The big, bad world came as a bit of a shock to me," he told a correspondent for The Age newspaper at the time. "I was from a protected environment, a good Holy Roman Catholic background that was as narrow as the eye of a needle."
But the athletic Noel soon hit his straps, completing law at Melbourne University, joining the firm J McD. Jones and, in 1987, becoming a magistrate recognised for his humanity, common touch, integrity and courteous manner.
In October 2019, a few short months before suffering the stroke, Noel paid Parade's Heritage Centre a welcome visit. He came armed with his old school blazer he first wore 70 years ago - co-incidentally on the same day his name was being etched into a new Honour Board of Parade College Captains.
Having prearranged with the Old Paradians' Association to drop the precious garment into the Heritage Centre, Noel arrived blissfully unaware that at that very instant, the then College Archivist Rodney Prusa was committing "1951 NOEL PURCELL" to the board in gold leaf.
Somewhat taken aback by the serendipitous moment, Noel humbly accepted Rodney's request to assist in completing the task of committing his name to the mahogany veneer.
"I'm delighted to see the College Captains' Honour Board," said Noel, who was pictured wearing his blazer for the last time.
"If I recall rightly the original board hung from a wall at the 'Old Bluestone Pile' and when I joined the Old Paradians the men whose names were featured on the old boards were like apostles."
In presenting the blazer to the Archivist, Noel told the tale of how in 1949 he sought his parents' permission to source a blazer he could wear in his final school years.
"I was 15 at the time and I can't remember how I learned of the traditional stripe material, but there were no school blazers about back then, so I took the idea up with my mother, who was a seamstress, and she was totally supportive," Noel said.
"We got ourselves organized and headed into London Stores on the south-east corner of Bourke and Elizabeth Streets. I remember that they measured me up and the whole thing was tailor-made – a striped blazer with bullion pocket badge, which was lovely, and that was it."
The blazer was in remarkable condition – and for good reason too as Noel explained.
"The trouble was that a year or two after I got my blazer the new Principal Brother Carey introduced the green blazer, so I've probably only worn the striped blazer a dozen times in my life and one of them was to the Old Paradians' Association's Centenary Dinner," he said.
"I'm getting on, so I felt the only place for the blazer was here (the Heritage Centre), to serve as some sort of record of days gone by."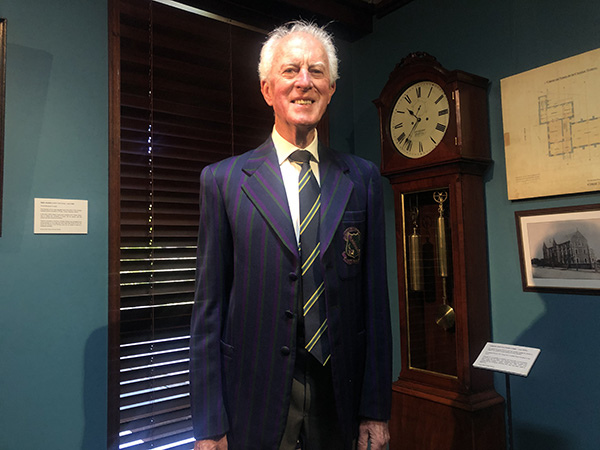 Noel's blazer found its place with others also previously donated by old pals like Bill, the late Peter Venier (1949) and Francis (later Br. Francis) Marzorini (1936) – and in donning the precious garment one last time for the camera, it pleased Noel no end that the blazer still fitted him as well as it did in the old East Melbourne days.
"I had eight magnificent years at Parade, from 1944 to '51, and I'm forever grateful," Noel said.
"I was very fortunate. I had great parents and I was loved, and the principles of Parade were sound and stayed true."
In signing off as College Captain back in 1951, Noel penned a farewell article for that year's edition of The Paradian.
Seventy years after the event, it is worth revisiting the observations of a man who was Parade College to the core.
As 1951 draws to a close, and with it my career as a student at Parade, I find myself wistfully glancing into the past eight years at the College. During this period I have been most impressed by the loyalty of my fellow Paradians. From my earlier years among the juniors to my final year in matriculation, there have always been boys whose enthusiasm and zeal in maintaining the traditions of the College have marked them favourites among their fellows and true friends to the Brothers . . . it is among these lads, too numerous to name, that the staunchest of Old Paradians are found.
Our connections with Parade continue past the classrooms. There is awaiting every lad as he leaves the College the Old Paradians' Association – the State's most active Old Boys' organisation. Hence, I feel that leaving school is only a partial departure, for as I leave the school room, I can pass on to that other invaluable section of life with Parade. For this great opportunity I am sincerely thankful, for Parade takes a firm grip of a young man's heart and it is good for it to hold on further.
In attempting to express my deep gratitude to the Brothers, and to Parade, I realise the inadequacy of my words. The immensity of my debt is inestimable, nevertheless I hope to live, and remain always in that truly great spirit of Parade.

Tenete Traditiones.