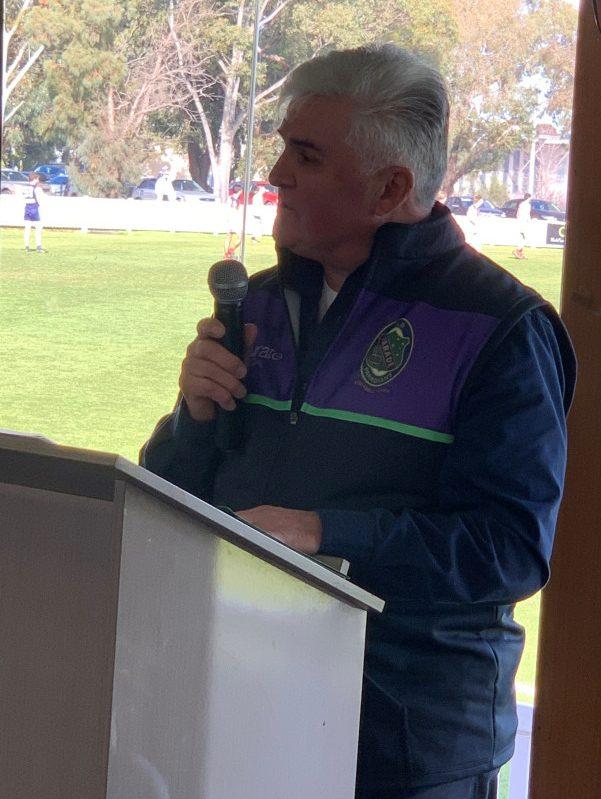 Long-time Old Paradians Football Club servant Peter Gilmartin (1968) received an Old Paradians' Association Outstanding Service Award at the OPAAFC Life Members and Legends Luncheon on Saturday 22 July 2023. The Award, introduced by the OPA Committee this year, recognises those who have displayed a long and loyal contribution to the Association. Before the clutch game against Salesian, Peter was presented with his Award and received it with trademark humility.
Peter has been involved with the Club since being a 16-year-old debuting with its Under 19 team playing in its first Under 19 Premiership at the Club while still at the Old Bluestone Pile. In 1969, he was made Captain of the Under 19 team and went on to play a total of 188 games with the Club.
The OPFC has been blessed with this loyal servant who has contributed so much on and off the field. Made a Life member in 1985, Peter has served as President of the Club for 5 years, a Committee member for over 15 years, a Social Committee member and Head of the Clubs Football Department for over 4-years.
Peter was in attendance with his wife and family and the Club's 1st XVIII team was in the room to see the presentation. Peter spoke of privilege and appreciation for what the Club had given him and his family.
Thank you to Phil Carter (1968) for the nomination.
The Old Paradians' Association receives nominations for its Awards at a Sub-Committee level and makes recommendations to the full Committee. The Sub-Committee and the full Committee unanimously endorsed Peter's nomination.
Peter joins Keith Sharkie (Honorary Old Paradian) and Francis (Ray) Hangan (1950) as recipients of this new Award.