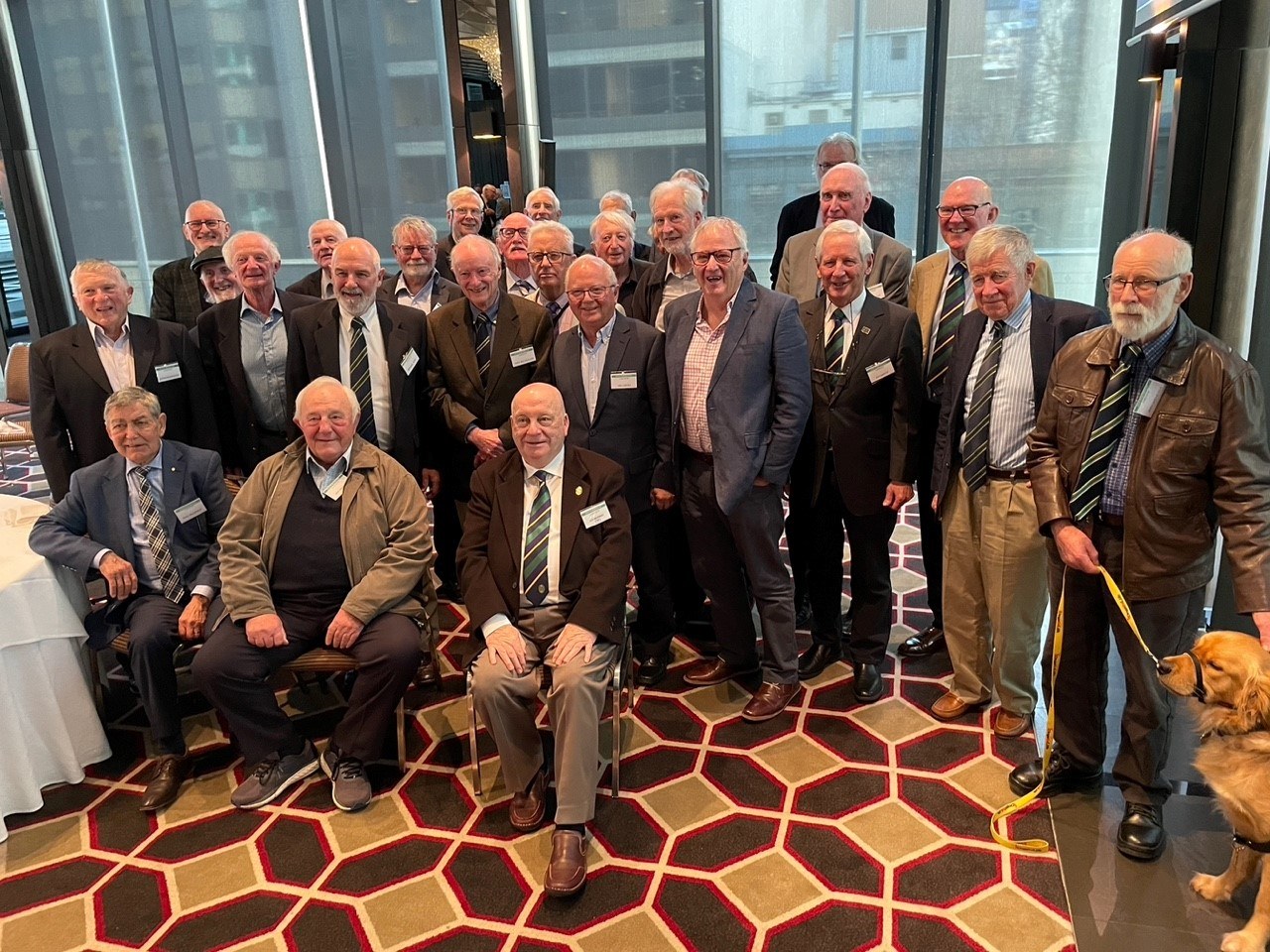 The 1963 and 1964 Matriculation class reunion combined with a wonderful celebration of contribution and service by Old Paradians took place at the RACV August Luncheon.

Leo Collins (1970) again did an excellent job as Master of Ceremonies in what was a busy agenda for the monthly luncheon. Leo was able to welcome Principal of Parade College Mark Aiello (1990), Business Manager Paul Harris (1997), Award recipients Andy Walsh (1971) and guests, Ray Hangan (1950), his wife Wilma and daughter Fiona and Dan Donovan (1963) and his wife Margaret.
Guest speaker for the day Tony Killen (1963), College Captain in his final year was also welcomed together with alumni from 1962-1964.
Pat Mount (1963) was instrumental in gathering many of his alumni for the luncheon.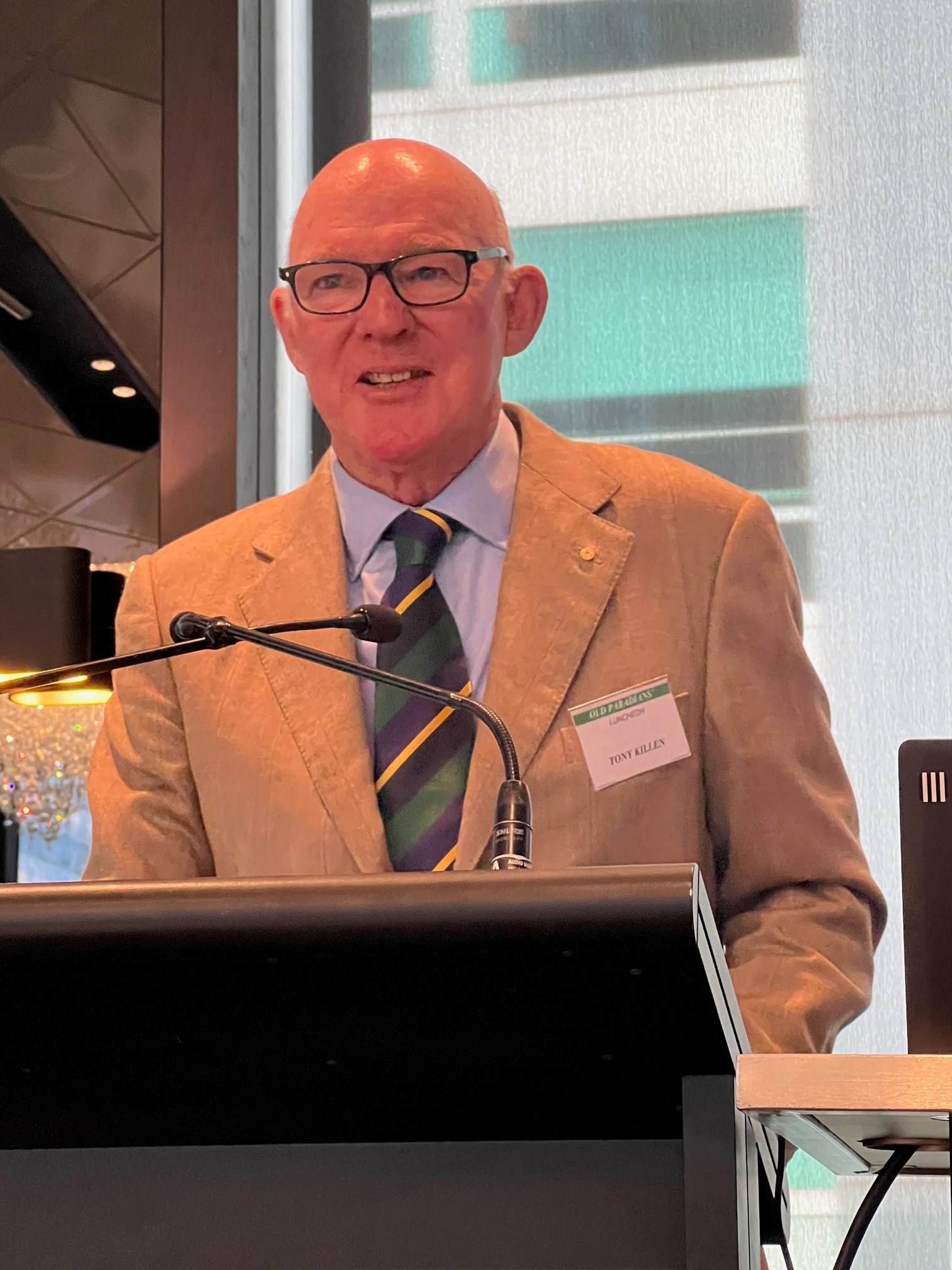 Guest speaker Tony Killen OAM (1963) has forged an amazing career. He was Chairman of Equity Trustees from 2007-2018 after spending 36 years with National Mutual/ AXA Group. Tony was also Chairman of Sisters of Charity Services and Community Care Ltd, non-executive director of IRESS Market Technology, and Chairman of Templeton Growth Fund Ltd
Tony drew on his experiences and related stories of philanthropy, wills and estates, and family trusts and tied them into the goals of the Parade College Foundation. Tony has generously given his time and expertise to the College in the Foundation space.
OPA Award Presentations
This month, it was an honour to present the latest round of the Old Paradians' Association Awards. To date, we have been privileged to recognise our Women of Distinction, Honorary Old Paradians, and Outstanding Service Award recipients. We look forward to presenting our Hall of Fame recipients and the latest recipient of the prestigious Tenete Award at the OPA Annual Dinner on 6 October. Additionally, we will present an Award that commemorates the name and contribution of the late Lewis Derrico (1973). The inaugural Lewis Derrico Young Old Paradian Achievement Award will be presented at the Year 12 Graduation Evening, Valete, on 16 October.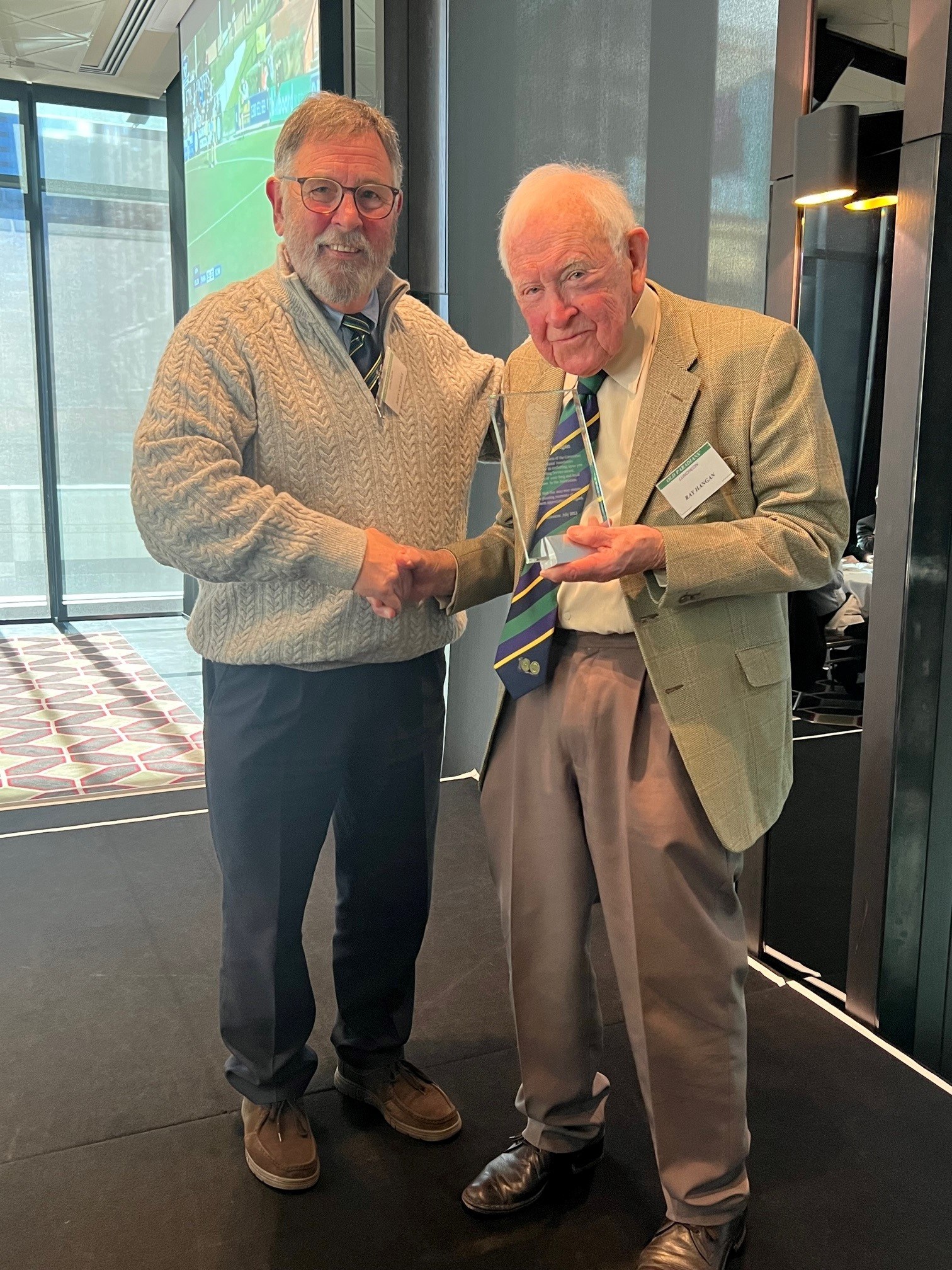 Francis (Ray) Hangan (1950)
The first presentation was to our latest Outstanding Service Award recipient, Francis (Ray) Hangan (1950). One of the joys of working for the Old Paradians' Association is meeting people like Ray.
Ray completed his schooling at the Old Bluestone Pile in East Melbourne in 1950 and his connection and contribution have extended over 75 years. Ray was also a member of the Old Paradians' Athletics Club from 1947, as a schoolboy, then returned to the Club as a veteran competitor. Through the encouragement of Kevin Johnston (1951), Ray renewed his passion for competitive athletics.
Ray spoke of being the beneficiary of his connection with the Association and paid tribute to the teachers and brothers that have been the foundation of this connection. It was through their leadership and mentoring that Ray saw how life could be led by a Christian person. Ray also expressed appreciation for the affection and bonds that were created through friendships with so many Old Paradians and their families over the journey and was deeply moved by the Association's gesture of his Award.
Ray joins Keith Sharkie (Honorary Old Paradian) and Peter Gilmartin (1968) in receiving this Award in 2023.


Dan Donovan (1963)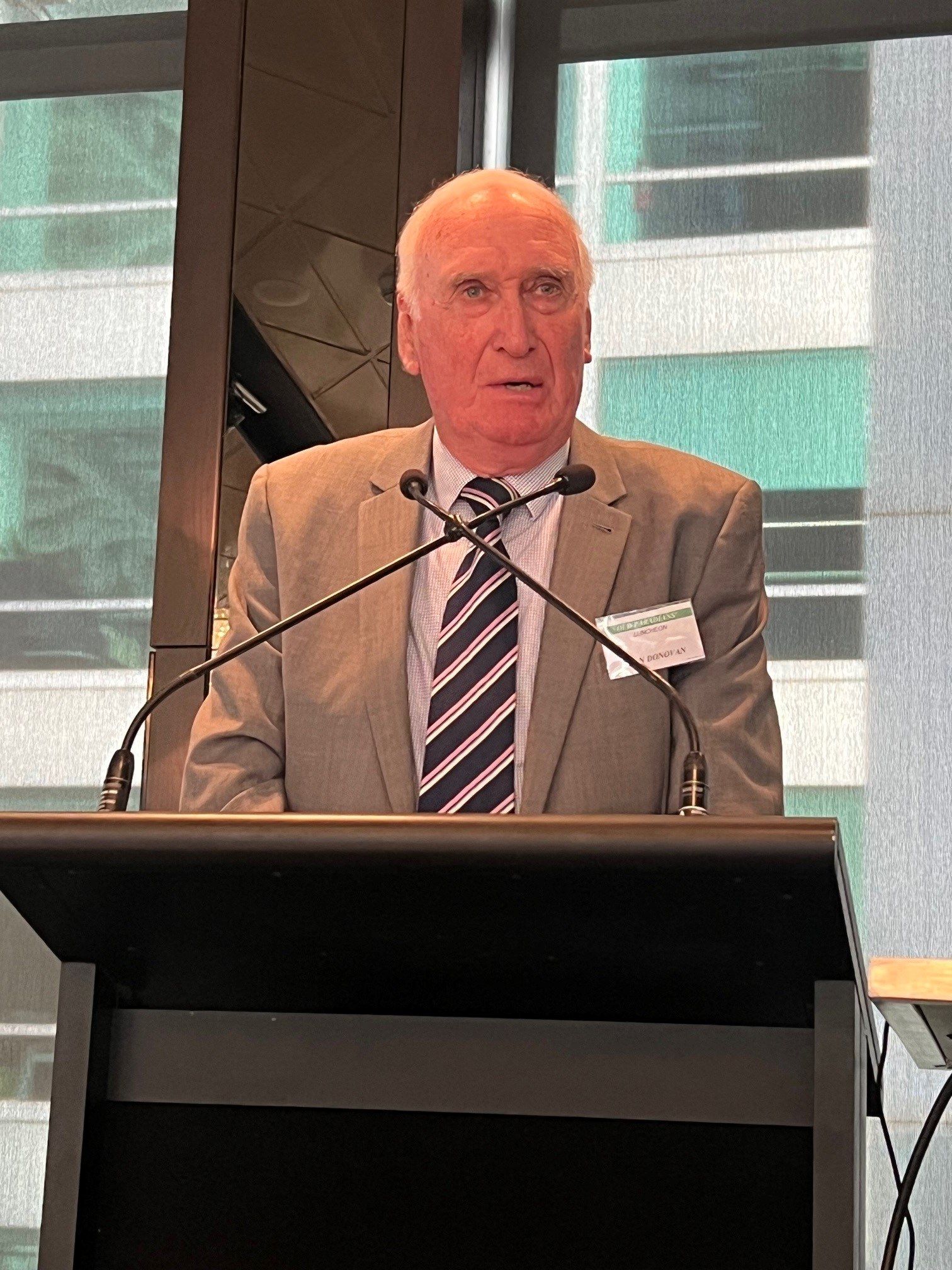 Dan Donovan (1963) attended the Luncheon with his wife Margaret to accept his Community Service Award.
Dan is a symbol of quality of service. He is someone who has selflessly stepped forward to volunteer his energy and skills in a range of different settings.
St Mary's Parish Greensborough and its Junior Football Club were early beneficiaries of Dan's energy, enthusiasm, and willingness to serve. As a member of its Pastoral Council, Committee, and President of St Mary's Junior Football Club, Dan was a true servant, but more importantly, he was able to welcome and bring others along through his energy and leadership.
When his sons Gerard Donovan (1990) and Anthony Donovan (1993) commenced at Parade, Dan turned his focus to serving the College, initially by attending working bees, then going on to become a College Board member and the first Chair of the College Board, working with Principals Brothers Collins, Bond, and Moore.
Dan's leadership and wise counsel were highly valued and appreciated. The conversion of Edmund Rice College to school readiness saw Dan lead a group of volunteer parents in the hugely cost-saving renovations at the Campus.
Since his retirement, Dan continues to serve as a member of Star of the Sea Ocean Grove Pastoral Counsel and weekly trips on the train to Melbourne to do voluntary work at St Vinnies in Brunswick. Dan continues to epitomise service and servant leadership.


Andy Walsh (1971)


Andy Walsh (1971) accepted his Community Service Award in the presence of his long-time Parade College friends John Dinan (1977), Garry Henshall (1971), Michael Drapac (1973), Dino Rebellato (1978), Michael Bowes (1962) and Honorary Old Paradian Mike Jolley. They were all proud to be in attendance to hear about Andy's lifetime of service in the criminal justice system helping young offenders and young people at risk.
Andy is a man large in stature and large in heart. He left Parade and joined the Australian Army. This then took him to Corrections Victoria working as a warder at Pentridge. Here, Andy established a deterrence program, 'A Day in Prison', for young people at risk. This led Andy to work in the juvenile justice system at Turana and Malmsbury Youth Training Centres. He then moved to the Brosnan Centre where Andy's work with youth was described by Father Peter Norden AO as "outstanding". Andy has worked with the Australian Council for Children and Youth Organisations, The Victoria Police, the Magistrates Court in community engagement, and the Victorian Police Foundation where again the focus was on helping young offenders with support and mentoring.
Andy responded to the call of the then OPA President, the late Lewis Derrico, to join its Committee. Andy, John Dinan, and Dino Rebellato were the driving force behind the establishment of the Parade College Foundation. Andy continues to serve his alumni group Club 71 and is on the Board of Heidelberg Probus.
A remarkable life of service.