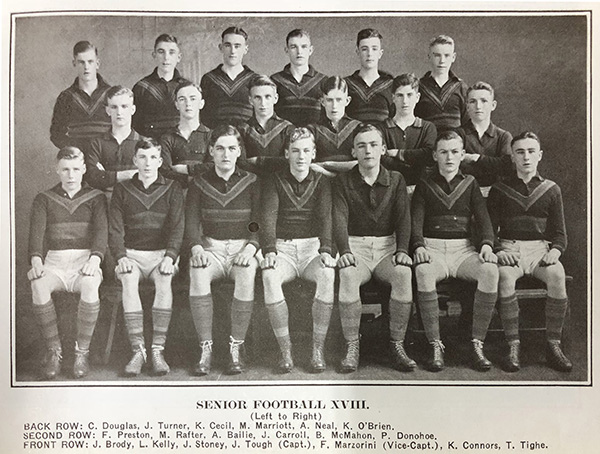 On the occasion of the Anzac Day national day of remembrance, as we honor those who served and died in all wars, conflicts and peacekeeping operations and the contributions and suffering of all those who served, it is fitting that the Old Paradians' Association should acknowledge those within its own ranks, amongst them Thomas Tighe.
Thomas's short life story has its origins in Knockmoynah, a townland in Drumfin, County Sligo in the north-west of Ireland where he was born almost 100 years ago on February 18, 1919. Thomas was one of nine children born to John and Mary Frances (nee O'Connor) Tighe, but little is known about his early years in the Emerald Isle, or indeed when he joined his own ones on the long and arduous voyage to Australia.
But it is recorded that the Tighe family settled in inner city Melbourne, within close proximity of CBC Parade – and it was at the "Old Bluestone Pile" that Thomas was schooled for three years from February 1934 before he furthered his education at St. Kevin's.
On completing his studies in 1937, Thomas lodged an application for Air Crew, which was initially rejected on the basis that he was suffering from tonsillitis. Two years later, with war declared on Germany, that application was accepted.
In his application for Air Crew, Thomas stated that he'd completed his leaving and matriculation, as well as a course prescribed for first-year students in Agricultural Science at Melbourne University. He also declared that he trained with Melbourne University Rifles (later Melbourne University Regiment) whose graduates and present members have served and frequently distinguished themselves in every major commitment of Australia's armed forces since Federation.
Thomas further stated that he briefly worked as a clerk in the Federal Government and was employed as a schoolteacher in the Education Department. He nominated handball, swimming and tennis as his sporting pursuits "and did a bit of athletics at school".
Australian Rules football was also high on Thomas' list of priorities. He was a valued member of Parade's 1st XVIII team of 1936 and in the accompanying team photograph he can be seen at the far right in the front row. Also pictured are Thomas' teammates Francis Preston and Jack Turner who would later lose their lives in the skies over Europe.
At the time of his enlistment, Thomas affirmed his occupation as barman at Brunswick Street's Perseverance Hotel. He also provided particulars for his mother, then a housekeeper domiciled at 71 Best Street, North Fitzroy, but did not furnish any details for his father.
Thomas took the Air Force Reserve oath at the No.1 Recruiting Centre, 108 Queens Street, Melbourne, on American Independence Day - July 4, 1940 – at around the time Thomas posed for this portrait photograph now in the keep of the National Archives.
On February 3, 1941, Thomas commenced with the RAAF and in May of that year boarded a South African-bound ship to further his flight training, at a time when SAAF squadrons had been deployed to East Africa in the conquest of Mussolini's African empire.
Tragically, Thomas's short life as Leading Aircraftman would end there, for on February 1, 1942 he was killed in an air accident in Eastern Cape - less than three weeks shy of his 23rd birthday.
Thomas was amongst a five-man crew aboard an Anson X1212 which collided mid-air with an Anson 3164 during a photographic pinpointing exercise.
The damaged Andson 3164 landed safely. But the Anson X1212 crashed on Cove Rock Road, around two miles south-west of Collondale Drome, and crew members who died with Thomas were Australian Pilot Officer Douglas Fraser, South African Second Lieutenant CP Davis, and English observers James Shenfield and Edward Portnall.
All five men were buried in East Bank Cemetery, East London, in South Africa's Eastern Cape Province
In November 1942, an increased war pension was granted to Thomas' grieving mother, then living at 54 Maribyrnong Road, Ascot Vale, together with a fortnightly living allowance.
Of the more than 10,000 Australians who served in RAF Bomber Command in World War Two, 3486 died on operations, with several hundred more like Thomas Tighe killed in training accidents and other mishaps.
Thomas was also amongst the 35 Old Paradians known to have been killed through the course of that global conflict. A further 29 Old Boys suffered the same fate in World War I and one more former Parade pupil lost his life whilst on active service in Vietnam.
They shall grow not old, as we that are left grow old;
Age shall not weary them, nor the years condemn.
At the going down of the sun and in the morning
We will remember them.