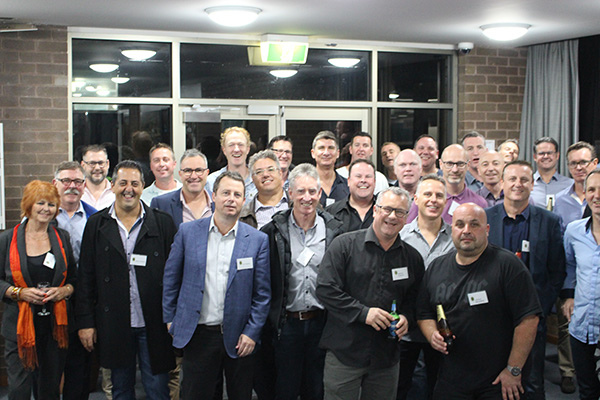 Members of Parade College's final year class of 1988 have reunited in the Hickey Foyer, 30 years after completing their schooling at the Bundoora Campus.
Amongst the 35 former students in attendance was the '88 College Captain Brian Ohis and Vice-Captain David Stuckey. Also there was Joseph Corbin who jetted in from Cairns, Ben Ryan from the ACT and Peter Caven from Adelaide.
Peter, the former Fitzroy, Sydney and dual Adelaide Premiership player pictured here at right with old classmates Matthew McRae and David Keenan, said that renewing acquaintance was well worth the border crossing.
Brendan Flynn said that all of his old school friends were up for the gathering.
"It was a really good night," Brendan declared. "David Stuckey's rendition of the Yarrangabee in the Frank Mount Social Room later on was a highlight, and the crew kicked on at Bundy's.
"There were around 15 blokes I hadn't seen in 30 years, and most of them hadn't changed either. All in all, it was terrific to renew acquaintance."
Long-serving Parade College teacher and Old Paradians' Association Secretary John Nicholls capably served as Master of Ceremonies at the reunion, which was also attended by former teachers John Joss, Patricia Joss and John Ramsdale, together with current teachers Jim Seymour and Ross Smith.