As the many whose great fortune it was to meet him will no doubt attest, Frank Gonano's effervescent nature and engaging personality made an immediate and lasting impression. So it was that they all turned out to farewell Frank, who at 65 years of age went well before his time.
The son of Italian migrants, born in Carlton and first schooled at the local St George's primary, Frank completed his final year as a student of Parade College in 1972, a year in which he proudly captained Parade's soccer team when Robert Hyde led the First XVIII.
Having completed his tertiary studies at Swinburne in 1976, Frank pursued a career in taxation and accountancy. At the time of his passing he was the Principal of B.G. Accounting Services, based in East Doncaster.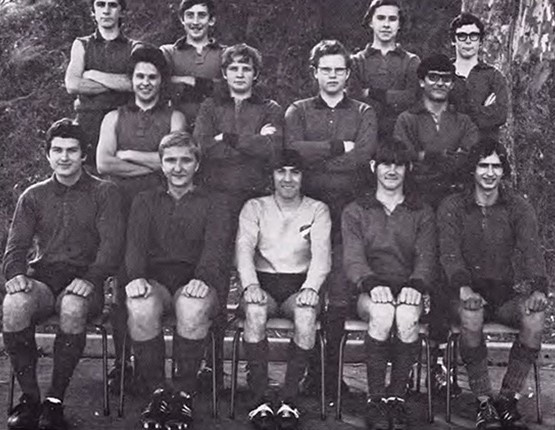 A lifelong devotee of the Carlton Football Club, Frank always saw the funny side - even through the deep, dark days when his beloved Blues sadly languished. How he would have warmed to the following prayer of the faithful conveyed to the gathering at Springvale Botanical Cemetery's Boyd Chapel by his daughter-in-law Eliza;

"Lord, we pray that Frank finds some peace knowing that Carlton won on the weekend of his passing, he lived to see the end of Game of Thrones and he got to watch Avengers End Game".
Mourners at Frank's funeral heard heartfelt tributes paid by each of his four children – Luca, Katia, Christiano and Alessandra. Luca, who was especially thankful that his father lived to see him marry last year, said Frank was a dedicated family man – "a selfless person who put others first (and) who never asked for much - but when he was called upon by others he went above and beyond, and always with a genuine warmth".
"In the days since Dad's passing we have all gone through the full gamut of emotions – a lot of tears, some laughs, but mostly anger – anger that a man who possessed all the qualities we need more of in the world - humour, humility, kindness and love – could be taken away so suddenly," Luca told the audience.
"Yes, we all should have had many more years experience with him, but thinking about who he was and what he meant for our lives has eased the pain."
At the conclusion of Frank's eulogy and in an appropriate break with convention, Luca called on mourners to stand in their pews and applaud a man "who lived life the right way".
Frank Gonano died suddenly on July 25. He is survived by his beloved wife Annalisa, children Luca, Katia, Christiano and Alessandra, sister Erminia and their families.
He was a people person par excellence . . . and for the people he left behind he'll be remembered with affection.